For approximately seven minutes on Tuesday night in Newark, the New Jersey Devils played a dominant, nearly perfect hockey game. Then, suddenly and inexorably, the pendulum of momentum that has been ever-present in this first round series swung the opposite way, and the Florida Panthers stormed back, eventually holding on to a 4-3 lead to take a 2-1 series advantage.
The collapse was stunning, disheartening, and demoralizing, and with Game 4 Thursday night in New Jersey, the Devils find themselves with their backs firmly against the wall.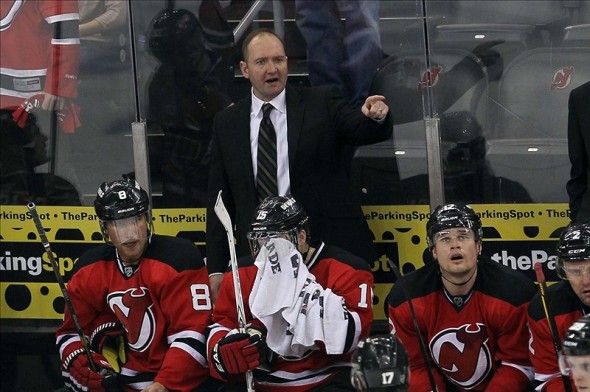 "I don't really have an explanation, but I think it starts with not taking penalties," head coach Pete DeBoer said in the post game press conference. It was a reference to New Jersey's penalty kill unit, which set a post-expansion record in the regular season (89.6%), but has been putrid in this series, including surrendering three power play goals in Game 3.  "I don't have an answer for you," DeBoer added, regarding the penalty kill issues, "but we better figure it out fast."
Despite the hole the team has placed themselves firmly in, the players are refusing to panic, and downplayed the issues the team has had with handling Florida's previously unheralded offense and power play.
"I don't think there's a concern," forward David Clarkson said of the penalty kill unit. "They've been best in the league all season. There's going to be times when bounces go their way or things happen. I still think they're doing a good job, they're working hard."
Goaltender Martin Brodeur, pulled from the game after Florida tied the score at 3, had a slightly different take on what's wrong with the team.
"We definitely got a little over excited about a three goal lead and got them back in the game by being a little undisciplined," Brodeur said after the game, "I thought we started real good. We got over excited and tried to get the fourth one."
While the series is still not out of reach for New Jersey, they have placed themselves firmly in a hole that could prove inescapable if they lose Game 4 Thursday night at home.