In the final stop on their whirlwind tour of the United States after winning a gold medal at the 2018 Winter Olympics, members of the USWNT were honored at the Prudential Center prior to and during the game between the New Jersey Devils and Montreal Canadiens. Since goaltender Maddie Rooney made the final save during the shootout of another classic game between Team USA and Team Canada the Golden Girls have been everywhere from the Ellen Show in Los Angeles to the Stadium Series game between the Washington Capitals and Toronto Maple Leafs in Annapolis, Maryland, to The Tonight Show Starring Jimmy Fallon in NYC. And all of it is well-deserved for a team that won their first Olympic Gold Medal since 1998.
"It was great to be able to meet them and shake their hands, to congratulate them," Brian Boyle would say after the Devils 6-4 win. "We were watching and cheering for them. The hockey world is a pretty small world and what they've been able to do – even since '98 – all of the World Championships they've won, they've produced some tremendous talent, great players, and there have been some fantastic games between them and Canada."
Thanks to members of the @USAHockey Women's gold medal-winning team for coming out to the @NJDevils game last night. An honor to meet you all and we couldn't be more proud of what you accomplished. #Golden pic.twitter.com/iKeBlwRRLO

— Brian Boyle (@BriBrows22) March 7, 2018
"You hope the sport grows," Boyle added. "I have a daughter and if she wanted to play hockey I'd be thrilled. They're great role models and I'm happy for them.
USA Family
Just like the rest of us on the east coast, many of the players on the Devils were watching the game into the wee hours of the morning and were happy to host (and meet) the champions that stopped by the Rock. "That was awesome," Devils captain Andy Greene told The Hockey Writers about meeting Rooney, Amanda Kessel, Hillary Knight, Gigi Marvin, Emily Pfalzer, Haley Skarupa, Cayla Barnes, Kali Flanagan, Megan Keller, Sidney Morin and Brianna Decker before the game.
"It's been twenty years since they won that gold medal and it's a huge moment, not only for them but for USA Hockey, USA Women's Hockey, and for our country," Greene added. "We were excited, we were watching them and it was cool to be able to see that (win) and to meet the players, have them honored tonight."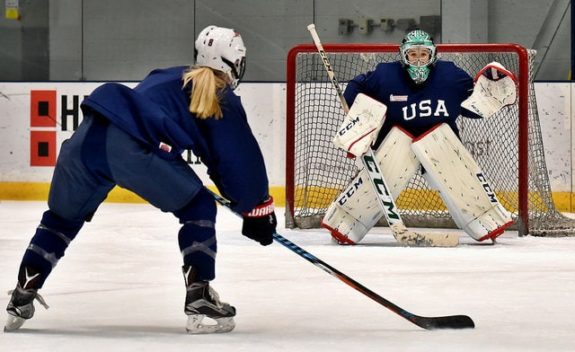 Buffalo's Golden Girl
Nine players that came home with a gold medal around their necks were a part of the NWHL the past two seasons, including Emily Pfalzer who captained the Buffalo Beauts to the 2017 Isobel Cup a year ago. "It's been crazy," Pfalzer said while grinning of the non-stop (well-deserved) appearances the team has been making. "But it's so amazing. Everything we worked for the past four years has come to an end, but a great end. It's been great to share this moment with 22 amazing teammates."
"It's all been so exciting," Pfalzer said of her team's victory lap around the country. "Everything (we've done) has been so cool. Last night, just because it's fresh in my mind, we met Serena and Venus Williams and that was pretty incredible. They're two amazing athletes and to meet them, we were all really excited for that."
As mentioned earlier this was the last stop on the tour and Pfalzer laughed when we asked if she was excited to sleep in her own bed after globetrotting for the better part of a year. "Yeah, it's been a crazy couple of weeks, and months. I'm definitely excited to get home and share this with Buffalo too."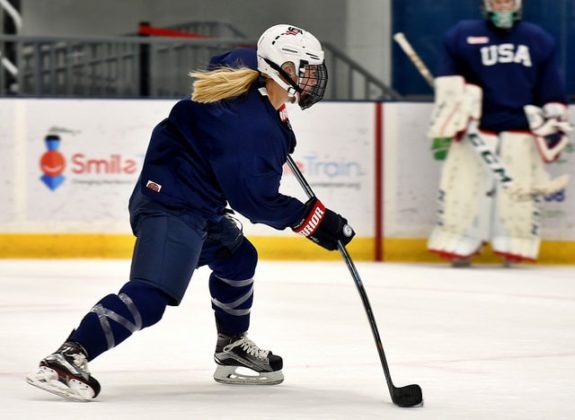 Grow the Game
Devils Head Coach John Hynes is no stranger to USA Hockey, working with them in various capacities in the past (most recently at the 2016 World Championships as well as the World Cup of Hockey) and was proud to have the players at the arena to be celebrated and honored. "I did get to say hello to them before the game. I think it's a great thing for our organization and the NHL to recognize that the first time in 20 years they won an Olympic Gold Medal," Hynes told THW.
"Women's hockey has grown so much and it's a credit to those ladies in '98. When you listen to this team talk about what their influence was and the growth of the game, for them it was the '98 team. The hard work and perseverance that the women's program has put in, and to get rewarded for it; it's nice to see them get honored. It's great for the game of hockey – boys and girls can play – and that's what we want. It's a fantastic achievement to win an Olympic Gold Medal. It was a great game," he added, "even when the National Anthem was going and they were out there (on the ice with us) it was special."
We have some 🥇 company tonight for #MTLvsNJD! Members of the gold medal winning @TeamUSA Women's National 🏒 Team will drop the ceremonial puck!

Tweet in your questions for @Cayla_barnes27, who will take over our Twitter during the first intermission. pic.twitter.com/RbkcnsKLr5

— New Jersey Devils (@NJDevils) March 6, 2018
The hope is for fans of the sport that this is a springboard towards bigger and better things. These women have shown that their sport deserves to share the spotlight with other hockey players, and we all know that there is more than enough money to go around. With the growing development of players at the grassroots level, the collegiate level, and now at a professional level in the NWHL and the CWHL – the sky's is the limit. They shouldn't have our attention every four years, they should have it all the time.