And so the "second season" begins, as Rangers Head Coach John Tortorella aptly put it.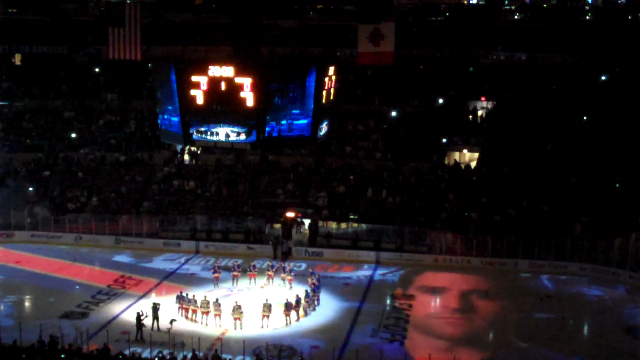 It's been a wild ride for the 2010-2011 New York Rangers, dating back to their October home opener shown here (photo by Cory Twibell).
The 2010-2011 year has been a memorable one, to say the least, and perhaps to be remembered down the road as the year in which the Rangers became the new Rangers. The grinding, shot-blocking, never-say-die Rangers.
Up until this year, the Rangers have shared synonymity with the New York Yankees, albeit minus the vertical striping and tangible success. Former Phoenix GM Bobby Smith said it best:
"We're looking forward to building the type of team the Rangers are able to buy."
But this past summer, the Rangers were surprisingly quiet on draft day. They didn't make much noise with their biggest free agent acquisition, Alex Frolov, who received a one-year deal at $3 million. The core was still in tact and most of the faces in the locker room were familiar ones. The new movement had arrived, one that was years in the making — the youth movement.
Before the Rangers, who will play the top-seeded Washington Capitals in less than four hours in D.C., embark on their first playoff series since 2008-2009, here's a look at some memorable moments from the past year.
JUNE 25, 2010
The Rangers select 6-foot-4-inch, 214-pound defenseman Dylan McIlrath with the 10th overall pick. The following day, they pick former NHLer Steve Thomas' son, Christian, in the second round. The Rangers also traded prospect Bobby Sanguinetti to Carolina for a sixth round pick in that draft and a second round pick in the 2011 draft.
MAY 26, 2010
Rangers sign Olympic standout Mats Zuccarello-Aasen of Norway.
JUNE 9, 2010
Rangers agree to three-year deal with University of Wisconsin forward and Team USA gold medalist/captain Derek Stepan.
JULY 1, 2010
On the first day of free agency, Rangers sign free agent and former Islanders goalie Martin Biron to a two-year deal. The team also inks tough guy Derek Boogaard to a four-year deal at $1.65 million per.
JULY 2, 2010
The Rangers sign free agent forward Brandon Prust, who came to New York by way of the Olli Jokinen / Ales Kotalik deal.
JULY 6, 2010
University of Wisconsin defenseman Ryan McDonagh, a piece of the Scott Gomez to Montreal deal, turns pro and signs with the Rangers, joining teammate Derek Stepan.
JULY 9, 2010
Busy day for the Rangers: re-sign Dan Girardi and trade Aaron Voros to the Ducks for Steve Eminger.
JULY 27, 2010
Alex Frolov signs with the Rangers after a disappointing season in Los Angeles. One year, $3 million.
AUGUST 2, 2010
Rangers trade forwards Donald Brashear and Patrick Rissmiller to Atlanta for forward Todd White.
SEPTEMBER 15, 2010
Defenseman Marc Staal signs with the Rangers for five years.
SEPTEMBER 27, 2010
Defenseman Wade Redden clears waivers and commits to report to Hartford.
OCTOBER 4, 2010
Camp invitee Ruslan Fedotenko signs a one-year deal with the Rangers.
OCTOBER 9, 2010
On opening night in Buffalo, rookie Derek Stepan scores three goals and becomes first Ranger in franchise history to score a hat-trick in his debut. He becomes the fourth player in the history of the league to record a hat-trick in his debut.
OCTOBER 15, 2010
In the home opener, which featured KISS guitarist Ace Frehley as the opening act, Chris Drury re-breaks a finger. Marian Gaborik later left the game with a separated shoulder. Drury out six to eight weeks, Gaborik out two to three. Forward Vinny Prospal set for Oct. 18.
NOVEMBER 9, 2010
Derek Boogaard's unassisted goal snaps a 234-game goal-less drought.
NOVEMBER 14, 2010
Former Rangers Head Coach Tom Renney returns to MSG as coach of the Edmonton Oilers. His 164 wins ranks him fourth all time for the franchise. Rangers routed the Oilers, 8-2, and the game featured a memorable melee and what Erik Christensen called a "sucker punch" delivered on Ladislav Smid, courtesy of Sean Avery.
NOVEMBER 16, 2010
The Rangers' Ryan Callahan scores on a pass from Brandon Dubinsky to cap a very memorable comeback win in overtime against the Penguins.
NOVEMBER 12, 2010
Rangers unveil Heritage jersey commemorating the team's 85th anniversary.
DECEMBER 15, 2010
Ryan Callahan breaks his hand blocking a shot in a game against the Penguins. Rangers went on to win, 4-1, and Callahan out of lineup for six to eight weeks.
DECEMBER 22, 2010
New York Rangers prospects Chris Kreider and Ryan Bourque named to Team USA, Jesper Fasth named to Team Sweden and Roman Horak named to Team Czech Republic.
DECEMBER 27, 2010
Rangers tally a season-high 52 shots against the Islanders in a 7-2 winning effort, their most shots on goal since 2007 when they reached 57, also against the Isles (from Elias Sports Bureau).
JANUARY 3, 2011
Michael Del Zotto is demoted to Hartford Wolfpack (now Connecticut Whale) and Ryan McDonagh is recalled.
JANUARY 9, 2011
Forward Alex Frolov undergoes season-ending knee surgery.
JANUARY 10, 2011
Defenseman Michal Rozsival, 32, is traded to the Phoenix Coyotes for forward Wojtek Wolski, 24. Rozsival signed with the Rangers in 2005 as a free agent.
JANUARY 11, 2011
Goalie Henrik Lundqvist and defenseman Marc Staal are named to the 2010-2011 NHL All-Star Team. Rookie Derek Stepan is selected to take part in the SuperSkills Competition, one of 12 rookies at the event.
FEBRUARY 3, 2011
After missing the first 53 games of the season, forward Vinny Prospal returns to the lineup in a 3-2 loss to the Devils. He logged over 16 minutes of ice time, scored a power play goal and had five shots on goal, enough to earn second star honors.
FEBRAURY 11, 2011
Captain Chris Drury is sidelined for six weeks with knee surgery.
FEBRUARY 26, 2011
The Rangers acquire defenseman Bryan McCabe for forward Tim Kennedy and a third-round pick in the 2011 draft.
FEBRUARY 28, 2011
Goaltender Martin Biron suffers a broken collarbone, declared "out indefinitely."
MARCH 6, 2011
Ryan Callahan scores four goals (first career hat-trick) and adds an assist in a 7-0 rout of the Philadelphia Flyers.
MARCH 12, 2011
The Rangers win just 19 of 52 faceoffs but manage to grab two points in a shootout victory over the San Jose Sharks. Including this win, the Rangers have beaten NHL's top teams including Philadelphia, Washington, Vancouver, Boston and Pittsburgh.
MARCH 14/16, 2011
Rangers come to terms on contracts with prospects Ryan Bourque and Dylan McIlrath.
MARCH 21, 2011
After a headshot on Rangers' defenseman Ryan McDonagh, Penguins forward Matt Cooke is suspended for the remainder of the regular season and one playoff series.
MARCH 26, 2011
Following a nail-biter in Boston, the Rangers hang on for a 1-0 victory. Several milestones were reached: Lundqvist plays in 400th career game; records career-high 11th shutout of season (most by Rangers goalie since John Ross Roach had 13 in 1928-1929); picks up league-leading 19th road win of year; Rangers become only team in NHL to be undefeated when leading after two periods (27-0-0); rookie Derek Stepan's lone goal gives him 20 on the season (first time since Petr Prucha in 2006-2007).
APRIL 5, 2011
After blocking a Zdeno Chara shot, the Rangers announce forward Ryan Callahan is out for the remainder of the season with a broken bone in his leg. While limited to only 60 games, Callahan tops career highs in goals (23), assists (25), points (48), power play goals (10) and game-winning goals (five).
APRIL 9, 2011
After losing a crucial game to the Atlanta Thrashers on a night in which Rangers' forward was honored as the Steven McDonald Award recipient for going above and beyond the call of duty, the Rangers respond with a 5-2 win in their final game against the New Jersey Devils. Defenseman Ryan McDonagh records his first NHL goal – the eventual game winner – and forward Chris Drury tallies his first of the season early in the game. The team's playoff fate was in the hands of the Tampa Bay Lightning and Carolina Hurricanes, with the Rangers needing a Carolina loss to clinch the eighth and final seed in the East. Tampa bests Carolina and the Rangers earn a playoff berth.
APRIL 11, 2011
The NHL announces that four teams will open the 2011-2012 season in Europe, with the Rangers scheduled for two games in Stockholm, Sweden on Oct. 7 and 8. The Rangers also sign University of Michigan team captain and points leader Carl Hagelin, of Sweden, a former Rangers draft pick.
APRIL 13, 2011
According to the team's website, the Rangers completed the regular season leading the league in hits (2,333), fourth in blocked shots (1,301), tied for first in shutouts (11), second in number of players with at least one GWG (19), third in shootout wins (nine), fourth in road wins (24), fifth in goals against (198) and fifth with a plus-35 goal differential.
Cory Twibell, a Towson University graduate and newspaper editor from Long Island.