The Winnipeg Jets have built a team through the draft since they arrived in Manitoba back in 2011. This year, more than any other, those draft picks got a chance to play. For many, it was a great year with lots of opportunities. Mark Scheifele, Patrik Laine, Nikolaj Ehlers, Jacob Trouba and Josh Morrissey all enjoyed plenty of ice time and every opportunity they could be given.
Others, however, got stuck on the fourth line. Kyle Connor wasn't given too many opportunities before getting sent down, while Nic Petan only saw the ice when the Jets were on a power play. Jack Roslovic had an outstanding year for the otherwise bad Manitoba Moose, yet only got a one game tryout in his hometown.
Meanwhile, Connor Hellebuyck got lots of chances to start the year before career below-average goaltender Ondrej Pavelec was given the crease. Had Pavelec not been injured, it's completely possible Hellebuyck wouldn't have gotten back into the net.
It's hard to be a coach in the National Hockey League and I'm certain Paul Maurice would agree. So while 16 other teams are enjoying playoff action, we'll try to help out Maurice and figure out next year's opening lineup based on this year's statistics.
While one of the biggest factors in this will be Corsi for (here's an explanation of Corsi if you don't know), we'll also try to keep the lineup balanced while keeping points, goals and playing style in mind.
Offense
Mathieu Perreault – Mark Scheifele – Patrik Laine
Nikolaj Ehlers – Bryan Little – Blake Wheeler
Kyle Connor – Nic Petan – Marko Dano
Andrew Copp – Jack Roslovic – Joel Armia
We're assuming that the Jets decide to protect the 29-year-old Mathieu Perreault instead of Adam Lowry since almost every advanced stat favors Perreault. The Jets also let Chris Thorburn go to free agency in this example.
https://twitter.com/GarretHohl/status/846193542309425152
First Line
Mathieu Perreault – Mark Scheifele – Patrik Laine
As good as Bryan Little as been for the Jets, Scheifele has completely taken over the first line center role for the Jets. Scheifele finished seventh in the league with 82 points while playing a large chunk of his season with a rookie and a second-year player (although they are both very good).
Out of forwards who have played more than 20 minutes with Scheifele, Perreault had the highest Corsi. While both players were on the ice together, they controlled 54.32 percent of the shot attempts. While Perreault only scored 45 points on the year, 28 came in the last 23 games of the season, while he spent most of his time playing with Scheifele.
On the other side, it has to be Laine. His possession stats were brutal all season long, but his ability to score was clear. Both Perreault and Scheifele improved Laine's possession stats and that's likely to improve next season. But when you score 36 goals as an 18-year-old rookie in the NHL, you deserve a shot on that first-line with the team's best player.
Second Line
Nikolaj Ehlers – Bryan Little – Blake Wheeler
Since the Jets return to Winnipeg, both Wheeler and Little have been the most consistent players. Wheeler has put in more than 60 points in every season (pro-rated for the lockout) while missing only fives games. And despite Little's injury troubles, he has risen from 0.60 points per game to this years 0.80.
Together, the two are great at holding onto the puck, while they are both worse when they are separated. They spent more than 330 minutes together this year and more than 600 last year, so there is no reason to separate those two.
The wildcard is Ehlers, who started this past season with Laine and Scheifele but was eventually moved to the second line (which is good enough to really just be a 1B line). While it may have seemed like an interesting coaching decision, Ehlers had better possession numbers with Wheeler than he did with Scheifele and better possession numbers with Little than Laine.
This line becomes a really good combination of speed, skill, and size (the size coming all from Wheeler). It's also a great example of savvy veteran players turning a young kid into a really dynamic NHLer.
Third Line
Kyle Connor – Nic Petan – Marko Dano
The first two lines didn't get changed at all, which is a good sign that Maurice had the right combinations out there on the ice. After losing Lowry to the expansion draft, however, the third line starts to look quite different.
Connor only had 20 games in the big leagues, but he spent more than 50 minutes paired with Petan. While those two were together? They had a 60 percent possession edge over the opponent.
Connor also played two minutes with Dano and had a 100 percent Corsi, which doesn't actually mean anything. But Dano played almost 100 minutes with Petan and they had a 54 percent edge in possession while they were on the ice together.
Jets fans spent most of the season complaining about Petan and Connor's usage, while Dano saw the press box for the back half of the season after an injury knocked him out. They all played a significant amount of time on the fourth line with guys like Thorburn. All three players had a Corsi under 45 percent when they played with Thorburn, while they all finished the season with an overall Corsi mark higher than Thorburn.
The concept of this line is also to allow Connor the ability to slide up in the lineup, as he also posted some great numbers with both Scheifele and Wheeler.
Fourth Line
Andrew Copp – Jack Roslovic – Joel Armia
Copp's most common linemate last season was Petan, but together they weren't great. However, away from Petan, Copp actually posted better numbers. While Copp's numbers weren't better with Armia, the difference was Armia still made those numbers better.
Roslovic would be the unknown, as he only played one game, which included one shift with both Armia and Copp. However, Roslovic has had a great year with the Manitoba Moose and should get a shot with the Jets when next year starts, especially with the (possible) departure of Thorburn.
The strength of this line would be Maurice's ability to use them on the penalty kill. Both Copp and Armia were able to score a shorthanded goal last season, with Armia getting four.
All three are a better option using advanced stats than both Brandon Tanev or Thorburn.
Defence
Josh Morrissey – Jacob Trouba
Paul Postma – Dustin Byfuglien
Tobias Enstrom – Tyler Myers
We have assumed that Paul Postma was re-signed and that none of the current defensive prospects, like Tucker Poolman or Logan Stanley, made the team.
First Pairing
Josh Morrissey – Jacob Trouba
Maurice was forced to put Morrissey and Trouba together because of a number of injuries on the back end. The result was incredible, with 'Troubassey' quickly becoming the Jets best defensive pairing.
In 300 minutes together, they had a 53 percent possession together. Apart, Trouba is under 50 while Morrissey is just over.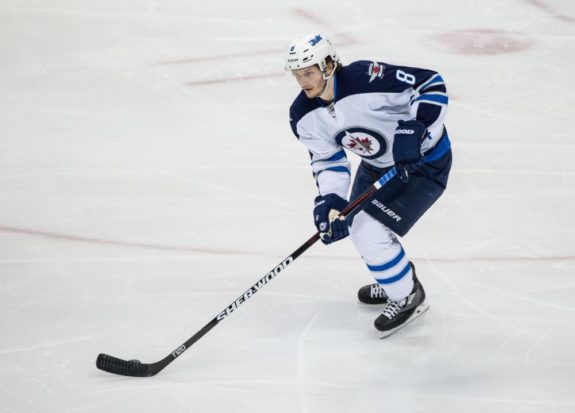 Both players have high expectations, coming into the NHL as the Jets first round picks in 2012 and 2013. While Trouba jumped in the year after his draft, Morrissey was left with the Moose until he was ready. Oddly, Morrissey probably got his break while Trouba held out for a contract at the beginning the season. Maurice needed a guy to play with Byfuglien, so Morrissey got some hard minutes right off the bat and was able to handle them.
Both players closed the year out well and could become one of the best defensive pairs in the NHL within a couple of years. On a team that has desperately needed defence, seeing two young players take over the back end is a welcome sight for a very patient fan base.
Second Pairing
Paul Postma – Dustin Byfuglien
Bear with me. Postma did not play a lot of minutes with Dustin Byfuglien but was incredibly successful when he did. Over 27 minutes, the pair had a 62 percent edge in possession. Tobias Enstrom, Morrissey and Trouba were all most successful without Byfuglien, while Julian Melchiori and Mark Stuart, predictably, were better with him than on their own. However, both players finished in the bottom half of possession on the Jets.
Dustin Byfuglien took out 3 players with 1 hit pic.twitter.com/ff47ogyWP0

— Chirp Hard Hockey (@ChirpHard) April 8, 2017
Postma, however, had a fairly successful 65 game season. He wasn't the best defender, but he wasn't the worst. His most common linemates were Chiarot and Stuart, who both dragged Postma's possession stats down.
We haven't seen either Poolman or Stanley with the Moose, so it's really hard to put them here. Of the remaining defenders, Postma makes the most sense to slide into this spot with Byfuglien.
Third Pairing
Tobias Enstrom – Tyler Myers
Tyler Myers didn't even play 200 minutes last year but played a pretty solid game while he was in. He had the ability in his limited time to make basically everyone on the ice better. Everyone except Enstrom.
Together, they had a 49.08 percent possession rating. However, Enstrom wasn't any better by himself. The only defenseman Enstrom was better with was Postma, but we already used him in the last pairing.
While this is an opening night lineup pairing, it's not one that would last all season. The biggest reason is the injury history between both of them. Neither has played in more than 72 games during a season since Enstrom managed to get all 82 games in back in 2013-14. Myers has only played in one full season, during his rookie year.
For a third pairing, however, this would be a very good option. Both players have played against the toughest competition in the league and, if needed, can move up and down the lineup if injuries get in the way, like they did this year.
Goaltenders
Connor Hellebuyck
TBA
Kevin Cheveldayoff is notoriously patient with his team, with only two big trades made since 2011. One brought Tyler Myers and Joel Armia to Winnipeg, while the other brought Marko Dano and a first round pick, which turned into Jack Roslovic.
This year, Cheveldayoff has a unique opportunity to make a very quick and much-needed upgrade to the goaltending.
The upcoming free agent class features Ben Bishop (on a team with Jonathan Quick), Johnathan Bernier (back stopping John Gibson), Ryan Miller, Steve Mason (only 28-years-old), and Brian Elliot, plus some less established but high-potential players like Scott Darling and Darcy Kuemper. After 2016-17's goaltending, Cheveldayoff needs to make an upgrade. The biggest question will be whether he goes for a new number one, or whether he finds a solid backup to give Hellebuyck more time to develop.
Eric Comrie is, of course, another option, either as a backup, starter or even as a trade piece. Advanced stats can tell you a lot of stuff and for the Jets goaltending, it says then desperately need an upgrade.
Maurice Gets Another Chance
As far as we know, Maurice will be getting a contract extension after another down season by the Jets. Fans are divided on whether he deserves it, but because they don't make the decision, they will have to hope that Maurice can prove that he belongs on this team.
There is a lot of talent on the team, but talent means nothing if it's not used properly. Maurice is stuck in the old way of thinking, where you need two lines to score, one to check, and one to keep standing. Teams need three scoring lines to make an impact now, and the fourth line needs to be able to contain the first line.
We'll see early on what system Maurice chooses to use and whether it will benefit or hinder the team. The players, coaches, and management all want to make the playoffs. Theoretically, this lineup should get them there.