Over the last few decades the game of hockey has undergone some noticeable transformations. While the style of play in the NHL has certainly changed, certain stylistic elements for players such as goalies have evolved as well.
For some, the goaltender position is simply fascinating. From the mental and physical fortitude that it takes to stop a piece of rubber traveling at a high speed, to being poised and collected during the most pressure-filled situations, there is nothing average about being a goalie. Even the gear that these armored gladiators choose to wear can grab the attention of individuals that might not even be too familiar with the sport of hockey.
In particular, goalie mask designs have been especially popular amongst hockey fans. Whether it's a creative concept, or a bold representation, goalie masks have allowed fans to catch a glimpse of these masked men's feelings, thoughts, and likes. Even though there might be new designs and creations that goaltenders introduce every season, it is always worth it to take a look at the individual styling of some select helmets.
Terrific Tandems
Jonas Hiller & Viktor Fasth (Anaheim Ducks)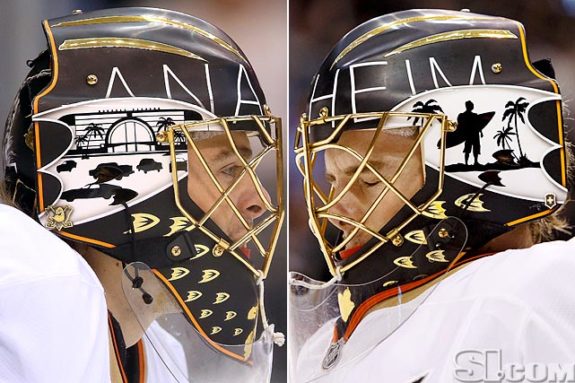 Jonas Hiller's "California Surfing" mask pays tribute to a favorite pastime of many individuals living in the West Coast. The contrast between the black and white colors brings out both images on either side of Hiller's mask (Honda Center with a small Mighty Ducks logo – right & Surfer – left), and the gold streaks help draw one's attention to various sides of the helmet. Hiller also incorporated other elements such as "Wild Wing" and Poseidon on the front and back sides of the mask respectively, and it's hard not to appreciate the creativity of this design.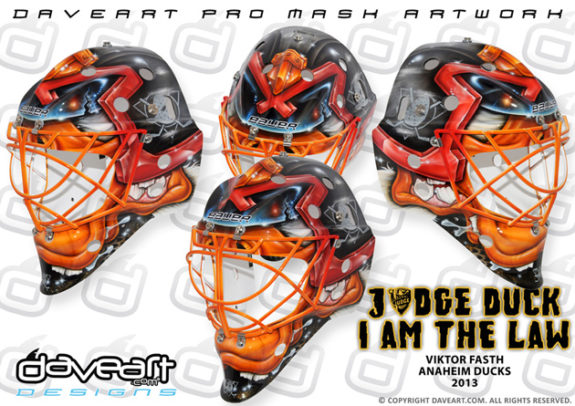 On the other hand, Viktor Fasth apparently has an affinity for comic book characters. While Fasth has a very nice "Bane-centric" mask, his Judge Dredd themed helmet takes home the cake. Unlike Hiller's mask, Fasth's uses more bold colors and design schemes, but at the end of the day one has to acknowledge the fact that the tandem (even though Fasth is currently injured) does have some impressive headgear.
[See Also: Top 10 Old School Masks]
Steve Mason & Ray Emery (Philadelphia Flyers)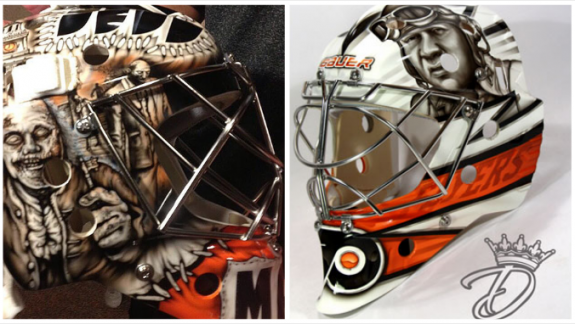 While Hiller and Fasth each had their own unique illustrations on their respective masks, Ray Emery and Steve Mason each had a bit of history painted onto their respective helmets – it just depends on what you consider history. Mason's "Zombie Founding Fathers" might not be representing traditional history, but the spirit is certainly there as the nation's founders are prominently portrayed, albeit in mortified fashion, on the goalie's helmet. Conversely, Emery's tribute to the Tuskegee Airmen cannot be misinterpreted. Despite the fact that both goalies took a different spin on some aspects of history, they also managed to incorporate just the right amount of team colors to blend in with the rest of their uniform.
Beastly
Al Montoya (Winnipeg Jets)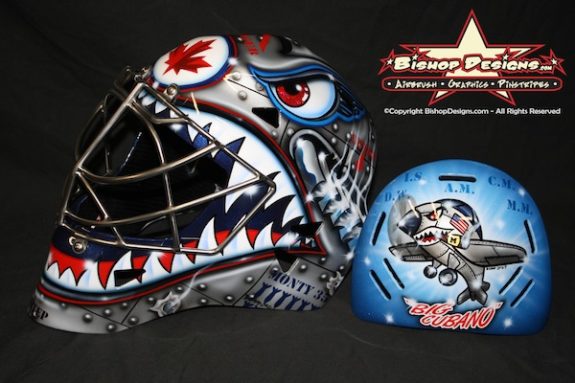 Al Montoya's design doesn't follow the standard fearsome/beastly fashion, but his mask is still top-notch. From the bullet holes on the steel grey background, to the angry eyes and sharp white teeth, the Big Cubano's helmet blends color and theme in a very effective manner.
Karri Ramo (Calgary Flames)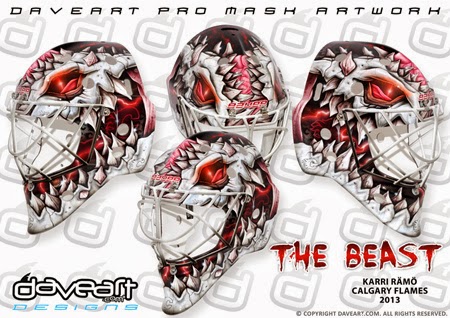 A skeletal outline with multiple rows of razor-sharp teeth, crimson red colors, exposed brains, and ominous eyes, what's not to like about Karri Ramo's mask? Not only is David Gunnarsson's design intimidating, it fits perfectly with the Calgary Flames' red jerseys.
Tuukka Rask (Boston Bruins)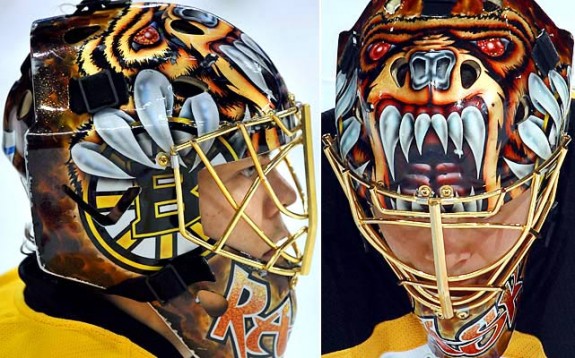 Despite the fact that Tuukka Rask's mask hasn't changed much since the '12-'13 NHL season, that doesn't take away from the fact that it fits well into this category. Unlike Montoya and Ramo's helmets, Rask has a different take on the beastly concept with a bear trying to break through the top of his mask while clasping the Bruins logo on either side. Staying true to the Boston Bruins' roots, Rask's helmet works on a number of levels.
Historical Relevance
Antti Niemi (San Jose Sharks)
Talk about historical relevance. Antti Niemi's helmet not only incorporates a very alluring and sleek icy-blue look, it also includes a nice representation of the Sharks' logo on the front, and lower right and left sides. However, the aspect of this mask that makes it historically relevant is its dedication to the Finnish Winter War Heroes that fought bravely against the Soviet Union from 1939 to 1940. It's hard to find a flaw in Niemi's mask as all of the colors and themes are fused together in such a cohesive fashion. Kudos to David Gunnarsson once again, this is one for the history buffs.
Jack Campbell (Dallas Stars)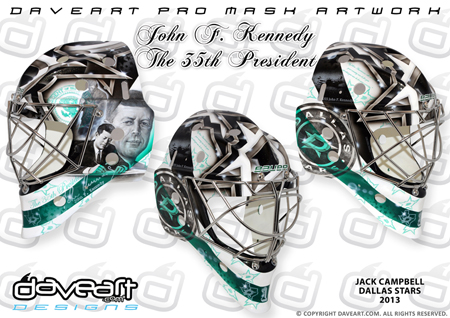 On top of the excellent striping patterns, this is a flat out classy tribute on behalf of Jack Campbell. While this mask effectively incorporated the Stars' new colors and logo, the John F. Kennedy theme is impeccable. Three separate images of JFK adorn the left side of Campbell's helmet, with the middle depiction of America's 35th President being especially stirring.
Yann Danis (Philadelphia Flyers)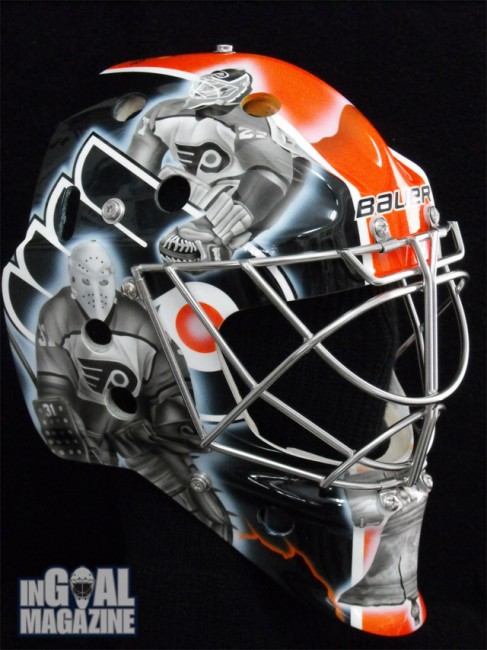 Pelle Lindbergh, Ron Hextall, Rocky (left side), and the Liberty Bell. If you're a hockey fan and can't relate to this mask in some way, shape, or form, then maybe you could appreciate it from a historical standpoint. Pelle Lindbergh and Ron Hextall were two significant figures in the Flyers' crease during the late twentieth century, and the images of Sylvester Stallone running up the steps of The Philadelphia Museum of Arts is well ingrained in the minds of many movie viewers. Lastly, the liberty bell (chin) is an obvious tribute to Philadelphia's most iconic piece of American history. Even though Danis isn't currently with the Flyers, it shouldn't take away from the spectacular work done on this helmet.
Cartoons, Comics, & Movies
Mike Smith (Phoenix Coyotes)
Mike Smith might not have put a traditional spin on his helmet design, but there's not much to not like about it. Smith's kids are featured riding Wile E. Coyote on the goalie's mask, and there is a huge illustration of the cartoon character on the helmet's top. Add in smoke clouds stretching in chin-strap like fashion from the right to left sides and an image of Road Runner on the left cheek area and you have a very complete mask.
Brian Elliot (St. Louis Blues)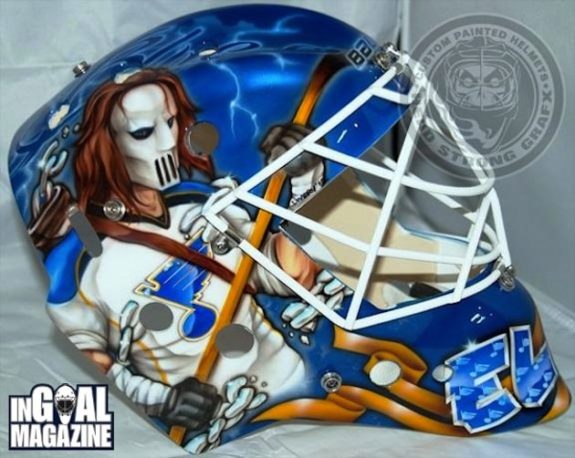 Although Brian Elliot switched masks for the 2013-2014 NHL season, anyone old enough to remember shouts of "Goongala!" will probably be hit with some form of nostalgia. For those that don't remember, Elliot's mask is a tribute to Casey Jones who was a vigilante character in the Teenage Mutant Ninja Turtles comic series. Jones' patented hockey mask and golf club bag are on prominent display on the right side of Elliot's helmet. While Jones had a few weapons of choice in the comic book series, it was only appropriate that he would be holding a hockey stick in this depiction. Comic book fanboys, like myself, would definitely appreciate this work, even if it isn't Elliot's primary mask anymore.
Pekka Rinne (Nashville Predators)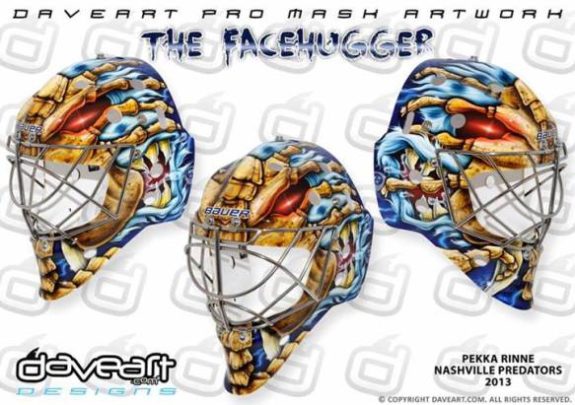 Pekka Rinne's mask would undoubtedly impress science fiction fans. The "Facehuggers" theme from Ridley Scott's 1979 film, Alien, is brilliantly represented on this helmet. While Rinne's mask might not be as fearsome as those in the "Beastly" category, it has an eye-grabbing design that cannot be mistaken by any hockey fan.
Honorable Mentions
Josh Harding (Minnesota Wild)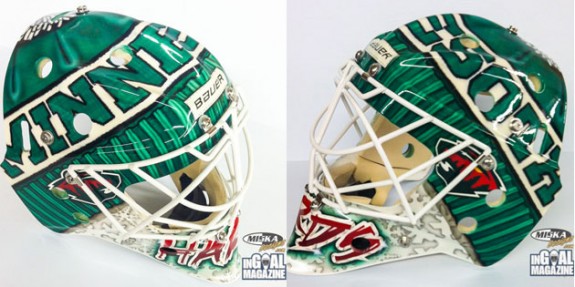 Anyone who knows what a toque is should appreciate this concept. Seeing this design instantly conjured up memories of Jose Theodore wearing a toque on top of his helmet during the 2003 Heritage Classic. Josh Harding's toque mask might not blow fans away with any catchy lines or bold colors, but it is a true representation of places such as Minnesota and other cold weather climates.
Further Reading & A Special Thanks For Photos: