Follow Lukas on Twitter @LukasHardonk for more Leafs coverage.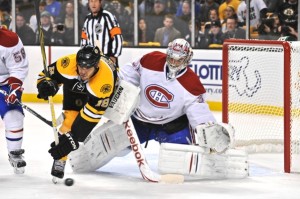 The NHL's regular season is now a week old and most teams have played at least three games. We have already seen many ups and downs through the first week; from Arron Asham's antics during a game against the Washington Capitals to Friday's news of Sidney Crosby being cleared for contact, one might think that all of the commotion has centred around the Pittsburgh Penguins.
However, that isn't the case.
The Northeast Division has provided fans with a fair share of surprises so far. The Toronto Maple Leafs got off to a hot start with victories over the Montreal Canadiens and Ottawa Senators, while the Canadiens and the defending Stanley Cup champion Boston Bruins have both struggled out of the gate.
Perhaps the only two non-surprises out of the Northeast so far have been the Senators (1-3-0) and the Buffalo Sabres (2-0-0).
Below are your Northeast Division power rankings for the week of October 6-14.
No. 1 – Buffalo Sabres (NE standings: T-1)
The Sabres didn't surprise anyone by defeating the Anaheim Ducks and the Los Angeles Kings while overseas.
The Sabres' offence has looked strong, as it has scored eight goals in the first two games. Thomas Vanek has been the team's biggest contributor; he has five points (two goals, three assists) in two games thus far. Jason Pominville has also been great for the Sabres, as he has four points and is a plus-3.
The defence hasn't been to shabby, either; it has allowed just four goals. You may say that Ryan Miller has bailed them out, though, as he has had to face 63 shots already this season. A couple of bright spots on the back-end so far for the Sabres have been Marc-AndreGragnani and Andrej Sekera, both of whom own a plus-3 rating.
No. 2 – Toronto Maple Leafs (NE standings: T-1)
The Northeast's other 2-0-0 team, the Maple Leafs, have managed to get the start they needed so far. A shutout victory of the Habs got the team going, while an ugly 6-5 victory over the Senators woke them up.
It is clear that sophomore goalie James Reimer has picked up where he left off last season. After finishing with a 2.60 GAA and .921 save percentage in 2010-2011, Reimer didn't allow a goal during the first five periods of play this season.
Also shining for the Leafs has been Phil Kessel, who scored a hat-trick on October 8 against Ottawa. He now has five points and owns a plus-4 rating.
Returning to the Leafs' lineup this week will be Clarke MacArthur. He was forced to sit out the first two games of the regular season after being issued a two-game suspension by the NHL for an illegal hit on Justin Abdelkader of the Detroit Red Wings. MacArthur suffered from an elbow infection during his time off that could have resulted in surgery, but he is expected to play on Saturday.
The Leafs may also get Nazem Kadri back, while they will be lucky to have Tim Connolly return late in the week.
No. 3 – Boston Bruins (NE standings: T-2)
The Bruins got off to a very slow start by winning just one of their first four games. The B's will attempt to get on the right track again on Saturday night, but it won't come easy against the Chicago Blackhawks.
One major problem for the Bruins through their first four games has been their top-six forward group. Entering the season expected to be one of the league's best, the Bruins' top-six has struggled to score.
Patrice Bergeron, Nathan Horton and Milan Lucic are all without a goal through four games. Tyler Seguin has one, while Rich Peverleyand Brad Marchand each have a pair.
The Bruins have managed to keep an even goal differential, though. A large part of that has been thanks to three of the players mentioned above─Bergeron, Marchand and Seguin─who are each plus-3. Also lending a hand have been defencemen Adam McQuaid, Andrew Ference and Zdeno Chara, all of whom also own a positive rating.
No. 4 – Montreal Canadiens (NE standings: T-2)
Like the Bruins, the Canadiens have had a very disappointing start to their season.
The Habs opened with a 2-0 shutout loss to the Maple Leafs, but they did manage to straighten things out against the Winnipeg Jets as they lit the lamp on five occasions. Mike Cammalleri, Tomas Plekanec, Yannick Weber, Travis Moen and Max Pacioretty─yes, that Max Pacioretty─all contributed a goal in that game.
However, the victory didn't come without bad news, as the Habs learned that they would be without Cammalleri for 10 days to a weekafter he was cut by Weber's skate during the game.
The Habs then went home where they lost their home-opener 4-1 to the Calgary Flames, who hadn't won in two tries going into the game. Price allowed those four goals on just 21 shots, but did play the entire game.
If it weren't for their negative goal differential, the Habs would likely find themselves in third place in this week's power rankings.
No. 5 – Ottawa Senators (NE standings: T-2)
Yes, that says the Senators are currently tied for second in the Northeast Division, but don't expect that to last much longer.
Many people say "an American Hockey League team that was called up to the NHL" when asked to describe the Senators' roster going into the season. Those people have a case in one respect, with Daniel Alfredsson, Milan Michalek, Chris Neil, Jason Spezza, SergeiGonchar, Filip Kuba and Chris Phillips being the only real proven NHL veterans on the team.
The Sens had a couple good comebacks in their first two games, only to fall short of the win. They were down 5-0 in Detroit to start the season before scoring three unanswered times in the third period, while they scored three goals in just over four minutes late in the third against Toronto to get within one before Phil Kessel put it away.
The Senators won their home-opener 4-3 against the Minnesota Wild in a shootout before getting blown out of the water 7-1 by the Colorado Avalanche on October 15.
Twitter: @LukasHardonk | Email: lukas.hardonk@gmail.com | Lukas' archive
For every Leafs article on THW, follow @THW_MapleLeafs on Twitter.
Lukas, a student at the University of Ottawa, covers the Toronto Maple Leafs on a part-time basis for The Hockey Writers. Contact Lukas at lukas.hardonk@gmail.com or follow him on Twitter, @LukasHardonk.