The Pittsburgh Penguins had an obvious need this past offseason, which involved moving Brandon Sutter. The outcome of that deal was a return of Nick Bonino, Adam Clendening and an upgraded draft pick. That return provided exactly what Pittsburgh needed in the form of cap relief, along with a very capable third-line center that could provide offense. Or, so we thought.
Bonino was a bit of a mystery this summer, as many were wondering exactly what he would offer to the Penguins. Is he a defensive-minded center? Is he similar to Sutter, which means opportunistic scoring but little else in the form of contributions? Can he play a shutdown role? The story on Bonino is actually quite simple, though. He's a fairly responsible two-way player that possesses some offensive creativity and can generate offense. But, so far this season, outside of a few sporadic glimpses, he hasn't shown much in the form of production. In fact, he has only recorded four points through his last 20 games. When you consider that Phil Kessel was flanking him for at least some of that stretch, it's hard to imagine why he isn't contributing more.
The Penguins severely needed help in the bottom-six, as well as top-end scoring for the 2015-16 season. Jim Rutherford stole a page from the book of the 2014-15 Chicago Blackhawks and Tampa Bay Lightning and focused on sprinkling skill throughout the lineup, rather than opting for gritty, less impactful forwards for the bottom-six. So, at what point does Bonino and company step up and provide a much-needed boost from their bottom lines? At first, the swap of Sutter for Bonino looked as if it would work out well for both parties involved. Recently, though, it's beginning to look like Bonino may be in need of a reduced role and Pittsburgh just might need a different answer for third-line center.
By The Numbers – Nick Bonino's Production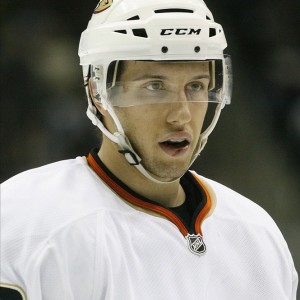 Bonino has recorded three goals and nine total points through 38 games this season with the Penguins, which averages out to roughly .24 points-per-game. He's on pace for six goals and 13 assists for a grand total of 19 points through a full 82-game season, a far stretch from his production over the last two years in Anaheim and Vancouver in which he recorded point totals of 49 and 39. One could argue that Mike Johnston's handcuffing of Pittsburgh's offense throughout the first two months of the season is a factor but we've seen little to no uptick in production from him under Mike Sullivan's tutelage so that's a tough sell.
Bonino's underlying numbers also reflect his lack of production and in all honesty, the lack of overall depth scoring across the lineup. He currently possesses a goals-for per 60 minutes of 1.47, according to stats.hockeyanalysis.com. So, for every hour that Bonino is on the ice, the Penguins can expect roughly 1.5 goals-for. Unfortunately for the Penguins, most of their bottom-six falls right in line with Bonino's metrics so while there's an obvious need for more production from him, he isn't the only disappointing forward in that group by any means.
Defensively, Bonino's numbers are perplexing. He ranks third on the Penguins in shots-against per 60 minutes, or in other words, actual shots-on-goal from the opponent he's facing. But, when it comes to shot attempts-against, which includes blocked shots and those that miss the net, he's 17th. That tells us that while Bonino and company are on the ice, the Penguins are spending too much time in their own end and despite the fact that they're keeping shots wide or blocked, they're still allowing too many attempts. His Corsi-for percentage of 48.1 tells the same story. One explanation could be the defensemen that he most often plays with, considering they have a major role in escaping their own territory but at center, Bonino should be highly involved as well.
Time for the Penguins to Utilize Their Center Depth
Nick Bonino being a mainstay at third-line center has been one of the more interesting story lines during Sullivan's short tenure in Pittsburgh. Sullivan has shown the willingness to move players, even star players, up and down the lineup in order to find the right fit. So, why is Bonino cemented into that spot given his lack of impact?
This past offseason saw Rutherford acquire a lot of versatility among Pittsburgh's bottom-six cast of forwards. Matt Cullen, Eric Fehr and Bonino are all capable of slotting in at multiple positions. Cullen, after mostly playing a fourth line center role, has found himself playing on Evgeni Malkin's left-wing as of late. Fehr has taken over the fourth line center role after playing most of the season at right-wing. Considering Bonino's skating ability and apparent creativity with the puck, why not give him a shot with Malkin while Cullen or Fehr attempts to stabilize the third line? Bonino has the offensive flair to potentially fit well.
He has the hands and skating ability to possibly be a contributor alongside skilled players. So far, none of his employers have given him a long look in that sort of role. If he continues to be less-than-effective while centering the third line in Pittsburgh, Sullivan may not have a choice. Nick Bonino is a good hockey player. It's time to find out if he's better suited somewhere else in this lineup.
Pittsburgh Penguins writer for TheHockeyWriters.Com and PittsburghHockeyNow.Com. Youth hockey coach, and student of the game.