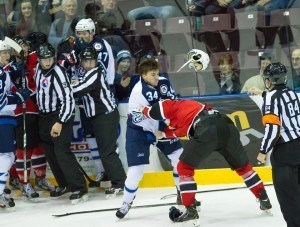 The Move
The dust is beginning to settle after the announcement that the St. John's Ice Caps will be returning to Winnipeg for the 2015-2016 season. Lawyers, team executives and agents are busy behind the scenes, making the necessary moves and deals to make sure the relocation goes smooth. However, for one real estate agent currently living in St. John's- the move back to the prairies is the least of his worries. Blair Riley, the hardnosed Caps' forward, who also holds his real estate license, is concentrated on two things: helping the younger players to develop and winning the Calder Cup.
The pride of Chase, British Columbia, where his family owns and operates Riley & Associates Realty, is in his fifth year of professional hockey after graduating from Ferris State University in 2010. "My dad insisted that I take courses during junior and be prepared for life after hockey, so I studied, wrote the test and got my real estate license", says Riley. Blair would move on to Ferris State, where he was a finalist for the Hobey Baker Award and finished his career with 87 points in 147 career games while graduating with a degree in Business Administration.
Since graduation, he has suited up for six different professional teams in the AHL and ECHL before coming to St. John's last year. "My buddy Zach Redmond played here, so between talks with him and Craig Heisinger, they made the decision very easy", Blair recalls, "It's a decision I haven't regretted". At first glance, this may seem like the classic, cookie cutter story of a journeyman who is chasing his dream of suiting up for an NHL team, but that is far from the truth.
The Young Veteran
On a team where the average age is around 24, Riley who is 29, is considered one of the "old guys" on the club. Not only does he have to concentrate on bringing his best game every night but also helping the younger guys adjust to the professional game. "It is a role that I accept and enjoy doing", explains Riley, "Jason Jaffray has been the leader for a long time and played in the NHL but I also like to offer advice to guys in areas where I can help the younger guys out". Nobody appreciates the advice and support from Riley more than his roommate and Jets' 3rd round pick in 2013, J.C Lipon. "I was used to putting up numbers in junior but when that didn't happen in St. John's, I knew I had to adjust my game", says Lipon, "I was killing lots of penalties and dropping the gloves so Blair would give me tips on certain guy's tendencies or tricks".
It is obvious that his teammates find him invaluable when they are trying to not only make the transition from junior to pro but from "the farm" to the NHL. With that being said, Riley hasn't given up on his dream of lacing up the skates for the Jets. "It's awesome being able to watch guys like Lowry and Chiarot not only make the jump but perform", describes Blair, "That doesn't mean that I don't want to make that same jump but I need to keep doing the things that have brought me this far".
"The farm" is a place where draft picks cut their teeth and boys become men as they get their first taste of being a professional both on and off the ice. However, the development of players cannot ride solely on that of the coaches and teammates, like Blair Riley, are needed to lead by example. As Winnipeg braces itself for the arrival of their second professional team, fans are beginning to take a look at potential future Jets and the players that could one day become household names. Although his future with the organization isn't set in stone, Riley is determined to be one of those "names". "I'm excited at the idea of playing in Winnipeg even though it will be tough to leave St. John's and the fans here", says Blair, "We will bring the same tough play back to Manitoba but I'll leave the moving details to the organization and the experts".