With a new coach to be hired and a commitment from the New York Rangers organization to change the culture and stylistic approach on the ice, every player still wearing a Blueshirt in 2018-19 will be on notice.
No one should understand that better than the team's veteran defensemen.
This club on the rebuild has, so far, given every indication that it will try to do this right. That means putting younger players in important spots and trying to assemble a talent foundation that will lead to another decade or more of playoff appearances and hopefully, another shot at the Stanley Cup.
Related: Rangers' Rebuild Requires Synergy
Plenty of patience with those youngsters will be required. Conversely, the organization probably isn't going to be overly tolerant of experienced players who don't produce.
The blue line includes three such veterans who could find themselves in danger of being marginalized after playing central roles in an extremely ugly defensive performance in 2017-18. The situation could have been considerably worse had the Rangers not possessed a savior named Henrik Lundqvist in net.
Put simply, Kevin Shattenkirk, Marc Staal and Brendan Smith need to show that they can stabilize a defense corps that will likely include at least two or three young players who are seen as potential future cornerstones.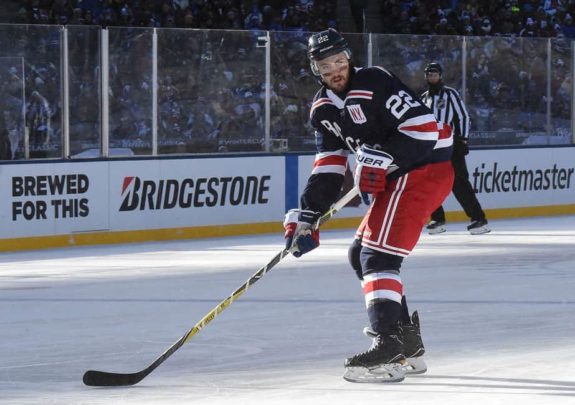 If they can't, and, in the cases of Shattenkirk and Smith, don't improve on their performances from last season, their minutes would be much better employed in the hands of some of the prospects who might be knocking on the big club's door.
Rangers Need Stability from Veteran Trio
The Rangers allowed 35.3 shots against per game during the regular season. Only the New York Islanders, whose 3.57 goals-against average was last in the league, were worse at 35.6. The fault for that performance lies with everyone — forwards, defensemen and coaching staff. Putting an end to the barrage of rubber faced by the Rangers' netminders over the past several seasons is certainly high on the rebuilding agenda.
That isn't going to happen overnight, but, in the meantime, the big-money trio of Smith, Shattenkirk, and Staal needs to play a prominent role in solidifying things in front of Lundqvist.
The biggest change, of course, needs to come from Smith, whose 2017-18 was such an epic disaster that he might not want to get rid of his Hartford-area accommodations yet. There's no guarantee he'll make the team after his work ethic and attitude — and consequently, his level of play — crashed just months after signing a four-year, $17.4 million extension last June.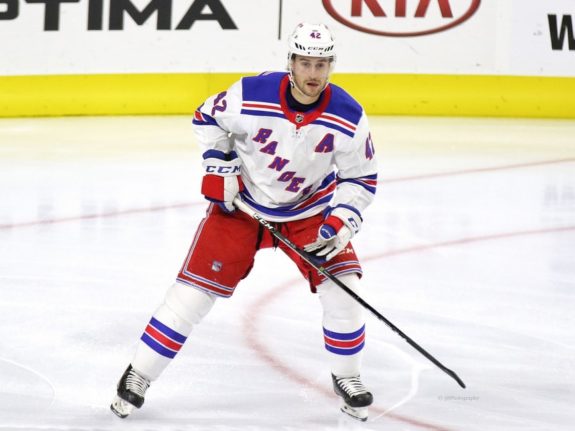 The player whose emotion and physical play made him look like a steal after being acquired from Detroit at the 2017 trade deadline has plenty to prove if he wants to earn a roster spot in training camp. After the organization finally had enough of his uninspired play and demoted him to the AHL on Feb. 8 (Smith's 29th birthday) it's hard to imagine the Rangers being particularly patient if they see any of the same come September.
And it's difficult to believe general manager Jeff Gorton and the front office haven't planned for the possibility of Smith spending a full season banished to Connecticut's capital city, though they'll be expecting a full effort from him in camp.
Shattenkirk should be operating with more leeway than Smith, given that he suffered a meniscus tear in his knee in training camp and eventually required season-ending surgery in January. Optimistically, his struggles – he was a minus-14 in 46 games with 23 points – can be chalked up to the offensive defenseman's loss of explosiveness because of the injury.
Even if he's healthy, 'Shatty' will be trying to quiet some of the whispers that have followed him through four teams and eight NHL seasons – he's not a top-pair defenseman, can't match up with an opponent's top line, and is better suited to the second or even the third pair, which can hide his defensive deficiencies and accentuate his offensive abilities.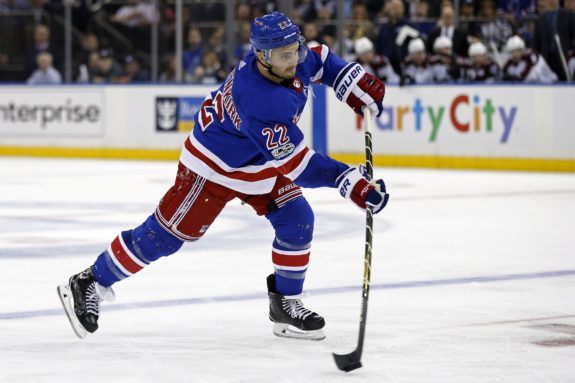 His four-year, $26.65 million contract, such cause for celebration amongst the faithful when he signed for below-market value in years and dollars before last season, is now looking like a potential albatross deal. That's to be expected, though, for any player that carries a $6.65 million annual cap hit and doesn't provide as promised.
Staal was a pleasant surprise last season, delivering a mostly solid performance – albeit playing on the second and third pairing – and likely delaying the inevitable buyout of his horrendous contract (three more years, $5.7 million per) for another season. If he can't match that effort in 2018-19, he probably won't be recording a sixth straight season of 70-plus games played.
If Vets Aren't up to the Task, Play the Kids
The conundrum for the Rangers: They need Shattenkirk to anchor the top spot on the right side, regardless of reputation. They need Smith to go back to providing edge and fire. They need Staal to be a quiet rock in front of The King again. If the veteran trio can deliver all of that, it will provide much-needed experience and leadership for the young defensemen around them that are sure to get minutes. But if they can't …
If they can't, then the team shouldn't be playing them just for the sake of playing them. If the defense struggles with the three in the lineup anyway, then the Rangers should not hesitate to let as many kids as possible get the growing pains out of the way, in the form of bigger minutes and moments. Not rushing players who aren't ready is one thing; allowing youngsters to be blocked by ineffective big-salaried vets amidst a formally stated youth movement is another.
Related – Rangers Draft Strategy: Keep it Simple, Stupid
Right-handers Neal Pionk and Anthony DeAngelo are going to get prime opportunities to continue their development next season. Lefties Rob O'Gara and John Gilmour showed flashes of promise in their limited auditions late last season. Perhaps most significantly, do Libor Hajek and Ryan Lindgren, two prizes from the club's pre-deadline sell-off, get a chance in 2018-19?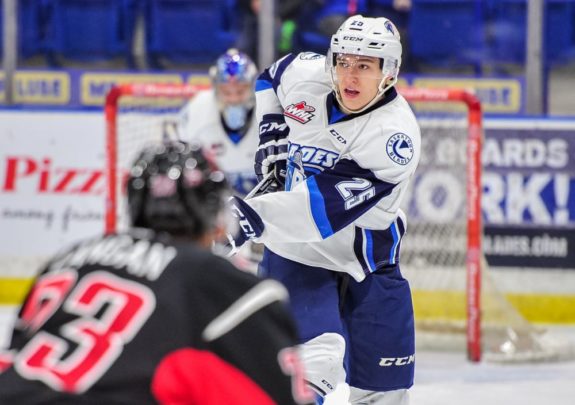 The Rangers don't want an all-kid blue line and they don't want to rush anyone, either. If, however, the veterans aren't getting it done, the Blueshirts remain a poor defensive team, and Hajek or Lindgren look ready for a shot at some point? Then there shouldn't be any reservations about moving forward with trying to forge this team's future defense, no matter how financially inefficient it would be to have the big-money guys watching rather than playing.