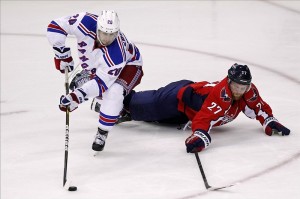 When Glen Sather took over the reins as New York Rangers General Manager in 2000, he and his staff did not initially light it up at the NHL entry draft. Aside from hitting the jackpot by trading up with Atlanta for the right to select stalwart defenseman Mark Staal with the 12th pick overall in 2005, most of the Blueshirts' top picks in Sather's early tenure read like a rogues gallery of the washed-out and washed-up.
2000: Filip Novak (64th overall)
2001: Dan Blackburn (10th)
2002: Lee Falardeau (33rd)
2003: Hugh Jessiman (12th, the most notorious of the bunch)
2004: Al Montoya (6th)
2006: Bob Sanguinetti (21st)
Though the flame-outs of early-selected net-minders Blackburn and Montoya were softened by the greatest draft pick in Rangers history of Henrik Lundqvist in the 2000 draft seventh round (205th overall), it bears noting that many NHL GMs considering the crapshoot of drafting a goaltender in the top 10 a huge mistake. This is due to the high percentage of highly-touted players at that position who wind up fading into the oblivion of mediocrity and bust-status.
In the three picks following Blackburn in 2001, a pair of very good NHL players were selected in defenseman Dan Hamhuis and right wing Ales Hemsky, either of whom would look great in a Rangers' jersey right now. Looking back at the 2004 draft, the selection of Montoya is especially painful to the Blueshirts' faithful knowing their rival New Jersey Devils nabbed their excellent, two-way top-line center Travis Zajac 14 picks later at 20th overall, while at 26th Vancouver took Corey Schneider, currently a far superior goaltender than Montoya, evidenced by his much-heralded usurping of the Canucks' starting gig from perennial all-star Roberto Luongo.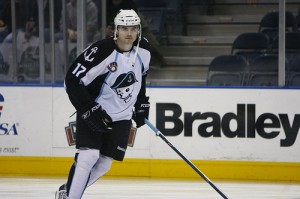 These picks were sandwiched around the most famous debacle in Rangers' draft history, the baffling selection of Hugh Jessiman 12th overall in the star-studded 2003 draft, with a glittering cornucopia of future studs left on the board. Somewhat agonizingly in retrospect, these include: Dustin Brown (13th), Brent Seabrook (14th), Zach Parise (17th, again the Devils), Ryan Getzlaf (19th), Ryan Kesler (23rd), Mike Richards (24th) and Corey Perry (28th).
Sather Revamps Scouting Staff
In 2006, these consistent early draft failures led Sather to revamp his scouting staff around director of player personnel Gordie Clark. Examining the Rangers' top picks in the past half-decade, there is a lot to be excited about. If a thin 2008 draft were held now, defenseman Michael del Zotto would surely be a top-ten pick. The Rangers struck gold taking him 20th overall. In 2009, the same could be said for forward Chris Kreider, falling to the Rangers with the 19th pick but a stud in last season's Eastern Conference playoff run. Kreider offers a tantalizing blend of size and speed and has superstar upside in the NHL.
The jury is still out on 2010 10th overall pick Dylan McIlrath, a hulking and intimidating defensive rearguard whose nickname says it all: The Undertaker. A project when the Rangers drafted him, McIlrath is on schedule to be skating with the big club by the 2014-15 season. The Rangers' 2011 top pick, J.T. Miller, is a gritty and skilled two-way center often compared to a healthy Ryan Kesler. Since the Rangers called him up last weak they are undefeated at 3-0, and Miller's strong play indicates that it is no coincidence.
Last year's top selection, defenseman Brady Skjei (pronounced SHAY), was considered by many to be the top skater in the draft and offers a great deal of upside. Like McIlrath, he is considered to be a bit of a project, but it is a credit to Sather's staff that three of the Rangers past five top picks are already contributing at the NHL level. Free agent acquisitions such as Brad Richards and trade acquisitions such as Rick Nash are certainly key in building an NHL franchise, but most experts would agree that sustaining a successful team over the long haul is largely contingent on success at the NHL entry draft. The Rangers recent success in this endeavor has them poised to compete not just now, but for the foreseeable future.
Quick Checks (Around the NHL)
— Colorado center Ryan O'Reilly likely made a huge mistake holding out for a new contract in a shortened season one year before he was arbitration eligible. Regardless, a strong second-line two-way pivot is a coveted commodity in today's NHL, and now that the Avs have committed to dealing him, expect the suitors to line up. Teams which could use a player of O'Reilly's position and caliber include: Phoenix, Columbus, Chicago, Winnipeg, Carolina, Montreal, Ottawa, Buffalo, Toronto (of course), Philadelphia and the Islanders. Colorado management claims they are looking for a solid NHL contributor and a top prospect in return for their 2011-12 leading scorer.
— Remember in last year's playoffs when NBC broadcaster Pierre McGuire famously called Flyers' center Claude Giroux "the best hockey player in the world"? Well, after being largely responsible for the Flyers' collapse against the Devils, Giroux has opened this season with just eight points in 14 games, just two of them even strength. Giroux has spent as much time this year arguing with referees as he has on the scoresheet. He is a very good offensive player for sure, but I think it's a bit early to consider him elite. Granted no one really pays any attention to Pierre McGuire, but I think Giroux needs to become one of the top 25 players in the world before he can be considered "the best".
— News of the demise of the Detroit Red Wings may have been premature. Since starting out slow without imminent Hall-of-Famer Nicklas Lidstrom, the Wings have soared to a 6-2-1 record. Sublime stars Pavel Datsyuk and Henrik Zetterberg have been playing absolutely amazing two-way hockey, and Swiss rookie winger Damien Brunner looks like another under-the-radar European coup by Detroit's brilliant General Manager, Ken Holland.
— Roberto Luongo. There. I said it. I have nothing substantial whatsoever to say about him of course, but by simply mentioning his name I feel I have more in common with most of the hockey writers in North America.