by Jas Faulkner, contributing editor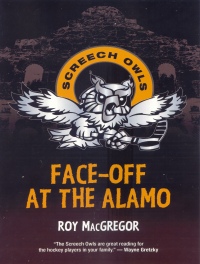 The Deets:
Face-Off At The Alamo
2013 Tundra Books
MSRP 8.99 (US) 9.99 (Canada – That hardly seems fair.)
ISBN: 978-1-77049-418-3
The Review:
In the 22nd installment of Roy MacGregor's Screech Owls series, Face-Off At The Alamo, the gang heads to San Antonio, Texas for an invitational tournament that puts them at odds with dirty teams and grittier villains.  For the uninitiated, MacGregor's series of chapter books for tween to teen readers combines the best of old school mystery series with solid writing about hockey.
Youngsters with an interest in the game will appreciate the exciting play-by-play descriptions.  MacGregor, who is an award-winning sports journalist as well as a children's author, knows how to create a sense of what it's like to be part of a PeeWee team.  The subtle mini-lessons about hockey traditions and rink etiquette and the writerly nudges to note the good behavior modeled by the Screech Owls' roster put this book squarely in family-friendly territory.  Couched within storytelling that is anything but sugarcoated, this book -like all of the titles in the series- is an update of the kind of mystery/adventure stories that have been popular since Nancy Drew and The Hardy Boys first hit the shelves in the 20s' and 30s'.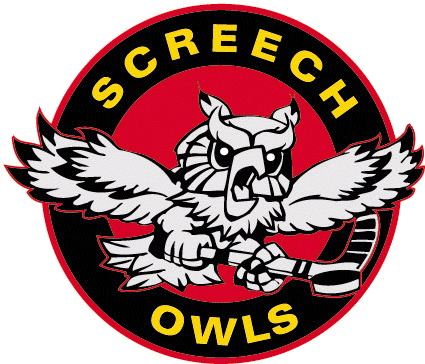 Reviewers have touted the Screech Owls books as a great way to get reluctant male readers to flip some pages.  The appeal goes way beyond this simply being a "boy's book."  The team consists of boys and girls as well as a mix of ethnicity, body types, and abilities.  This is a nice echo of the current stance taken by the NHL that "hockey is for everybody."  The only thing that might make adult readers a little uneasy is MacGregor's use of the attack on the Murrah Building (barely disguised and relocated to Kansas City in the book) as a plot element.  Children who are used to hearing about terrorists as part of their daily news diet might not blink.  Adults may find it's a speed bump that takes them out of the moment, if just for a page or two.
Weighing in at 160 pages, Face-Off At The Alamo is the perfect length for young hockey fans who are well into their first or second year of reading chapter books.  Families who share read-aloud time will find the story moves quickly enough that adults and children may have a hard time stopping at just one chapter before lights out.
Jas Faulkner is a minimally socialised writer and artist who lives and works in Nashville, Tennessee. She hearts her attitude problem.