We all knew it was coming. It was just a matter of time for when the Edmonton Oilers would hit the first bump in the road of the 2016-17 season. That moment came to fruition this past weekend, as the Pacific Division leaders dropped a pair of crucial contests to the visiting Dallas Stars and New York Rangers. While it may not be the result anyone wanted, everyone knew the month of November would be a tricky one for this club to maneuver through and it has proved to be exactly that.
Oilers with 81 shots in the last two games but just three goals.

— Reid Wilkins (@ReidWilkins) November 14, 2016
Despite holding their own in both games and throwing a combined total of 81 pucks at Kari Lehtonen and Antti Raanta, the Oilers came away from the weekend with 3-2 and 3-1 losses for their trouble. For one of the few times this season, Cam Talbot was outplayed by his counterpart on both nights and continued his recent trend of allowing early first period goals against. While it would be silly to put all of that on the 29-year-old netminder, pucks that weren't squeaking through in October are suddenly finding their way into the back of the net.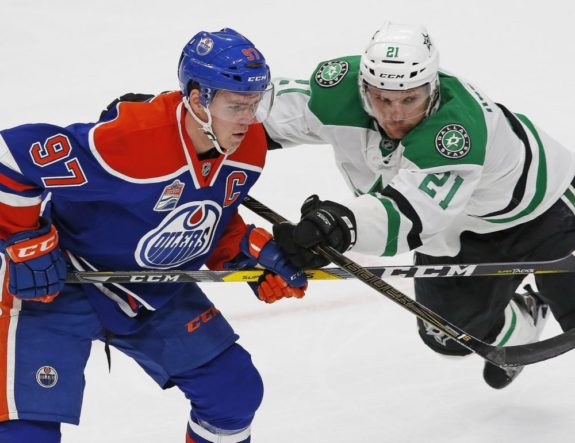 Oilers Offence Dries Up
Add to the goaltending, the Oilers possess an offence that, while generating a ton of shots, sees far too many come from the perimeter with little to no traffic in front. As dominant as Connor McDavid looks on a shift-by-shift basis, the kid hasn't lit the lamp in his last eight games. To make matters worse, Jordan Eberle and Milan Lucic have done little to help the youngster out and both have been guilty of costly brain cramps in their own end … which their goaltender hasn't been able to bail them out of.
Message clearly sent to Jordan Eberle. He needs to be better.
Third period ice-time:
Eberle: 3:57
Pitlick: 7:05

— Bob Stauffer (@Bob_Stauffer) November 14, 2016
The trio of Leon Draisaitl, Ryan Nugent-Hopkins and Benoit Pouliot have combined to score goals in just six games this season, bringing their collective total to a rather underwhelming eight on the year. Outside of Tyler Pitlick, the collective struggles are there for all to see and yet, to their credit, this team continues to find ways to be in each and every game they play. Yes, the fact the Oilers' record is 2-4-1 in November isn't good, but this should surprise absolutely no one.
November Was Never Going to Be Easy
The best case scenario had Edmonton finishing up the month with a .500 record in 15 games and that is still a possibility. Is it likely? Probably not but chances of it being much worse, in my mind, are rather remote. This is why it was so imperative for the Oilers to take advantage of their pillow-soft schedule in October. Despite having won just twice in their last eight games, this team still sits atop their division with a 9-6-1 mark and that will go a long way in helping keep them in playoff contention throughout the season.
At 7-2-1, it was standing room only on Oiler bandwagon. At 9-6-1, it's veering toward the ditch like a shopping cart with a wonky wheel.

— Robin Brownlee (@Robin_Brownlee) November 14, 2016
Make no mistake, Edmonton had the opportunity to send a message of sorts to the rest of the Western Conference by coming home from an extended road trip and beating a couple of teams that appeared to be ripe for the picking. Unfortunately for them, that did not occur but in reality, this group is nowhere near ready to take that step. Again, considering this organization is in the midst of a decade-long absence from the playoffs, this should surprise absolutely no one.
Oilers lose two home games against two teams that were both playing back to back with one of them playing a backup. Completely unacceptable.

— DC (@David___Co) November 14, 2016
Problem being, portions of this fan base have decided to place an unrealistic expectation on this collection of players because of their quick start and that is not fair to anyone. As crazy as it may sound, some were throwing around the notion early last week of the Oilers possibly being a top-ten team on local radio and this past weekend gave us a resounding answer to that question. They are not at that level and that is ok because that was never supposed to be part of the equation for 2016-17.
Rob Soria is the Author of Connor McDavid: Hockey's Next Great One. He has chronicled the Orange and Blue since creating his Oil Drop blog in 2011 and has also had his writings featured over at HometownHockey.ca and Vavel USA, where he has covered the NHL, MLB and ATP Tour. Rob was born, raised and still resides in Edmonton, Alberta and can be reached via twitter @Oil_Drop.