The Toronto Maple Leafs have drastically altered their image from last season to now. A huge reason for this change is the addition of a handful of rookies into the lineup.
They have been a shot in the arm for Leafs fans and have injected the roster with speed, creativity and a hopeful glance at what a dominant force they could become in the future.
Auston Matthews
The most recent first overall pick has been fantastic to start his NHL career. His four-goal season debut is a game that many will not soon be forgetting. He currently sits with an even 12 points on six goals and six assists through 15 games.
Pundits are beginning to worry because Matthews has been in a scoring slump in recent games. I'm going to set the record straight right now. There is absolutely no reason at all to stress over this.
Only players with more shots than Auston Matthews: Burns, Tarasenko, Seguin, Hornqvist, Hall, Voracek, Ovechkin. He's fine.

— Scott Wheeler (@scottcwheeler) November 14, 2016
Despite not scoring, Matthews has still been generating a multitude of offensive chances. He's just been a bit snakebitten with poor shooting and puck luck. The young rookie has hit a whole bunch of posts and crossbars the last handful of games as well. If those shots are placed just a little lower and inside, we aren't having these discussions.
The goals will start to pile up again in the very near future. Matthews is due for a breakout. The good part is that he's playing well with and without the puck. If you do the little things right, the goals are sure to follow. There shouldn't be any concern over Matthews' production.
William Nylander
The eighth overall pick in 2014 has had his fair share of struggles recently. Coming off of a hot start, Nylander was looking dominant, especially when he had the puck on his stick. Against the Montreal Canadiens, he was a force and was able to stickhandle through players with ease.
He's been a bit cold recently, but as with Matthews, this isn't a cause for concern. A player of Nylander's talent won't be struggling for long. He's extremely dangerous on the cycle where his vision at the top of the circle allows him to see the best offensive option.
He also has 12 points which is built off of four goals and eight assists through 15 games. People need to remember that Nylander is in his first full season in the NHL. The young Swede, along with most of the other names listed here, are trying to find their way and develop into NHL regulars.
He's simply too talented to not succeed. Mike Babcock may shake up the lines, but wherever Nylander lands will get an infusion of speed and skill in a hurry.
Mitch Marner
Many fans had concerns about Marner. Was he too small to succeed in the NHL? Is his shot hard enough to beat a big league goalie? I think that those questions can be thrown in the asked and answered section.
Marner has been a revelation for the young Maple Leafs this year. Not only are his speed and skill on full display, he's also shown his fun and excitable side. The teenager has been caught singing Bon Jovi on the bench and prancing with glee after a Morgan Rielly goal.
https://twitter.com/NHLBlinn/status/797243301598523392
He's has a fantastic month of November and has begun to get comfortable with the flow of an NHL game. He's tied with Nylander and Matthews with 12 total points, five of which are goals. The former London Knight has been one of the most exciting Leafs on the roster for far this season.
Whether it's making incredible no look passes, diving to keep a play alive or relentlessly backchecking to get the puck back, Marner has made many Leaf fans incredibly happy.
Nikita Zaitsev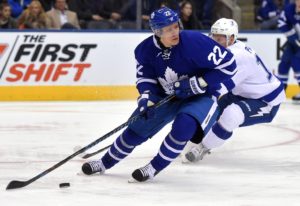 A lot of attention goes to the Maple Leafs big three trio of rookies. Sometimes lost in that shuffle is new defenseman Nikita Zaitsev. Recruited hard by Brendan Shanahan and company last year, Zaitsev has been one of the best and most consistent blueliners so far this year.
He shows incredible poise in his own end and is able to effectively drive the play. He's also shown a bit of grit, especially when working on a forward in the corners. He currently has seven points, all of which are assists.
The seven-year pro out of Russia plays a smart transition game and while he isn't overly talked about, he's been a quietly effective presence for a young Leafs squad that is trying to find its place in the NHL.
Connor Brown, Connor Carrick and Nikita Soshnikov
Both Brown and Carrick have made the jump to the Leafs this year after spending much of last season in the American Hockey League. Brown was a force for the Marlies and won the rookie scoring title in 2014-15.
Brown's role was limited early on to fourth line duty in his first full season with the Leafs. He has since been shifted around and has spent some time playing on the wing of Nazem Kadri, a more skilled player that would better suit his skill set.
An interesting note on Brown as well. He made his NHL debut last year on March 17, 2016. He scored his first career goal March 24, 2016 against current Leafs goaltender Frederik Andersen.
https://twitter.com/JeffVeillette/status/783512527602851841
Carrick was acquired last season as part of the trade that sent Brooks Laich to the Maple Leafs. Carrick has been a solid presence on the blueline and isn't afraid to jump up into the rush to help generate a chance. He's also somewhat physical and doesn't shy away from confrontation with opposing forecheckers.
Soshnikov is a very exciting player to watch. He's been described as a more skilled version of Leo Komarov. That means he can get under your skin but also put the puck in the net. Soshnikov has added a much needed spark to the Leafs bottom six, where he is able to hit everything in sight, but also make skilled plays and contribute offensively.