In an Edmonton Oilers news and rumors update, the Oilers will be facing off against the San Jose Sharks on Monday night and head coach Jay Woodcroft seems to think this is a good opportunity to put Jack Campbell in goal. Meanwhile, there is an update on the health status of Dylan Holloway and Ryan McLeod, Zach Hyman joins the 30-goal scorers club, and a special congratulations go out to Evander Kane who found out he's having a baby boy!
Campbell Gets the Start vs. the Sharks
While Stuart Skinner has played well for the Oilers, Woodcroft is going with Campbell as the starting netminder versus the Sharks on Monday night. Woodcroft said, "He's worked hard, stayed patient, and worked on his game waiting for his chance. He is ready to go."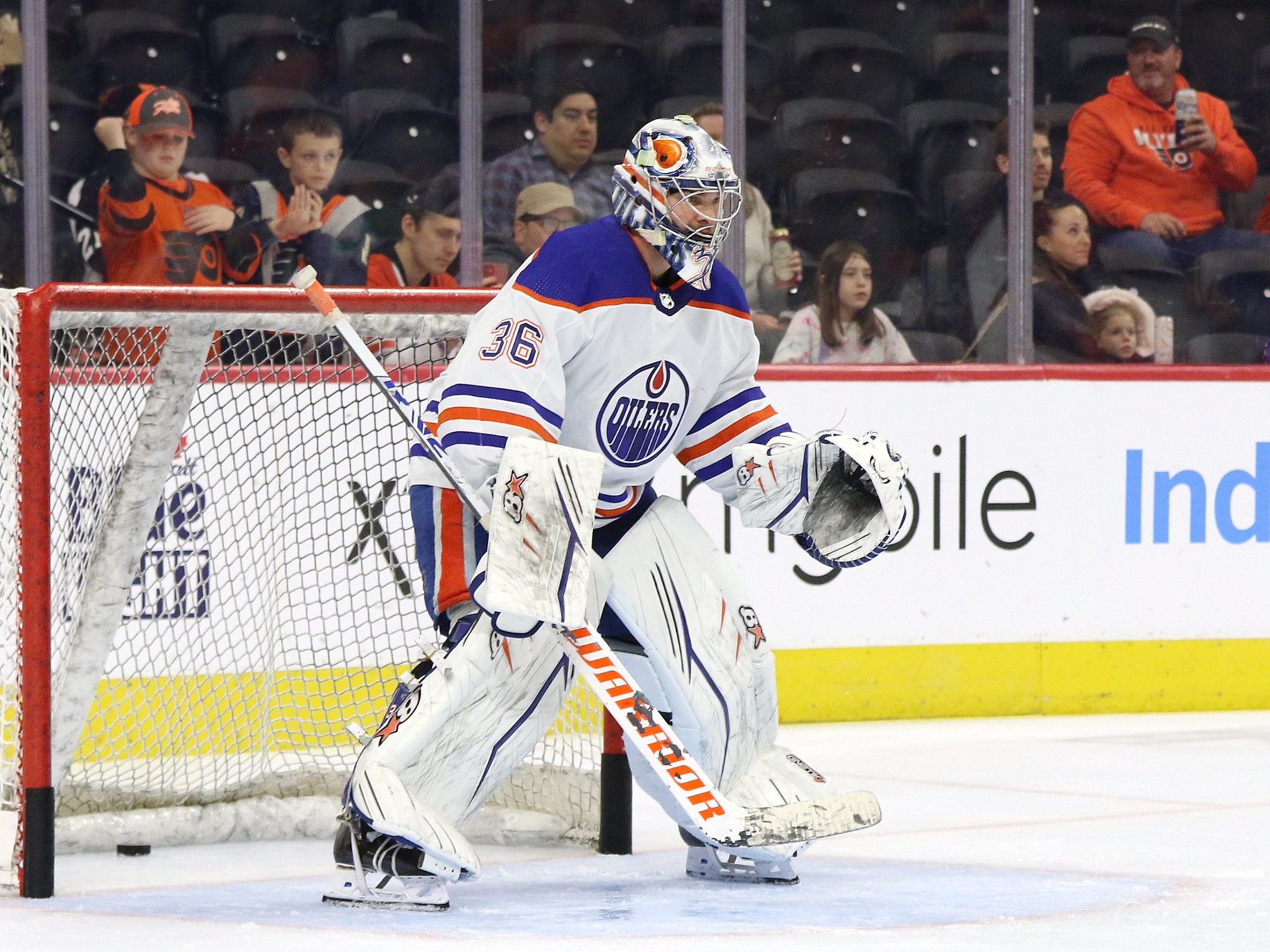 The Oilers need Campbell to find his game again. He's had an up-and-down season (mostly down) and Skinner has been getting the bulk of the starts because the Oilers have needed the points in a very tight Western Conference race. It's not clear if the decision is based on the fact the Oilers gave themselves a bit of a cushion between them and Seattle or if the Sharks are considered a team Edmonton can beat, even with less-than-stellar goaltending. Either way, this is an opportunity for Campbell to change the narrative surrounding his play of late.
Campbell said of his getting the start, "Game is feeling good, just ready to go out & have some fun."
Holloway and McLeod Close to Returning From Injury
According to TSN's Jason Gregor, "Dylan Holloway is close to returning to Bakersfield. Had been rehabbing for a few weeks and has ramped up his skating and shooting in Edmonton. Shoulder is feeling good. Likely going down later this week."
Related: The Good: Ranking Oilers Best Free Agent Signings Since 2020
This news comes after Holloway was hurt in his first game after returning to the AHL. It's not clear there's a spot for Holloway on the main roster if he's healthy, but having access to him in the event of injuries during the playoffs will be important.
Gregor also noted that Ryan McLeod is getting closer to practicing with the team. He had a good few days according to Woodcroft. It will be big for the Oilers when McLeod is healthy and ready to go. He's been a versatile depth forward with speed that the Oilers use in multiple situations.
Oilers' 30-Goal Guys
After Zach Hyman scored against the Seattle Kraken on Saturday, the Oilers now have four players with 30-plus goals through their first 70 games of a season for the first time since 1988-89 (Jimmy Carson, Jari Kurri, Craig Simpson & Esa Tikkanen). They are the only team in the NHL to have four 30-goal players on their team this season. For Hyman, this is the first time he's ever reached that milestone.
Ironically, he'd be close to 40 if you counted all of his disallowed goals this season.
---
Latest News & Highlights
---
The depth of the team has continued to step up, while the stars on the team continue to run away with the scoring race. It's truly a campaign that will go down in the record books for the Oilers over the last 30 seasons. One has to wonder if Evander Kane had stayed healthy if the Oilers would have had five 30-goal scorers on their roster this season. If any team does it, it's the Buffalo Sabres who have the best chance.
Congratulations to Evander Kane
On the heels of a hat trick, Evander Kane shared bigger, more life-altering news with the fan base on his social media accounts this week. Using Connor McDavid to help him with the reveal, Kane and his family shot video of him at center ice at Rogers Place to reveal his family will be welcoming a baby boy.
Congratulations to Kane and his family! You've fit in seamlessly with this Oilers group and it appears you and your family are extremely happy.