In the days leading up to last night's second round curtain raiser between the Edmonton Oilers and Anaheim Ducks, much of the conversation revolved around the potential outcome of Connor McDavid being shadowed by Ryan Kesler. An interesting talking point to be sure but one many seemed to forget did not necessarily favour Randy Carlyle's side. Not surprisingly, the team wearing white ended up taking full advantage of the situation in earning a crucial 5-3 victory.
Spandex would give #mcdavid more room to breathe than #Kesler is right now. #oilers

— Jason Strudwick (@Jason_Strudwick) April 27, 2017
From a statistical standpoint, it might look as though the veteran pivot got the better end of the matchup in Game One, as Kesler picked up a pair of assists compared to one for the young phenom. There is no question McDavid was checked tightly but he and fellow linemate Leon Draisatil combined to draw four of the Ducks five penalties on the night and Edmonton scored not once but twice on the man advantage. In the end, those opportunities ultimately turned out to be the difference
[RELATED: Our Edmonton Oilers Team Page]
So where do the Pacific Division champs go from here? Anaheim was the most penalized team in the league over the course of the season and that trend has continued into the playoffs. Unlike the San Jose Sharks, who decided to give Marc-Edouard Vlasic and his partner Justin Braun the responsibility of trying to slow down No. 97, the Ducks do not have that traditional shutdown guy who excels in said role and it creates a major problem.
No. 97 Was Ducks Sole Focus
One could easily make the argument Anaheim has one of the top three or four backends in hockey. However, when one takes penalties at the clip this Ducks side does, you are asking for trouble with a team as skilled as the Oilers. When you consider Edmonton lit the lamp twice in the opener and already had the opposition's bench boss searching for answers suggests the head-to-head match-up didn't go as Carlyle had hoped.
"They push & pull each other. They're happy for each other & they care about each other." Coach McLellan on @Drat_29 & @cmcdavid97

— Edmonton Oilers (@EdmontonOilers) April 27, 2017
In my mind, part of the reason Todd McLellan decided to reunite the trio of Draisaitl, Patrick Maroon and McDavid had as much to do with his counterpart's decision to use Kesler in a so-called "shadow" role. Even if the Ducks were to manage to limit the effectiveness of the league's leading scorer, with the way their roster is constructed, there was minimal chance of them also being able to keep No. 29 in check and that is exactly how things played out.
After the Oilers jumped out to a two-goal lead early in the third, Carlye immediately stopped with the hard-line matching and instead used Ryan Getzlaf in a best-on-best scenario against the McDavid trio. While the move did help the Ducks quickly erase a two-goal deficit, over the course of a series that is a match-up that would surely play into Edmonton's favour. Hence the dilemma and it could ultimately decide the outcome of the series.
Draisaitl Drove the Bus
Despite picking up just a single point and not being his usual explosive self, McDavid still played a key role on both of Mark Letestu's power play markers and his presence alone helped create a ton of space for Draisaitl to do his thing. Considering the talented German finished the evening with a goal and three assists, the move clearly backfired and it may very well send Anaheim back to the drawing board.
Oilers got the bounces!
After a ticky-tack penalty, Draisaitl 1-3-4, +2, 6-1 in face-off circle!
Leon has 7-5-12 in 6 GP vs Ducks in '16-17

— Bob Stauffer (@Bob_Stauffer) April 27, 2017
In hindsight, perhaps the better choice would have been to concentrate less on simply trying to limit the effectiveness of McDavid and instead focus on what approach works best for their entire lineup. Again, it's a tough call but the Ducks do have far more depth upfront than the Oilers and in turn should be the ones dictating terms…especially on home ice. With that said, going out and simply rolling four lines and hoping for the best could also prove to be problematic….especially if Ryan Nugent-Hopkins, Milan Lucic and Jordan Eberle start to contribute even a bit of offence to go with the units outstanding defensive play.
Chances are we will continue to see Randy Carlyle send Ryan Kesler over the boards whenever Connor McDavid steps on the ice and it will most certainly lead to the Edmonton Oilers been handed their fair share of power plays. Should they continue to find ways to scores on the man advantage as they did in Game One, these two teams could be headed to Rogers Place with the Anaheim Ducks in a heap of trouble and questioning what direction to go next.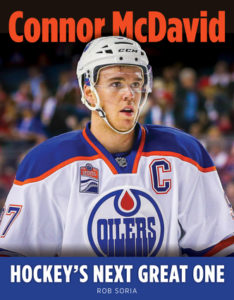 Rob Soria is the Author of Connor McDavid: Hockey's Next Great One. He has chronicled the Orange and Blue since creating his Oil Drop blog in 2011 and has also had his writings featured over at HometownHockey.ca and Vavel USA, where he has covered the NHL, MLB and ATP Tour. Rob was born, raised and still resides in Edmonton, Alberta and can be reached via twitter @Oil_Drop.