Marc-Andre Fleury is quite the polarizing figure among the hockey community. While it's impossible to deny his likability, his playing career — full of ups and downs — will forever be debated by his fans and critics. But one thing is certain, and that's the fact he's Pittsburgh's guy for the foreseeable future with Matt Murray suffering from a lower-body injury and the Penguins will need him at the top of his game.
Their season — and their Stanley Cup defense — depends on it.
When the Penguins faced the Columbus Blue Jackets in round one, Fleury was phenomenal. His biggest critics will point out a rough Game 3 and even point fingers for Game 4 but ultimately, without him shutting down the Blue Jackets in a series where the Penguins played poorly defensively, there's a good chance Pittsburgh would have faced a lengthier series with the possibility of not moving on. His .933 save percentage was impressive and equally as important, he made big, timely saves late in games to help Pittsburgh maintain two-goal leads on multiple occasions. But that was just the beginning. The Capitals pose a whole new challenge and will likely test him even more.
A regression by Fleury will be detrimental.
Credit Where Credit is Due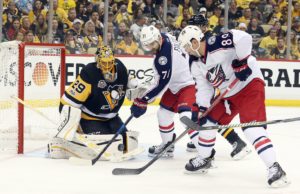 Too often, the hockey community dwells on past struggles by a player and cites old stats in order to downplay present performance. Yes, it's very easy to get caught up in recent numbers and forget how a player usually trends but in some situations, using too much historical data can be misleading. Fleury is a great example of this. His playoff struggles from a few years ago — often referred to by those who seemingly refuse to credit him — are in the past. At least, so far they are.
In general, you know what you're getting with Fleury. He'll provide average metrics and will certainly have his bad games but this team can win with the 2017 version of The Flower. They're currently proving that. He's also capable of turning in series-changing performances, just as he did in Game 5 against the Blue Jackets, and bailing his team out when they need it. Throughout his last three postseasons in which he was 'the guy', Fleury has been good and in some cases, their best player. There's something to be said about a goalie's mindset and confidence level, areas in which Fleury was questionable at best in the past but has since improved greatly.
It's time to stop waiting for his eventual collapse that will hopefully never present itself and enjoy the fact that he's playing solid hockey right now.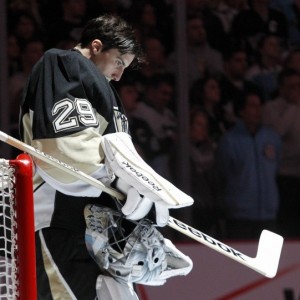 Fleury's save percentage in the first round — both at even strength and when considering all situations — trumped Washington's Braden Holtby, an annual Vezina Trophy candidate, and an individual who's always considered among the league's elite netminders. No, that isn't an implying that he's on the same level or nearly as consistent as Holtby but it's worth recognizing. His teammates and coaches are highly confident with Fleury between the pipes so maybe, just maybe, it's time for his critics to give him some credit as well.
Could he regress? Absolutely. But he hasn't yet.
A Surprising Advantage
The guys at RussianMachineNeverBreaks.Com did a nice breakdown of how these teams match up at even strength based on numbers throughout the regular season and postseason. One particular paragraph stood out, which is very important to realize as we approach round two.
There are a lot of factors here and it's hard to draw conclusions. A big factor (that we discussed yesterday) is that Marc-Andre Fleury stood tall for the Pens, while Sergei Bobrovsky turned into a marshmallow who couldn't stop anything. But the underlying numbers suggest that the Pens' first round wasn't as dominant as the five-game length would suggest.
Their first round matchup was not only a far less dominant performance than the five-game length would suggest, it was actually Columbus who did most of the dominating. The Penguins' talented forward group was able to rack up goals at a rampant pace — while the Blue Jackets weren't able to counter, mostly thanks to Fleury — and the fact that Columbus dictated play for much of that series ultimately didn't matter. When it became known that Matt Murray would miss time due to his lower-body ailment, no one imagined we'd be discussing a goaltending advantage in favor of Pittsburgh. Yet, here we are.
One of the biggest issues Fleury had against the Blue Jackets was rebound control. It became obvious that Columbus wanted pucks on net, followed by traffic and there were quite a few juicy rebounds for the picking.
Rebound control isn't as easy as many would think but still, there's certainly a need for improvement. Interestingly, though, Fleury and the Penguins may still hold an advantage in that aspect. The only goalie to face more rebounds against throughout their first series according to Corsica.Hockey is Holtby. It's an issue at both ends, with Pittsburgh holding a slight advantage. Both goalies suffered from those rebounds as well, evident in their dismal high-danger save percentages.
Part of the problem was Pittsburgh's inability to account for Blue Jackets forwards around the crease, and their issues cleaning house in that area. However, that's likely going to remain the case so Fleury needs to adjust and work to absorb more pucks or better dictate their direction off his body. All that said, the Penguins should be thankful that's the main issue discussed from last round, considering they allowed 194 shots against in five contests.
Beating the Capitals will be a tall task for this group. If they do, I can almost guarantee Fleury will be a front page storyline and a large reason why. He'll have to be, or this series will get away from Pittsburgh quickly.