It was always a stretch to think that the Edmonton Oilers were going to go out and add another big-time defenceman after Mattias Ekholm was added at the trade deadline, but there was some hope. The recent sign-and-trade between the Columbus Blue Jackets and New Jersey Devils involving Damon Severson just proves the price it will take to bring in someone of that calibre to shore up the right side. Although there were rumours and hope that Severson could be one of the Oilers' offseason targets, they need to be looking deeper and at bargains.

The Oilers might be on the path of going all-in, but that is going to be very tough to do with limited cap space. Trades are going to have to be made to move money out, but the Oilers need to find a way to upgrade the right side of their defence. As of right now there are Evan Bouchard, Cody Ceci, and Vincent Desharnais while Philip Broberg can also play on the right side. The Oilers dressed seven defencemen a lot for a few reasons, but one of them was because the Oilers didn't think Desharnais and Broberg could handle the minutes and pressure alone. I would argue that even though Desharnais stayed with the Oilers and played every game once he was called up, he is a fringe NHL player/seventh defenceman at best, especially on a team with Stanley Cup aspirations (from 'Lowetide: Is Oilers' Vincent Desharnais an NHL defenceman?,' The Athletic, Jan. 20, 2023).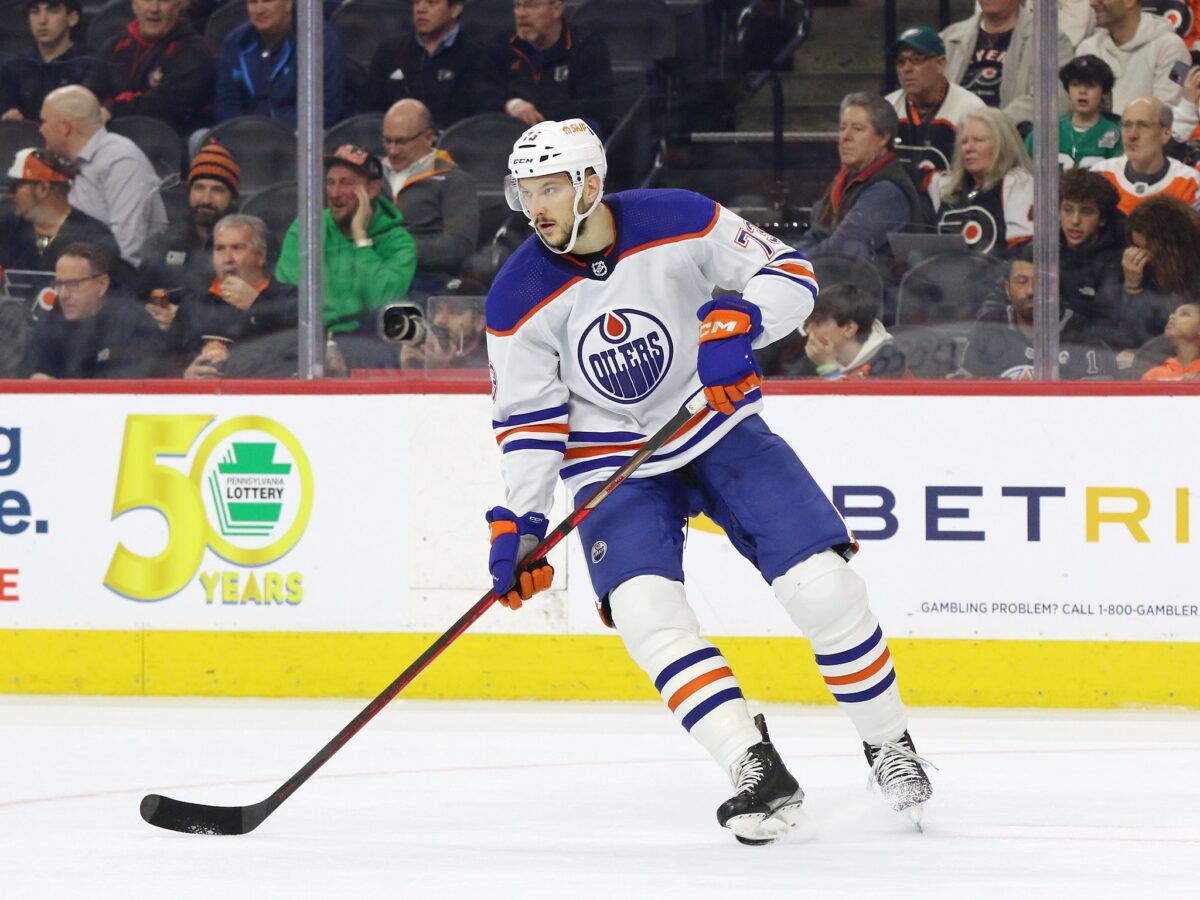 Ceci is still locked in but is a trade candidate for the Oilers while Bouchard needs a new contract and has high expectations. There is lots of work to do on the right side, and finding value in an external option for that side of the defence can come from the Blue Jackets who now have a big logjam after multiple trades to acquire some big names.
Oilers Should Have Eyes on Multiple Blue Jackets Defencemen
If the Oilers are to take advantage of the defensive logjam in Columbus, they will need to act before another team does. The Blue Jackets seem to be in the trading mood, so the sooner the better. It is clear the Oilers need help on the right side for either the second or third pair and someone who will be more compatible with Darnell Nurse than Ceci has been. The options in front of the Oilers are as follows — Erik Gudbranson, Andrew Peeke, and Adam Boqvist. While Jake Bean might also be an option, he is similar to Broberg in that they are left shots that can play both sides of the ice. The Oilers don't need another lefty as they have four to five already.
Related: Oilers Have 4 Good Top-6 Winger Options in Free Agency
---
Latest News & Highlights
---
Not many defencemen in the league are going to match the size of Desharnais, but Gudbranson comes close. He is just one inch shorter and two pounds heavier. While Desharnais chooses to be disciplined most times when he could show his nastiness towards players around the Oilers' net, Gudbranson doesn't hesitate. The Oilers are mean, but could get even more so if the Blue Jackets were looking to free up a little more cap space in anticipation of a center addition. The Oilers can't afford to take on the entire $4 million average annual value (AAV) deal for three more years, but they can do 40-50 percent retained. I see Gudbranson as a third-pairing defenceman, so he wouldn't be the best option to slide in beside Nurse if this is the move, despite playing over 21 minutes a night this season.
While Gudbranson is the experienced and big option the Oilers would have from the Blue Jackets on the right side, there are two younger options they should also look at. Peeke is 25 years old and is an NHL regular who is very strong defensively. He has logged over 21 minutes a night in each of the past two seasons since becoming an NHL regular and has just missed two games. The Oilers don't need more offence from the back end, which is good because Peeke has just eight goals and 28 points over the past two seasons. What they do need is a strong defensive presence, which he provides. He signed a three-year contract with the Blue Jackets ahead of time in September of 2022, so he has all three years left on that at $2.75 million AAV. That is affordable and I would trust him beside Nurse.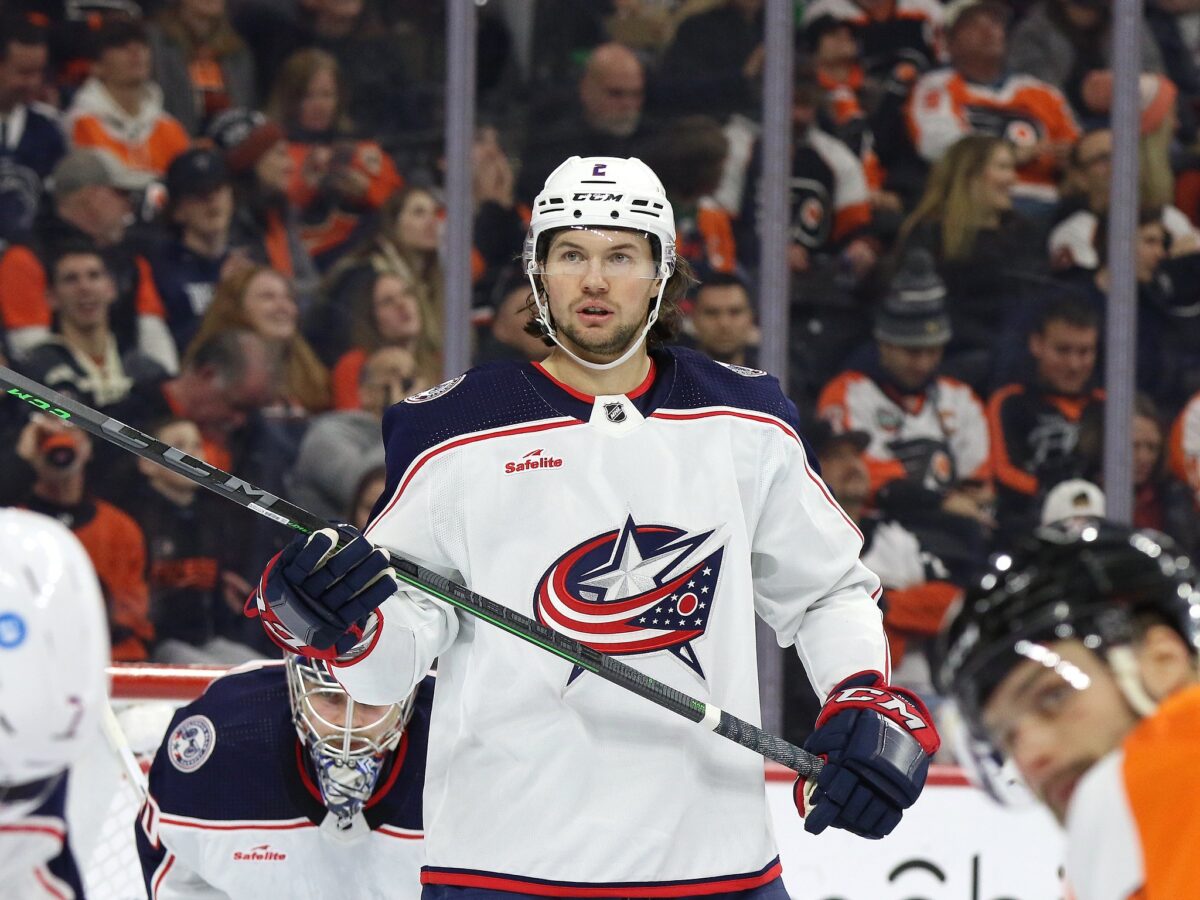 The third option is Boqvist, who the Blue Jackets might be more hesitant to give up. With Severson, David Jiricek, and potentially Peeke ahead of Boqvist on the right side, playing time might also be hard to come by, not just next year, but beyond. There won't be much room to grow or move up for the former eighth-overall pick. In Edmonton or somewhere else, he would at least have a better shot. Boqvist has an offensive skillset, but I wouldn't trust him in a full-time, top-four role just yet. He would be a longer shot and an option, but I would place Peeke and Gudbranson ahead of him in the realm of possibility.
Free Agent Defensive Market is Expensive
There have been a couple of the best projected free agents of this year already signed, and it wasn't cheap for the teams to do so. The Los Angeles Kings re-signed Vladislav Gavrikov to a two-year, $5.875 million AAV deal with a full no-move clause before Severson was just inked to an eight-year deal at $6.25 million AAV with a full no-trade clause for the next four years. That money would consume 2/3 of the cap space the Oilers have to work with this summer with a 16-man roster at this time.
With the contracts of Nurse and Ekholm along with what Bouchard is expected to get paid, there isn't room for another high-end defenceman. Teams win in the regular season and playoffs by having players step up and outperform their contracts. With whoever the Oilers add on defence, this needs to also happen.

---
---