Last time we checked in on the Okc Barons it was November 14th, since then the Barons have won 12 games, lost only 4 in regulation and 3 in extra time. It's been a magnificent start to the season which has the Barons sitting tops in the AHL Western Conference and the entire league with a record of 22-8-1-3 good for 48 points.
Offensively the credit belongs to Ryan Keller and Philippe Cornet. Keller with 26 points in 34 games leads the team in points, while Cornet has netted 16 goals in 27 games. With the cold start in NHL this season, Magnus Paajarvi now finds himself a Baron. He's played well collecting 7 points in his first 7 games in the AHL.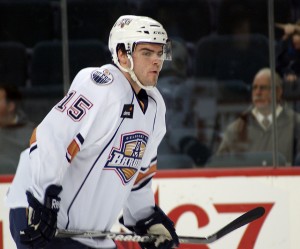 He'll need to step up because the Barons recently lost two key forwards, but not to injury, rather to the Edmonton Oilers as Josh Green and Teemu Hartikainen have both been called up while leaving significant minutes left for the others to pick up the slack.
Either than Paajarvi, another forward expected to pick up the slack is Curtis Hamilton. In his first pro season he's only got 8 points in 25 games, but is showing signs of improvement every game. An offensive player in juniors, he's becoming more of a role player who the coach can trust in many situations. He could eventually wind up a nice depth player for the Oilers down the road.
The main reason why the Barons are in first place is because of their veteran goaltending duo. Yann Danis has a .924 SV% in 21 games played, while David LeNeveu has a similar .920 SV% in 15 games. Both have played superb over the course of this season with Yann Danis currently being the 1A option.
On defence veteran Bryan Helmer leads the way, and will have to continue to lead while two key defenceman Alex Plante and Colten Teubert are in limbo spending time in both the NHL and AHL.
With the AHL All-Star Game going down in late January, the rosters were announced and three Barons got the nod as Yann Danis, Philippe Cornet, and Alex Plante were selected to the game. They will be joined by head coach Todd Nelson who deserving gets the job to coach the Western Conference in Boardwalk Hall in Atlantic City on January 30th.
Stephen is a student at the Northern Institute of Technology – Television in Edmonton, Alberta.