With five members of the Boston Bruins being selected to represent their native countries in the 2014 Winter Olympics, the Bruins fanbase will have to keep track of five teams in Sochi.  Those teams are Team Canada, Team Finland, Team Sweden, Team Slovakia, and Team Czech Republic.  In the span of 16 days, these players will travel across the globe to Sochi, practice/adjust to new roles with their new teams, and then compete against the best competition in the world, some of which will be their teammates at the end of the month.  This tournament, which features players from 12 different countries, has generated plenty of stories for fans of the NHL, but here are five stories that hit close to home for Bruins fans.
Will Zdeno Chara Be Overused By Team Slovakia?
In Boston, fans have grown accustomed to seeing the Bruins Captain logging upwards of 25 minutes of ice time each night.  In the playoffs, that number can eclipse 30 minutes per game.  Unlike in Boston, the Slovakian team does not have stellar defensive depth.  Beyond Chara and Andrej Sekera, there is not a wealth of talent on the back end.  For this reason, Chara and Sekera will likely see big minutes.  On one hand, the Bruins big man left early for the Olympics, allowing him two games of rest in the middle of the regular season.  On the other hand, while the rest of the Bruins defensemen are at home relaxing during the break, Chara will be playing a lot of hockey in the high stakes environment that is the Winter Olympics.  Will Slovakia be competitive enough to make it to the playoff rounds?  It is very unlikely.  Chara will be a force on defense for his country, but the team's lack of depth will be too big an obstacle for Slovakia to overcome.  That being the case, Chara will likely make an early exit and be spared the extra minutes that come with the playoff rounds.  While Chara might not show the side effects immediately upon his return, watch for the Bruins to find ways to rest Chara between now and the beginning of the NHL playoffs.
Can Tuukka Rask Carry Team Finland to a Medal?
Most Bruins fans would concede that Tuukka Rask has not been at his best over the last few weeks leading up to the Olympic break.  Despite his recent struggles, Tuukka Rask is expected to head the superb goaltending trio boasted by Team Finland.  A hot goalie can carry a team a long way, as evidenced by Tim Thomas' run in the 2011 playoffs.  Unfortunately for Finland, the team they have placed in front of Tuukka Rask is not a gold medal caliber team.  The team ran into some bad luck in the last week before the Olympics, losing both Mikko Koivu and Valtteri Filppula to injury.  For a team that lacked top talent and strong depth to begin with, the loss of these two players, specifically Koivu, is too much to overcome.  While Finland is unlikely to medal, Tuukka Rask will keep them competitive and could steal a game or two, potentially sneaking into the medal picture.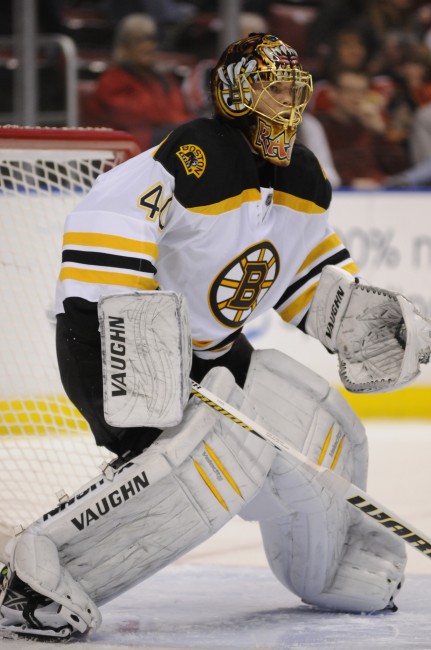 Will Patrice Bergeron Play a Bigger Role For Team Canada In 2014 Than In 2010?
In 2010, Bergeron served as a defensive/face-off specialist for Team Canada as the team went onto to win the Gold medal in Vancouver.  This time around, Bergeron joins Team Canada with a Stanley Cup and a Selke Trophy on his résumé.  Recognized as one of the best defensive forwards in the NHL, Bergeron could be relied on as part of a shutdown forward line.  However, based on the depth that Team Canada has accumulated, Bergeron will likely be slotted in as a bottom-six forward.  If Canada is playing with a lead late in the game, you can expect to see a lot of Patrice Bergeron.
Patrice Bergeron running (on the wing) w/Jonathan Tavares & Jamie Benn. Thats about as savage a bottom-6 line as you'll ever see #BruinsTalk

— Joe Haggerty (@HackswithHaggs) February 10, 2014
Will Team Sweden Help Loui Eriksson Rebound from His Rocky Start?
Loui Eriksson's first season as a Bruin has not gone according to plan.  Initially, it took him a while to develop chemistry with his new line mates, Patrice Bergeron and Brad Marchand.  Before the end of October, Eriksson sustained his first concussion of the season.  He returned from that concussion, only to sustain another concussion shortly thereafter.  It's been one thing after another until recently.  Eriksson has started to settle into his spot on the third line alongside fellow Swede, Carl Soderberg.  His game is heading back in the direction of what the Bruins had hoped for when they acquired him, but now the Olympic break has him travelling to Sochi.  Team Sweden has a surplus of talent upfront, giving Eriksson an opportunity to really flourish offensively.  Bruins fans are hoping that success for Eriksson in Sochi will help kick-start his production for the last leg of the regular season and, more importantly, the playoff run.
Will David Krejci Elevate His Game for the Czech Republic Team?
If you've watched the Bruins over the last handful of seasons, you'll notice that David Krejci is a different player in the playoffs.  When the stakes are the highest, he goes from a very good player to one of the best.  The Czech team is hoping that the Olympics will bring out that David Krejci, as he will be one of their top pivots.  For the Bruins fans who were disappointed last spring when Krejci was not paired with Jaromir Jagr, the Czech team will not make you feel any better.  The initial line combinations see Jagr playing on the top line with Tomas Plekanec and Roman Cervenka, while Krejci mans the second line with Jakub Voracek and Ondrej Palat.  Krejci and Voracek could form a lethal duo, giving the Czech Republic a second top scoring line.
Here were Team Czech Republic's forward lines from todays practice

Jagr-Plekanec-Cervenka
Voracek-Krejci-Palat… http://t.co/Jaoh3r2OLR

— Complete Hockey News (@CompleteHkyNews) February 10, 2014
If you are a fan of hockey, almost all of the games in this tournament will be must-see.  For Bruins fans, these storylines are just added motivation to tune in for every game.  You can check out the schedule for the Men's and Women's Ice Hockey here.  Be sure to check back throughout the games for more Bruins insight and follow me on twitter @kirkvance.