Ottawa Senators general manager Pierre Dorion spent the offseason masterfully addressing some of the team's needs externally, but how the defensive group plays will define their season.
Adding a 40-goal scorer in Alex DeBrincat, a still great Claude Giroux, and Cam Talbot instantly brought the Senators into the 'playoff bubble' conversation, providing things go as planned. Jake Sanderson will be a welcomed addition to a blue line that struggled to offset individual possession loss and progress as a collective unit.
Related: Senators' 2022-23 Lineup Boosted By Summer Arrivals
Outside of Sanderson joining, it doesn't appear as though there will be much personnel change on defense before the 2022-23 season starts. If that's the case, the current group is going to need to make some style adjustments if the new-look Senators are going to enjoy sustained success.
Senators' 2021-22 Defense Numbers
With big expectations for the team, the defensive group has its work cut out for them after last season's performance. If you can't overwhelm teams offensively with your forwards, you need your defensive group to have great puck control and be capable of generating some sort of offensive attack.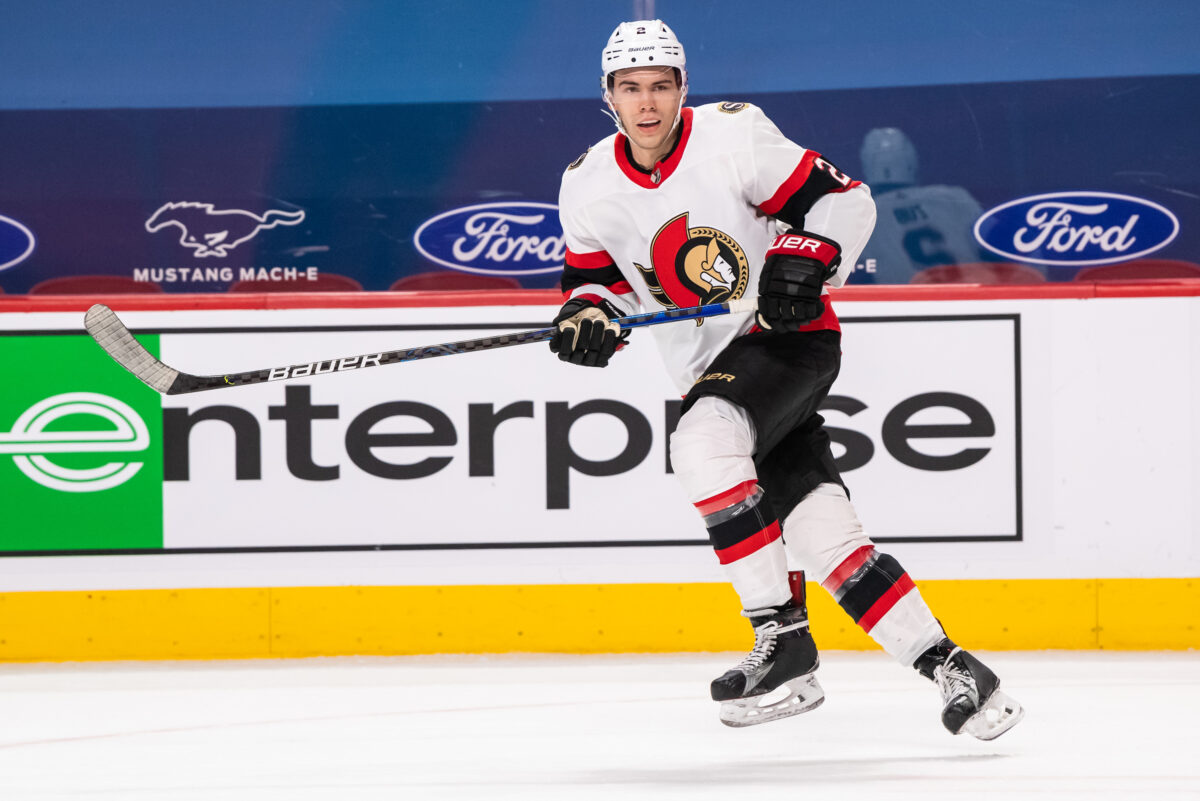 The Senators' blue line struggled in both areas, with big-minute players inflicting the most damage. Of 215 defenders that played a minimum of 500 minutes at even strength in 2021-22, the Senators had their six qualifying players fall in the bottom 73 of turnover differential. In and of itself, the turnover differential isn't distressing; when combined with a lack of offsetting offensive generation, the negative value stings more.
The speed and skill of the game have evolved to the point where defenders who don't generate forward momentum are a liability. The lack of tangible offense created by most Senators defenders at even strength hurt the team's overall gains last season. Players must tip the scale in their favor wherever possible, and managing puck control should be the first step.
TO.Diff (Takeways minus giveaways)
Player Name
TO.Diff/60
Rank /215

Thomas Chabot

-1.58

190

Travis Hamonic

-1.99

204

Erik Brannstrom

-1.41

176

Nick Holden

-1.33

168

Artem Zub

-1.61

194

Nikita Zaitsev

-1.26

162
Nikita Zaitsev's struggles while playing important minutes have certainly not made life easier for his defensive partners. It will be difficult to move the remaining years of his contract, so the alternative must be adjusting his style of play. Artem Zub had isolated value in his ability to defend shooting distance and angles. But the minimal increase (even strength) in save percentage difference while he's on the ice doesn't make up for the risk that he poses by not actively participating in other aspects of play.
When teams don't have a group of six defenders willing to move the puck and take chances, the opposition doesn't fear alternate events happening on the ice. From the same group of 215 defenders, there were 22 who generated zero rush attempts per 60 minutes and four others that drew zero penalties per 60 minutes. The Senators have three of those 26 players on their roster; two with zero rush attempts per 60, and Zaitsev with zero penalties drawn per 60.
It's difficult to understand how a defender in the NHL can play so many minutes and have zero penalties drawn on average at even strength. There are plenty of scrums to get an opposing player to take a single penalty or an off-setting minor. At some point, with the aggression in the game, it has to happen.
iSCF (Individual scoring chances for), TO.Diff (Turnover differential), RushAtt (Rush attempts), Reb. Gen (Rebounds Generated)
Player Name
iSCF RK
TO.Diff RK
RushAtt/60 RK
Reb.Gen/60 RK

Thomas Chabot

30

190

T-95

T-10

Travis Hamonic

44

204

T-195

T-53

Erik Brannstrom

T-97

176

T-124

T-49

Nick Holden

T-131

168

T-152

T-115

Artem Zub

T-184

194

T-195

T-134

Nikita Zaitsev

211

162

T-176

T-161
Thomas Chabot and Erik Brannstrom were the only Senators players who started the season with the club and found themselves in the top 100 defenders for scoring chances per 60. Out of 215 eligible defenders last season, Zub, Zaitsev, and the departed Josh Brown ranked 184, 211, and 212, respectively.
Travis Hamonic's numbers went in the wrong direction after being acquired by the Senators from the Vancouver Canucks. His scoring chances per 60 dropped to 2.88 (Senators only) from 3.39 (Canucks and Senators), and his turnover differential fell to a -2.34 rating. This doesn't mean it will be repeated, but Hamonic needs to push the puck forward if he's going to help this group be better.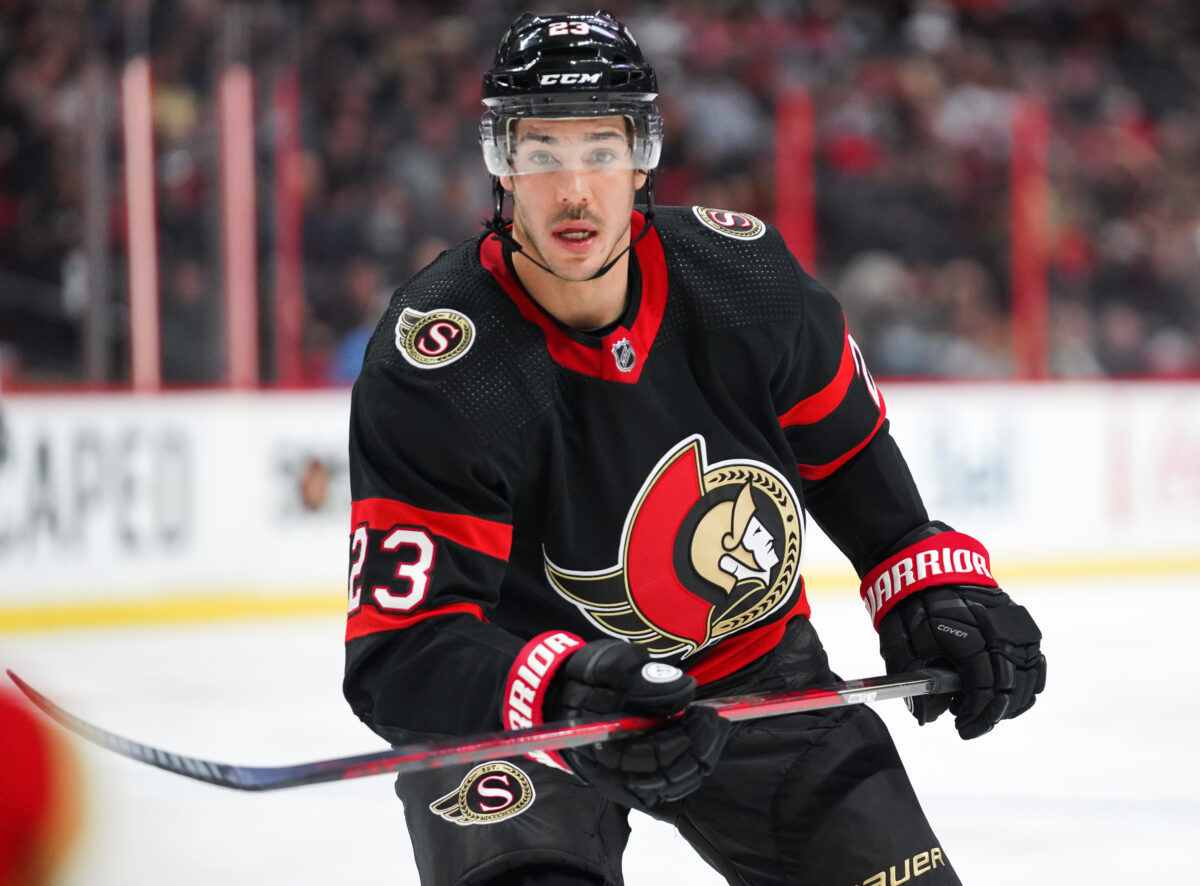 The Senators can't ask Chabot, Brannstrom, and Sanderson to generate their own NHL-level offense while at the same time generating offense for three additional roster players. Zaitsev, Zub, Holden, and to a lesser extent Hamonic, need to control and distribute the puck better.
D.J. Smith Needs the Rush
Competing in the cap-era NHL is driven by having five skaters willing to participate in all three zones. The complete unit doesn't need to be entirely effective, but they do need to try. Being glued to the markings 64 feet from the goal line serves no one well. Valuable shot attempts create scoring chances, and although generating scoring chances as a defender is more difficult to do, it's something the Senators' defense will need to accomplish this season.
Related: Senators' Minor Signings Have Big Potential
It's hard to ignore that head coach D.J. Smith took a less talented group (age relative) of players and bested his predecessor over a three-year period. The Senators have met or exceeded most of the statistical standards of Guy Boucher (and for a few games, Marc Crawford) between 2016-2019. Smith held the edge in top categories like expected goals (for and against), scoring chances (for and against), and was .02 percent away from matching the preceding three-year point percentage average.
Being an effective coach can only save you for so long, though; at some point, the temperature will begin to rise. Heading into his fourth season behind the bench, Smith is still searching for his first playoff appearance, and despite an improved roster up front and in goal, it's not a guarantee. The Senators need an aggressive season from the six players who patrol the blue line to help an effective coach hit a milestone and keep his job.
Statistics from NaturalStatTrick.com
---

---
---
Latest News & Highlights
---