With the start of the 2014-15 NHL regular season right around the corner, it's time to make some predictions. For the Kings and their fans, what matters most is whether the team will lift its third Stanley Cup in four seasons. We won't get to that just yet, but there are some other interesting predictions to be made regarding the Kings' upcoming campaign. And we can use sine over/under numbers to make this — dare I say — fun! I'll be setting the over-under figures and the topics in a not-entirely-but-somewhat arbitrary fashion, but despite that and as a result, much fun will be had by all readers.
Without further ado:
Marian Gaborik: Over/Under 40 Goals
After being acquired at the trade deadline, Marian Gaborik caught fire in the 2014 Stanley Cup playoffs, with 14 goals in 26 games. He developed excellent chemistry with Anze Kopitar on the Kings' first line, and re-signed with LA at a cap-friendly deal. He is now ready for a full season with the Kings, and poised to return to his prolific goal-scoring numbers from seasons past. So, will he break 40 goals this year?
Given how comfortably Gaborik ultimately settled in with the Kings, as well as his great chemistry with Kopitar, it would seem that nothing other than injuries could keep him from returning to the 40-goal mark, which he has hit three times in his career. But that's just the problem — Gaborik is notorious for getting hurt, and a full season of playing a hard game for coach Darryl Sutter probably puts him at high risk of more injuries. If he's healthy, he's almost a lock to pot 40 this year, but there is little reason to bet on him playing all 82 games.
Prediction:  UNDER
Brayden McNabb: Over/Under 30 Games Played for the Big Club
As I wrote earlier this off-season, one major thing to watch for this season is whether Brayden McNabb will get an opportunity at the NHL level. McNabb, 23, needs to show that he is hungry to take the next step in his career. He has some NHL experience with the Buffalo Sabres, but must now be poised to become a regular. Going against that, however, is that the Kings already have an apparent top six set on the back end: Drew Doughty, Jake Muzzin, Matt Greene, Alec Martinez, Slava Voynov, and Robyn Regehr.
However, Regehr, at age 34, appears to be slowing down, and also missed significant time in the playoffs last year after injuring his knee early in the second round against Anaheim. The decline of Regehr and the rise of McNabb might even make the Kings consider trading Regehr. Even if they hold on to him, though, McNabb might ultimately pass him on the depth chart, or have to step in anyway as Regehr becomes more and more injury-prone. Either way, the prediction here is that McNabb will step into the lineup sooner or later, and when he does, he'll be hungry and prove to coach Sutter that he should stay there.
Prediction: OVER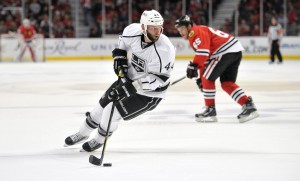 Mike Richards: Over/Under 50 Points
Mike Richards' struggles and bloated salary have been well documented. So has GM Dean Lombardi's somewhat surprising decision to not buy out the remainder of his contract. Richards, a former 80-point player in his days with the Philadelphia Flyers, has had point totals of 44, 32 (in 48 games) and 41 over the past three seasons. Richards is still only 29 years old, and as such, Lombardi felt that his struggles have been the result of him not being fit. With this in mind, he had an honest conversation with Richards, and trusts that the center will re-commit himself and rebound this season and going forward:
"I met with him. He made a promise he'd do it, and when a guy looks you in the eye and promises, to me that goes beyond loyalty. A guy's giving you his word. That's more important than a contract or anything else. I certainly think he deserves our trust when he looks myself and Darryl in the eye and says, 'I'm going to do it.'

"This was solely a matter of putting in the work. And I felt that given the diminished role that he's got so much pride and I trusted that his pride would say, 'You know what, I've got to make some adjustments.'"

– Dean Lombardi (via the LA Times)
Of course, as Lombardi said, Richards does have a diminished role, given the Kings' depth at center. However, he'll get enough ice time in all situations to make an impact, and he should be expected to have a bounce-back year.
Prediction: OVER
Team: Over/Under 100 Points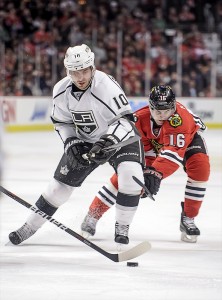 Given that they are the defending Stanley Cup champions and are returning the vast majority of their roster this season, reaching the 100-point mark in the standings might seem like something that the Kings will attain fairly easily. However, as I recently wrote — to much critical acclaim — there are reasons to believe that the Kings might struggle out of the gate to settle into an optimal style, given the playoff lineup's transition to more youth and more speed.
I maintain that the Kings might have some struggles this season — especially early on — but that their leadership and depth will ultimately help them find their way and remain strong contenders (many angered Kings fans conveniently ignored this bit from my last piece). It's also important to remember that the Kings are, first and foremost, a team that steps up its game in the playoffs. They have had very solid but not overly impressive regular seasons the past 3 years: in 2011-12, they had 95 points (when they made the playoffs as the eighth seed in the West), followed by 59 points in the lockout-shortened 48-game season in 2012-13 (that would extrapolate to just about 101 points over a full 82-game season), and then exactly 100 points last year.
With these things in mind, I predict that the Kings will make the playoffs with a point total in the high 90s. That might make them a lower seed, but one that no higher seed will want to face.
Prediction: UNDER
So, what do you think? Will Marian Gaborik stay healthy and reach the 40-goal plateau? Will Mike Richards bounce back? Will Brayden McNabb become a staple on the Kings' blue line? Will LA finally have a prolific regular season? Thoughts on these, as well as any other predictions regarding the Kings, are welcomed in the comments section below.