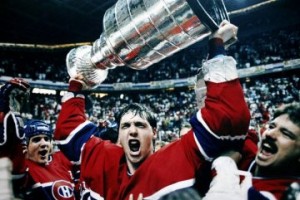 Patrick Roy is arguably one of the most popular players to have ever suited up for the Montreal Canadiens, joining an elite group of Hall of Fame players like Maurice Richard, Jacques Plante, and Guy Lafleur, all who possessed the unique combination of superstar hockey talent, consistency and French-Canadian charm.
Roy's passion for the game, his passion for winning and his ability to rise to the occasion when his team needed it almost single-handedly allowed the franchise to hoist two more cup banners to the rafters (1986 & 1993) during his playing time in Montreal.
So when Roy's name was in the mix for the head coaching position with the Habs this time last year, many hoped he would get the job. I wasn't one of them. Not because I don't love and admire what he's accomplished for the Canadiens. Actually, it's these very reasons why I didn't want to see him just yet coach the Habs. Does his legendary status and eight years in the QMJHL as Head Coach of the Quebec Remparts, winning the Memorial Cup in 2006 — make him worthy of the job right now?
Legendary Head Coaches
The Montreal Canadiens have had 27 Head Coaches in its illustrious history including coaching legends Dick Irvin Sr., Toe Blake and Scotty Bowman. Many of them had NHL experience coming into the position. Others did not. Toe Blake for instance was an all-star forward for the Canadiens centering the famous "Punch Line" with Elmer Lach and Maurice Richard before moving behind the bench in 1955. He then led the Canadiens through their first true dynasty when the team won a record five straight Stanley Cups (1956-1960). In total Toe Blake coached the Canadiens to 8 Stanley Cups in 13 years.
Not bad. Let's see Dan Bylsma do that.
Scotty Bowman, considered the be the best NHL coach of all-time – at least in the modern era – was still finding his way in the NHL as a Head Coach when he was hired by Canadiens GM Sam Pollack in 1971. Though he was probably the talk of the league. Stepping behind the bench of the expansion St. Louis Blues in 1967, he helmed the team to three cup finals in a row.
Not too shabby. Of course the Blues lost each time. And what you're thinking is right. That moment captured in time with Bobby Orr flying through the air after scoring in OT on St. Louis Blues' goalie Glenn Hall to win the Stanley Cup in 1970, Scotty Bowman saw it all unfold in front of him as Blues Head Coach:

It's okay. Bowman would get his revenge on the Bruins, and then some. He'd win a record total of 9 Stanley Cups as Head Coach.
Michel Therrien, who was eventually hired by GM Marc Bergevin last year in his second go-around with the team, hasn't won any. No matter.
Or does it!? I think it safe to say that even the naysayers can admit that Michel Therrien did a terrific job this year behind the Canadiens' bench with his newly installed staff. But with the announcement this week that Patrick Roy would become the next Head Coach and VP of hockey operations for the Colorado Avalanche, I'm sure it left many thinking what could have been with St. Patrick behind Montreal's bench.
It would surely be entertaining.
Patrick Roy is a winner. He has the fire burning inside of him, that competitive edge that makes winners well… winners. But was he right for the Canadiens at this point in their history?
I don't believe so.
Experience is Important in Today's NHL
Somehow the Canadiens became the league's testing ground for Head Coaches. Sure the Habs once had success with Jean Perron who seemingly came out of nowhere to lead the Habs to a championship in 1986; or with Pat Burns, who also took the team to the finals in 1989. Both were rookie NHL coaches.
But since their last cup triumph in 1993 under the careful, wise and experienced coaching of Jacques Demers, the Canadiens went on a run of hiring coaches with absolutely no NHL coaching experience. Starting with Mario Tremblay in 1995, the torch was handed to Alain Vigneault, Michel Therrien in his first go-around, Claude Julien, Bob Gainey (who replaced Julien), and finally Guy Carbonneau.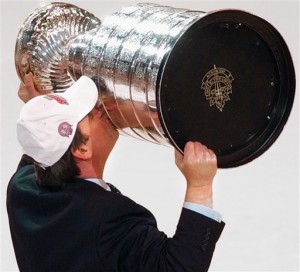 Guy Carbonneau was one of my favourite players with the Canadiens and the one thing I regretted when he was hired by Gainey to coach the Canadiens was that he would eventually be fired. It's tough. I loved Mario Tremblay as the fiery player that he was, but hated him as Canadiens Head Coach, and now love him again as RDS hockey analyst.
Tremblay would eventually go on to a solid career as an assistant coach with Jacques Lemaire. We all know what Vigneault went on to do with the Vancouver Canucks. Therrien honed his skills with Sidney Crosby and Evgeni Malkin taking the Pittsburgh Penguins to the cup finals in 2008. Julien bounced around before landing in Boston where he led that squad to their first cup in almost forty years in 2011.
All of these men made their first steps as NHL head coaches with the Canadiens, but I would prefer to see our rich hockey talent go get their experience with other teams before returning to Montreal. That's why I approved of the hiring of Jacques Martin. Here was an experienced coach with a lot of games – and wins – under his belt. It didn't lead to a championship, but he did a good job and it's arguable he was the victim of poor managerial decisions.
It's also why I was happy for Guy Boucher when he was hired to lead the Tampa Bay Lightning. Let him go get his coaching chops with them; then he can come to the Canadiens some day a much better coach than he was a few years back. That's exactly what happened with Michel Therrien. He's better now.
And that's what's going to happen with Patrick Roy. He might do well with Colorado and I hope he does. But the reality remains: one day he will be fired from the Avalanche. And when that happens, his time will come to return to the bleu-blanc-et rouge as an experienced NHL coach.
I'm a goalie — apparently that says a lot. Writer, producer and bon vivant I'm from Montreal but live in Toronto and write from that perspective on HabsFanInLeafLand.com. Young enough to be hip; old enough to remember where I was when Guy Lafleur scored against the Bruins in the infamous "too many men" game in the '79 playoffs. Can you say that?
You can contact Ari Grief on Facebook or on twitter @habsfanleafland