One of the hallmarks of Patrick Roy's first year was his approach to defensive zone coverage. While most teams play zone while 5 on 5, Patrick Roy opted to go for a man to man approach. He wanted to get creative with a defensive corps that, on paper, was lacking. With a little luck and a lot of stellar play from Seymon Varlamov the strategy paid off and Colorado only went and won the Central Division. 14 games into the new season and things aren't going so well. Colorado have only managed 3 wins so far, and despite outstanding goaltending from Varlamov, the team has been shipping goals by the truck load at some incredibly costly times.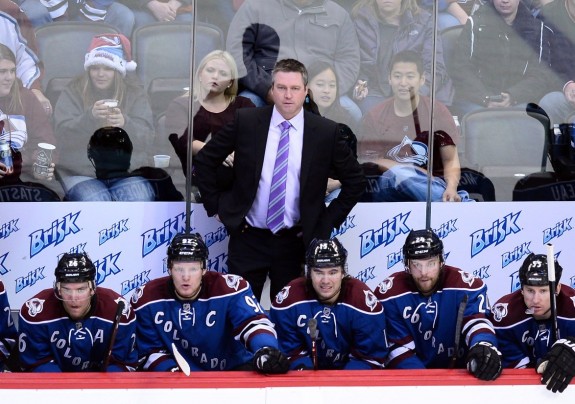 Colorado's defense has looked slow, and that's a big issue in a man to man scheme. Too often all five skaters for Colorado have looked lost in their own end. It's not particularly helpful to team defense to see players getting regularly turned inside out by speedier forwards. What exactly the problem is that has made last season's succesful system look so disjointed is not entirely clear. It could be adjustments made by other teams. Playing man to man with the players Colorado was always risky, and quite possibly it was never going to be sustainable long term. Perhaps Roy new this and was simply hoping for a quick fix to give his young team confidence. It could also be the new veteran forwards and defenders like Iginla and Stuart who have only ever known zone coverage while playing 5 on 5. Whatever the reason may be Patrick Roy, to his credit, has recognized a problem and is attempting to fix it.
Starting tonight against the Toronto Maple Leafs, the Colorado Avalanche will make a return to a 5 on 5 zone coverage scheme. The question now, is how well will this team adapt. Everyone saw that change was needed, and Roy seems to be hoping that his players will be up to the challenge. The lack of speed on defense, last year was definitely covered up by the quicker forwards who pitched in and helped with playing defense. But now with the impending switch to a zone system the Colorado defense should be able, at least in theory, to deal with their distinct lack of foot speed.
It's not as if Colorado haven't played zone coverage in over a year to the point where they have forgotten how to do it. The team has had remarkable success recently on the penalty kill. The Avalanche have killed 29 penalties in a row coming into tonight's game. An obvious statement about being shorthanded is that the team plays with fewer skaters, thus making a man to man system impossible. Yes, Colorado have had some luck, and some individual talent on these penalty kills. But to kill of 29 in a row is still an impressive feat. For the most part during these kills Colorado have limited opponents chances and have been fairly good at keeping forwards to the perimeter. If Colorado can successfully transition this style to their 5 on 5 game then it could have a positive impact.

Brad Stuart's injury is definitely going to be felt in this regard. Stuart is painfully slow, but so far this season, if he has shown one redeeming quality it's been his positioning and physicality. Colorado need some of their bottom paring defenders to step up and play a solid 60 minutes. Not only will players like Nick Holden and Zach Redmond need to step up their game, but some of Colorado's struggling forwards need to be ready to play a smarter defensive game. Patrick Roy wants players like Ryan O'Reilly to be more physical. So far this season, Roy hasn't been afraid to call out players who have been sub par. While they've played man to man, Colorado have been pushed around by their opponents forwards. It would be nice to see in the coming games any Colorado player get physical with anyone coming into their zone.
There are a lot of egos in professional sports. A lot of coaches tend to stick with their ideas for better or worse. While that's not fair to all coaches, and since adjustments are part of any sports, it's nice to see Roy realizing how badly this season could go for Colorado if things doing get sorted out soon. He has a good hockey mind, and hopefully he knows his team and knows just how to make them as competitive as last year. Roy is an expert motivator, he's shown that time and again all the way back to his first game as an NHL coach. Now we get to see what kind of tactician he is. If he's as good at that as he is with other aspects of the job then the Avalanche are in good hands. As long as the players are up to the task.