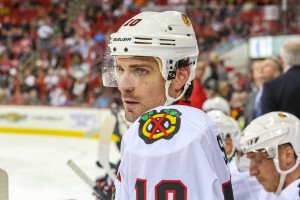 Hockey Canada announced their roster for the 2014 Mens Olympic team in Sochi on Tuesday morning. As expected, Chicago Blackhawks captain Jonathan Toews and Duncan Keith will return to the team in leadership roles.
One player who will be making his Olympic debut next month is Patrick Sharp. Sharp has elevated his game this season and has earned the right to represent Canada in Sochi. The 32-year-old forward forced himself from a bubble player to a must-have with his dominant first half of the 2013-14 season.
Sharp came to be known for his responsible play in his own end while being able to supply consistent offensive production. Sharp has stepped up his offensive game this saeason; he sits 6th in NHL scoring with 46 points in 45 games. Following an injury-riddled 2012-13 season, Sharp has put up his best point-per-game production since 2010-11 and is well on his way to his best statistical season of his career.
Following a pair of hat tricks in his past six games, Sharp now sits second in the league with 25 goals behind only Alex Ovechkin. Sharp made the cut over some prominent wingers such as Taylor Hall, James Neal and Jeff Skinner.
Sharp stands because of his chemistry with Jonathan Toews — who seems destined for the second line centre spot behind only Sidney Crosby — but also because of his versatility and ability to create scoring chances while also being responsible enough in his own end to give the coaches confidence in having him out in all situations.
While Patrick Sharp received the good news, some of his teammates were not as lucky as Corey Crawford and Brent Seabrook learned they did not make the cut. Seabrook helped Canada win gold on home ice at Vancouver in 2010, but the larger ice surface and rise of young defensemen like PK Subban and Alex Pietrangelo have him off the team.
The Blackhawks have 10 players heading to Sochi next month to represent their respective countries in an honour that these players will remember for the rest of their lives. Joining Sharp on Team Canada is Toews and Keith while Patrick Kane (USA), Marian Hossa (Slovakia), Michal Handzus (Slovakia), Johnny Oduya (Sweden), Niklas Hjalmarsson (Sweden), Marcus Kruger (Sweden), and Michal Rosival (Czech Republic) will also be participating in the games.
The Blackhawks have been rolling along all season and have overcome injuries to Crawford and Khabibulin without missing a beat. With the Olympic rosters announced players can now relax and have one less thing to worry about. With one month left until Sochi you can expect Sharp and his teammates to look to continue their success while dreaming of starring on the international stage.