The game of hockey continues to evolve and right now, skill and speed are the way to go. A few short years ago when the Boston Bruins and the Los Angeles Kings won Stanley Cups in 2011 and 2012 based on size and physicality, many teams copied that mould and those attributes were valued. The league has since moved away from that model to one where a player like Paul Byron, who is 5′ 9″ and 160 lbs, can flourish.
Exceeding Expectations
When the Habs claimed Byron off waivers, it was a move met with little fanfare. Even head coach Michel Therrien had this reaction:
Michel Therrien's reaction to #Habs picking up Paul Byron on waivers last season: pic.twitter.com/c74On4Uptf

— Eric Engels (@EricEngels) December 21, 2016
Claiming another small player to add to a team that already employs Brendan Gallagher and David Desharnais didn't make a lot of sense, especially since general manager Marc Bergevin was already criticized for having too many bottom-six forwards. However, Byron has rewarded Montreal with 21 points in 35 games including 11 goals, which is more than Patrick Kane, Jamie Benn and Corey Perry.
Evolution of a Role Player
As the game has evolved, so have the expectations of a role player. In the more traditional sense, a role player was expected to hit, fight and generally not be a liability. A lot of these traditional bottom six forwards tended to be on the bigger side due to the fact that their larger stature would hold up better playing a grinding style.
For smaller players like Byron, they typically had to have elite skills and be on a scoring line to justify their place in the lineup. Montreal, in particular, has never been afraid to employ smaller players. Byron challenges the traditional bottom-six role with his skill set that utilizes his speed and hands to create plays and cycle the puck.
Paul Byron is signed for two more seasons at less than $1.2 million per. If he was in a contract year right now? Yikes.

— Conor McKenna (@mckennaconor) December 21, 2016
What makes Byron stand out is his speed. As one of the quickest players on Montreal, Byron has used his skating ability to carve out an important place on the roster. His speed helps with breakaways, a skill especially noticeable on the penalty kill, where he has become a regular.
On the defensive end, Byron is solid enough. Offensively, he has displayed his goal scoring ability. While he doesn't always capitalize or necessarily fit the role of a top line player, he has shown he can play a variety of roles, not unlike teammate Phillip Danault.
From Afterthought to Important Player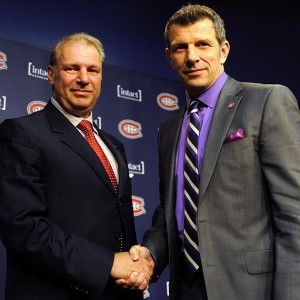 As the game gets faster, it opens doors for a player like Byron to come in and find a role in the NHL. With the likes of Gallagher and Tomas Plekanec struggling to score this season, Byron has more than stepped up offensively. He was given a chance by Therrien to carve out a role for himself and he took the opportunity and ran with it.
While the size bias still exists, teams are more likely to take a chance on smaller skilled players with speed. Picking up Byron off waivers was a stroke of genius by Bergevin as he has worked his way into being an important player for Montreal and continues to impress.