A sixth-round pick at the 2014 NHL Entry Draft by the Winnipeg Jets, Pavel Kraskovsky has earned a lot of experience on the international stage representing Team Russia at the World Junior Championships, among other tournaments. Two years ago, he helped the Russians return home with a silver medal after surrendering to Team Finland in the gold medal game in overtime.
In this translated interview, originally appearing on the Russian website championat.com, Winnipeg Jets prospect Kraskovsky talked about Winnipeg, his experience with the national team, and some aspects of his life in the KHL.
* You can enjoy the original article in the Russian language by Darya Tuboltseva here *
Life in the KHL
Darya Tuboltseva: Your former head coach Alexei Kudashov this year often broke up your line with Yegor Korshkov and Alexander Polunin. Do you prefer playing with them?
Pavel Kraskovsky: Of course, I'm much more comfortable playing with them. But we didn't start well and the coach had to try different options. So he kept playing us, but in different lines, because he believes in us.
DT: Recently, you played for the Russian national team at the Karjala Cup in Finland. Was it a surprise or were you expecting that?
PK: Everyone wants to play for the national team, and when it happens, then it's great. It means that you're being looked at and they appreciate your progress. No one would refuse to play for the national team.
DT: You missed the first game at the Karjala Cup. Was it interesting to watch the game from the stands?
PK: It was the first time this season for me. I played all of the Lokomotiv games so far. It was a bit strange. You can see the mistakes right away, watching from the upper position. If you understand hockey, it doesn't take much to see who should have done what in this or that situation. Maybe sometimes it's useful to just sit there, watch other players' mistakes to try to avoid doing them yourself later.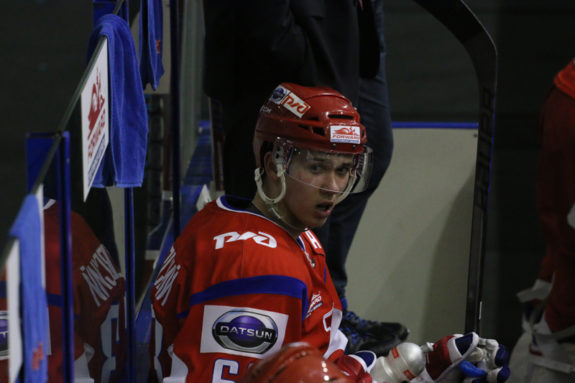 DT: How would you judge the first part of your season?
PK: I wanted more, I didn't help my team too much. I couldn't score for a lot of games and you know, when it's like that, the more you try, the more you fail. The coaches just told me to be calm, relax and just play my game, work hard. It helped. And before the EHT pause, everything was good again.
DT: In Lokomotiv, foreign players score a big part of the team's goal. Is there a good competition with Petri Kontiola, Max Talbot or Brandon Kozun?
PK: I wouldn't say that this year they score most of the goals. This year Daniil Apalkov and Yegor Averin are scoring too. We have good ties with foreign players. Kontiola talks in English, while Kozun tries to talk a little bit with us [in Russian]. Talbot is the true leader, he works hard and is always encouraging everyone.
DT: Does this mean that the foreigners aren't separated from the rest of the team?
PK: Not really, we have no problems, we are a united team.
DT: Do you try to speak English?
PK: I try, I talk a little bit.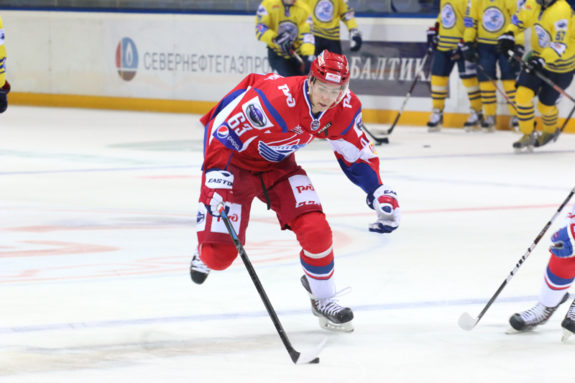 DT: Two years ago you won a silver medal at the WJC with Team Russia. Is it your biggest achievement so far?
PK: Achievements with the national team are the most important, yes. But last year we won a bronze medal in the KHL with Lokomotiv, that was also a good result. We also won a cup in the MHL. Each of these titles is important.
DT: Do you often think of that final game against Team Finland?
PK: Yes (laughs). Korshkov and I live together at home and during away games. Sometimes we watch the highlights and get nostalgic. We also remember the MHL title we won with Loko.
DT: At the WJC you also befriended Alexander Dergachyov?
PK: It was earlier. Some five or six years ago. We were together at one of the junior national teams, we found some common interests and we still talk and support each other.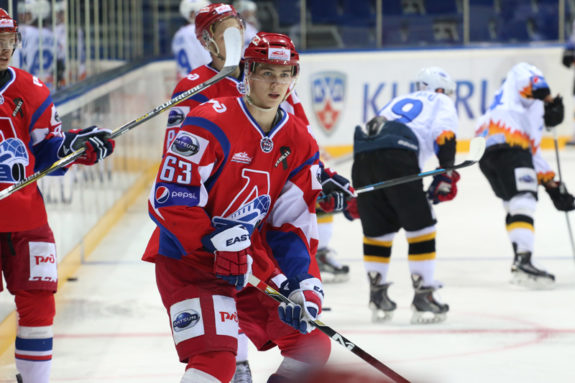 Move to the NHL
DT: From that team, Ivan Provorov, Evgeny Svechnikov, and Vladislav Kamenev are in the NHL already. What about you?
PK: I really want to play [in the NHL]. But I don't want to make guesses, I need to play out this season and then see what will be my possibilities and wishes.
DT: Did you start already the negotiations about a new contract with Lokomotiv?
PK: No, we decided to move this discussion to the end of the season, so that we can discuss things with a cool head. During the season you don't want to think about it.
DT: Do you or your agent communicate with the Jets?
PK: Yes, they are interested in my games. They mostly talk with my agent, sometimes they call me. I follow the Jets myself and try to see how the other Russians play. There are many good players, you really have someone to learn from. Sometimes they score such goals, that you start thinking, "How's that even possible?
DT: Patrick Laine played against you at the WJC and now he plays in Winnipeg. He's a great player, isn't he?
PK: He defeated us, what else is there to say? He's a great player indeed. He scores a lot of goals.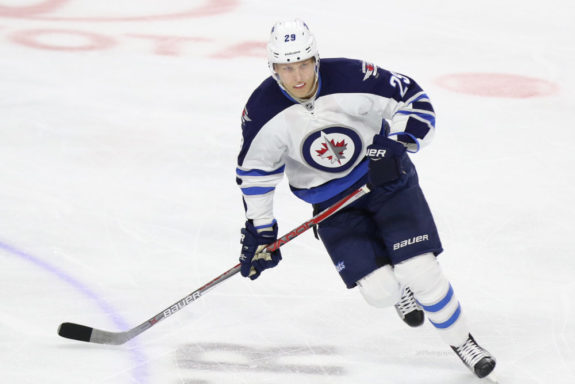 DT: Are you ready to play in the AHL if needed?
PK: As I said, I don't want to make guesses. We'll see what happens at the end of the season.
DT: Many players dream about playing in the NHL. Do you too?
PK: My dream is to win the Stanley Cup, not simply to play in the NHL.
DT: You played for Lokomotiv Yaroslavl your whole life. Can you imagine leaving your home city?
PK: Of course I have a lot of memories tied to the team. But maybe I'll have to do it. It will be sad, but this is life and you need to move on if you want to achieve something.
The goal of the game has to be this Pavel Kraskovsky effort! What a superb pass from Alexander Polunin! #TeamRussia pic.twitter.com/gR49H2X5wO

— Russia Hockey (@russiahockey_en) August 5, 2017
DT: Will you decide alone or will you consult with your family?
PK: I think that I will need to talk with both my parents and my wife. The opinion of my family is very important. I try hard to have good ties with both my family and my wife's family.
A professional hockey writer and translator. Loves Russian culture, language, and hockey. Reachable on twitter @AlexSerenRosso