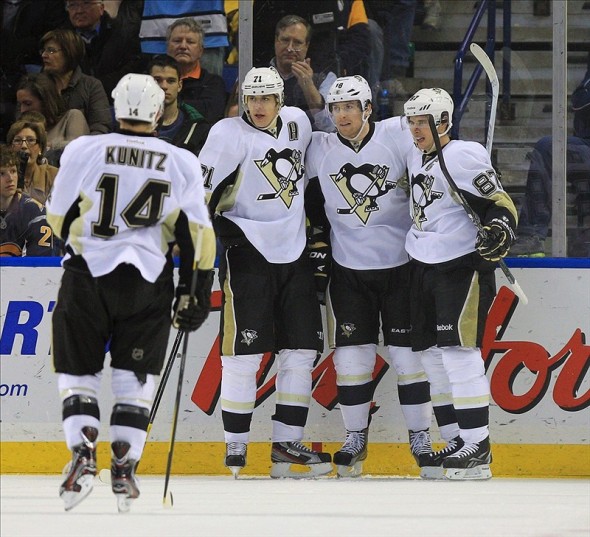 Are the Pittsburgh Penguins built for playoff success or regular season entertainment? Everyone is aware that the Pens are one of the best regular season teams in the league. Ranked 4th, averaging 3.22 goals per game, the Pens are offensively gifted. They have a 15 point lead in the Metropolitan Division. Based off of this resume, Pens' fans want to believe their team is built to win a Stanley Cup. But are they?
After a blowing a two-goal lead against the Edmonton Oilers back on January 10th, Rob Scuderi called his team out in the press. He seemed to question whether his team realized what type of style they'd need to play in order to triumph in the playoffs.
"If you're going to try and play hockey like the Harlem Globetrotters, you're going to get burned," Scuderi told Josh Yohe of the Tribune-Review. "We continue to make the same mistakes, go for the same highlight reel plays. That might look good on the highlight reels every now and then, but it's not a formula for winning."
Scuderi, who is a two-time Stanley Cup champion, didn't back down from his controversial comments after they got a lot of media attention. A few days later, he clarified what he meant.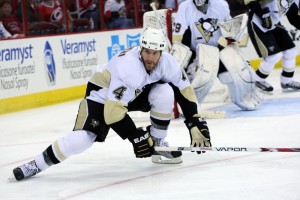 "I might of had a quote that got some attention, but all the guys in the locker room see it, know it, and say it. So I think for us, you got to play fundamentally. Just because we have high end skill doesn't mean we have to play a high risk game. Your skill is there to take advantage of those situations, when they are there to take. I think we just have to do a better job of realizing when they're there, and when they're not. There's definitely a time when you have to make a percentage play with the puck."
Scuderi is aware the Penguins aren't playing "playoff hockey."  But there is no convincing evidence that the rest of the team sees it, knows it, and says it like Scuderi claimed. Superstars like Sidney Crosby, Evgeni Malkin, and Kris Letang want to skate the puck through neutral zone traffic or force high risk passes no matter what zone they may be in on the ice.
Superstars' Mentality
Between the top of the face-off circles in their defensive zone to the top of the face-off circles in the offensive zone – the most dangerous area on the ice – the Pens had 15 second period turnovers against the Dallas Stars Saturday night. They attempted to force the puck through traffic with no success. The Pens must realize what they like to do – skating the puck through neutral zone traffic – isn't a recipe for playoff success. The Stars clogged the neutral zone, and the Pens were very sloppy possessing the puck all game.
"Momentum changed," said Dan Bylsma. "We turn over the puck in the neutral zone. It led back to a chance against. Then we took a penalty that got [them] their first power play goal."
The Pens needed to dump the puck deep into the offensive zone and make the high percentage play. Instead, their high risk play cost them. There is no better example of this when Rich Peverley scored the Stars' third goal. Malkin had two Stars' players all over him skating through the neutral zone. A simple dump into the offensive zone would've relieved this pressure. Malkin felt he could skate through the Stars' defenders. As a result of this stubborn mentality, Malkin's turnover ended up in the back of the Pens' net.
Penguins Built for Playoff Success?
If the Pens are built to win a Stanley Cup, what has changed this season that's different from last year? There was the addition of Jacques Martin to fix the defense, but the Pens' are basically giving up the same number of goals per game this year as they were last season (2012-13: 2.48; 2013-14: 2.46).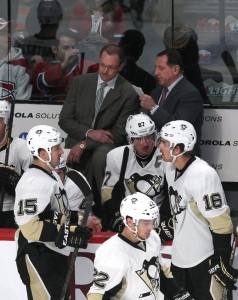 Ray Shero brought in Scuderi, but this has yet to have a drastic influence on the way the Pens are playing defense. Letang was supposed to play better since he was to be partnered with a shutdown guy in Scuderi, but this hasn't paid dividends.
Unless Shero makes a blockbuster trade – which isn't expected – where three or more players are brought to the Pens, there isn't going to be a major transition in their style of play. This won't happen until their stars prove that they're willing to simplify their own game.
With Crosby, Malkin, and Letang all in the line-up together, the team's goals against average skyrockets.These three must show their teammates they're willing to dump a puck if the neutral zone is clogged up. They must prove their willingness to flip pucks out of their defensive zone when they've been pinned inside it for a long time. It's a simple mentality, but we've yet to see this style played by the Pens on a regular basis. They've simplified things for a handful of consecutive games in the past, but eventually loosen up and go back to being the Globetrotters.
Penguins' Defensive Zone Coverage
The Pens are too self-centered around their own style of play. Many times they fail to accept when opposing teams are able to execute a better game plan. Opposing hockey teams are trying to win games and disrupt the way in which the Pens like to systematically play hockey. When opponents are successful, they put a lot of fore-checking pressure on the Pens' defense. This causes all five Pens' players, not just the two defenseman, to play in their own end. The defensive zone is an area where they've lacked over the years, and especially in recent weeks.
All five Pens' players have been caught staring at the puck in their own zone. They need to have their head on a swivel. They seem to fall into a zone-defense when an opposing team has offensive possession. It isn't bad to give the opposing point-men space so the Pens' forwards can help out in front of their own net, but the Pens' must tighten up their coverage from the top of the circles and in towards Marc-Andre Fleury's net.
Right now, the team is playing too loose in their defensive end. Being within a stick's length of an opponent doesn't constitute coverage in front of their net. Professional hockey players don't need much time or space to score a goal. The Pens need to tie up sticks so there is no chance of a shot being taken. Brooks Orpik probably thought he was close enough to Alex Ovechkin, but as the video will show, he never had Ovechkin covered.
The Pens' main focus is to play offense and apply pressure to their opponent. We know about the stretch pass and the Pens wanting to get the puck north as quickly as possible. This mentality has caused the forwards, and at times defenseman, to leave the defensive zone too early. When this has happened, the Pens have surrendered goals that may have been prevented with more positional discipline. All three Pens' forwards in the video below are too high, and cheating to leave their own zone too early.
Penguins' Playoff Fate
The Pens can play their risky style and they'll still be rewarded with a high playoff seed. Instead of addressing their problems, the Pens know they can outscore teams. This works on most nights, but this won't cut it against a defensively stout team like the Boston Bruins. The Pens can't wait until they're down 0-2 in the Eastern Conference Finals to finally play simplified "playoff hockey." It's too late by then.
The resolution is quite simple. The Pens must make smarter decisions with and without the puck. They must show defensive zone discipline and mental discipline. Their stars can still utilize their skill, but they must do so at the right time. This playoff mentality must be tested in regular season games so it is engrained in the team's mind once the post-season begins. Over the past two playoff seasons, the Pens have waited too long to make changes in their game plan. If the Pens' stars buy into this mentality before the playoffs begin, the rest of the team will follow suit giving them the best opportunity they've ever had to win a Stanley Cup.
Justin Glock has covered the Pittsburgh Penguins for The Hockey Writers since 2011. As a lead writer, his Penguins knowledge traces back over two decades. For any requests, please feel free to contact Justin via email: JGlock10@gmail.com.