The Pittsburgh Penguins are headed to the Stanley Cup Final for the fifth time in franchise history and their third in the Sidney Crosby era. How they got to this point, though, is worth a publishing deal and probably a movie.
The Penguins started 2015-16 as a struggling team with no real identity. They were a mishmash of talents led by a head coach that played so conservatively that he stymied the most potent offense in the league. Crosby wasn't scoring, neither was newly acquired sniper Phil Kessel and while Evgeni Malkin carried the offensive load, the rest of the team struggled to find consistency.
Jim Rutherford saw plenty of opportunity in how this team was constructed. Beginning last spring, when the Penguins were eliminated in five games at the hands of the New York Rangers, Rutherford knew this team needed to be faster. But, with a team so close to the cap, filled with superstar talent but also strapped with contracts like that of Rob Scuderi, it was a tough task for even the most savvy veteran.
Rutherford was up to the task. How did he pull off this rebuild on-the-go?
Cast offs and Misfits – The 2015-16 Pittsburgh Penguins
Last season, Rutherford sent hard-nosed defenseman Robert Bortuzzo to the St. Louis Blues in exchange for Ian Cole. Cole couldn't crack the lineup in St. Louis, but had first-round pedigree and potential in Pittsburgh. He played well down the stretch and despite challenges this past season, he has been a big contributor in this run.
He was also the first of many names nearly thrown away by their former clubs, only to excel with the Penguins.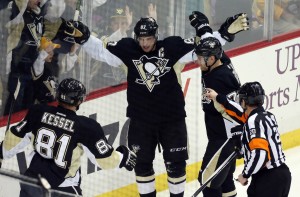 When free agency opened last summer, rumors that Rutherford and the Penguins were working on a deal to bring Kessel to Pittsburgh ran rampant. Kessel was abused by the Toronto media and after leading the Leafs in scoring throughout his tenure, he was viewed as uncoachable, lazy and someone who didn't fit their future plans. So, they were willing to nearly give him away and Rutherford was perfectly happy to extend his hands.
In December, it was obvious that Scuderi no longer had a place in Pittsburgh. He couldn't keep up with the Penguins' up-tempo style and hampered a lot of what they were trying to do. Rutherford saw another opportunity to keep his foundation in tact and this time, he could add a much-needed top-four defenseman.
The Chicago Blackhawks shipped Trevor Daley to Pittsburgh in exchange for Scuderi and a hair over $1 million in retained salary. He was a cast off with no place in Chicago after they acquired him the previous summer. Most viewed him as washed up and at his age, he could no longer provide the impact offensively minded play he had in the past.
They were wrong.
Finally, the Penguins wanted more depth in the form of someone who could contribute to their quick transition game. In Edmonton, they had a young defenseman by the name of Justin Schultz. He was a disappointment with the Oilers, viewed as a major defensive liability and not productive enough offensively to make up for it. He didn't belong in the NHL.
Again, many were very, very wrong.
You could add Carl Hagelin to this list, though not to the extreme as those listed above. Hagelin was traded by the New York Rangers because they couldn't afford him, then he struggled to find his game in Anaheim. The Penguins had David Perron in Pittsburgh who was also having issues producing, so a straight up swap meant a fresh start for both forwards. After his disappointing time in Anaheim, Hagelin is excelling in Pittsburgh as part of the ever potent HBK line.
The Fruits of Rutherford's Labor
Kessel's start in Pittsburgh was less than stellar. However, the entire team struggled to start the season so that doesn't come as a surprise. His true impact was felt when Malkin was forced out of the lineup during a crucial stretch to end the season. He began putting up the numbers everyone had hoped and finished the season with 26 goals and 59 points, with 19 of those points coming in Pittsburgh's final 21 games.
He also has 18 points in Pittsburgh's 18 postseason games thus far. Big-game Phil is alive and well.
Daley, while he won't finish the postseason after suffering a broken ankle, has played a crucial role on Pittsburgh's blue line. Throughout the regular season and playoffs, he ranked second in time-on-ice among Penguins' defensemen behind only minute-monster Kris Letang. He amassed six goals and 22 total points in 53 regular season games with the Penguins and added six points through 15 postseason appearances.
Following Daley's injury, Rutherford's depth addition in Schultz has paid off in a major way. He recorded eight points in 18 regular season games and now has two points in seven playoff contests. Outside of a few mistakes, he's playing solid in his own end and doesn't even resemble the cast off Edmonton made him out to be.
All of these moves have added to something very special…
Coach: "They have become a team in the truest sense of the word. I couldn't be more proud, but we aren't done yet." pic.twitter.com/NtQNAPIsdb

— Pittsburgh Penguins (@penguins) May 27, 2016
Maybe the biggest misfit of all is the individual that constructed this team. His hiring in Pittsburgh was met with frustration among the fan base. The Penguins failed to make it past the first round of the postseason in his inaugural season, which made things even worse. But, to his credit, he learned and accepted new ways of approaching personnel, partly thanks to the team Pittsburgh just eliminated in the Eastern Conference Final. The Lightning, as well as the Blackhawks, created the blueprint for skill-centric and speedy playoff teams.
Rutherford followed suit in the most creative way possible. Now, as Mike Lang said so eloquently, "You can spit shine your shoes Pittsburgh, we're going dancing with the Lord of Lords, Lord Stanley".