The NHL draft is becoming the new trade deadline. While the deadline itself gets all the hype, reality is that it's pretty difficult for teams to swap star players midseason.
Think about it. How many true 'hockey trades' involving NHL roster players do we actually see in the regular season?
Potential suitors are limited — as some teams are reluctant to give up roster players in a push for the playoffs — and salary cap constraints only complicate matters.
Most teams will never have more flexibility than they do today — right now — as they head into the annual draft. Cap dollars are uncommitted and the value of draft picks creeps up as teams start to key in on specific prospects they covet.
Possibilities are endless.
What we do know is that the Pittsburgh Penguins are in an unfamiliar spot. Not only do they enter draft weekend without a pick in the first, third, and fourth rounds, but they also enter the summer trade market dealing from a position of weakness.
Penguins President and CEO David Morehouse told the Tribune-Review in late April that he and majority owners Mario Lemieux and Ron Burkle had decided to retain GM Jim Rutherford and coach Mike Johnston for the upcoming season.
A month later the team announced it had engaged Morgan Stanley to review strategic options and what seems like an inevitable sale. Firing a GM and coach prior to a sale wouldn't have been a financially responsible move, but players won't be lining up at the doors of the Consol Energy Center underneath the lingering clouds of uncertainty.
It also leaves Rutherford as a sitting duck in an ocean full of hungry GMs who are eying the Penguins young assets on defense.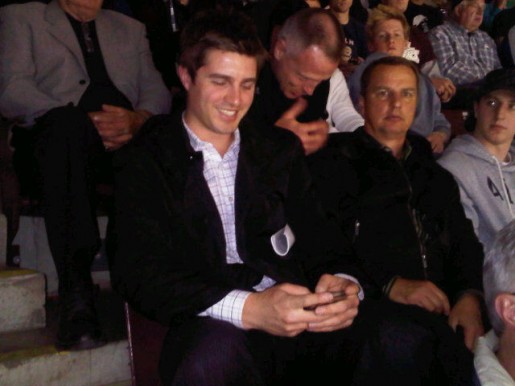 Toronto Assistant GM Kyle Dubas, who will be handling the Leafs trade activity this weekend, and team capologist Brandon Pridham have been masterful in their moves to reshape the roster over the past year. You can be sure that Dubas already has his sights set on Rutherford and a rising star like Pittsburgh's Derrick Pouliot.
Is a trade for Phil Kessel possible?
Sportsnet's Damien Cox reported yesterday that the Penguins were eying Kessel and he certainly wouldn't come cheap. Kessel carries an $8 million cap hit for the next seven years and has the potential to score 40+ goals on a wing with Sidney Crosby.
Some analysts have reported that the Leafs might retain a portion of Kessel's salary to make a potential deal happen. To me, that doesn't make sense, especially with a savvy cap guru like Pridham working the numbers.
Why would the Leafs want any portion of Kessel's on their books seven years from now? Or even five years from now?
Their best bet is to target a team that's desperately looking to unload a bad, short-term contract. Toronto won't be competing for a Stanley Cup at any point in the next two or three years and their financial clout offers opportunity to absorb bloated contracts, buyouts, and LTIR players in the short-term.  After that, they'll want maximum cap flexibility to construct a roster worthy of Cup contention.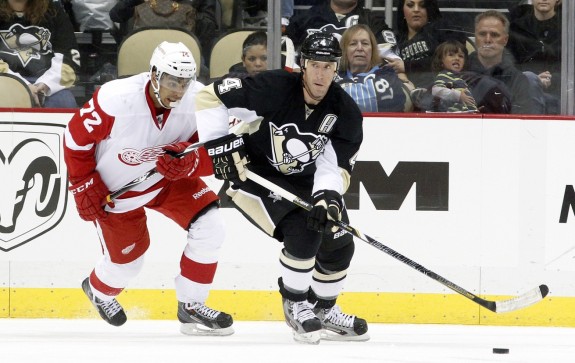 For the Penguins, Rob Scuderi obviously fits that description. Scuderi has two more seasons on his current deal at $3.375 million. Rutherford said the Penguins have no plans to buy out players prior to the buyout window closing on June 30 at 5pm.
Again, given the pending sale, this shouldn't be a surprise. With the Penguins in cost-cutting mode, they'll probably look to dump Scuderi off the books entirely — even if it means sacrificing additional assets to make it happen.
All of these factors make it hard to envision a scenario where Rutherford can even collect a neutral return on any deal involving Kessel or other top wingers available for trade.
No picks, no job security, no leverage, budget constraints, and a middle-of-the-pack roster without an identity. As Rutherford prepares for what is potentially his final act, he certainly has his work cut out for him over the next week.
---
Questions, Rumors, and Speculation
If you have a question regarding the Penguins, feel free to submit it via Twitter (@MikeColligan) or in the comments below. 
*****
Question: Are Matt Murray / Tristan Jarry in play given the Marc-Andre Fleury extension?
Rutherford signed Fleury to a four-year extension ($5.75M cap hit) last November which certainly makes the Penguins goaltending situation interesting. Murray dominated the American Hockey League last season but hasn't been tested at the AHL level yet.
Logically, leveraging Murray's reputation would definitely be a way for Rutherford to improve his NHL roster in the short-term. On the other hand, Murray's $894k cap hit and upside potential could make him the ideal Penguins goalie of the future.
Where does that leave Fleury? He has a limited no-trade clause in his new contract that allows him to block a trade to 12 teams. Is he a sure bet to play out the duration of his new deal in Pittsburgh?
*****
@MikeColligan are the Penguins interested in Jeff Skinner? If so, what is the asking price?

— Andrew Brest (@andrewbrest) June 26, 2015
I wouldn't rule out anyone with ties to Rutherford's time in Carolina. Not only does that mean Skinner could be a possibility, but I'd put Jiri Tlusty and Erik Cole (if he can recover from a spinal cord contusion) at the top of Pittsburgh's free agent target list.
Would I make a deal for Skinner? No way. Especially not with four years remaining and a $5.75 million cap hit. The Penguins already have major injury risks on their roster and Skinner hasn't shown the ability to stay healthy at the NHL level.