Since taking over in May 2014, the plan Ron Hextall initially laid out for the future of his roster is finally beginning to come to fruition with the current stable of prospects in the system. Everyone knows patience has been Hextall's virtue throughout his tenure and there's a good reason for it.
When Hextall took over the Philadelphia Flyers were in salary cap hell. Hextall had virtually no choice but to completely change the philosophy of the go-for-it-all every season mentality under the previous general managers' regimes.
The only logical choice Hextall really had was to develop from within and build through the draft. Which, now that he has three draft classes under his belt, the farm system is starting to see the benefits of what stockpiling draft picks and making smart choices does for an organization.
Hextall's Method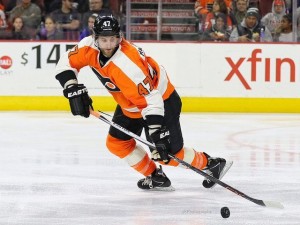 Hextall knew when he took over that the Flyers were nowhere near close to being Stanley Cup contenders.
With no salary cap space to add players of any significance, and laden with unmovable contracts at the time (Vincent Lecavalier, Andrew MacDonald), Hextall basically started his reign with his hands tied behind his back.
His approach? Go with the team he has, trade veteran contracts at the trade deadlines and stockpile as many draft picks as possible as a result.
Now the Flyers possess an impressive stock of prospects at all positions.
The logical philosophy here is that the more picks you have the better chance you're going to get an NHL player, while at the same time shredding salary off the roster.
Getting Noticed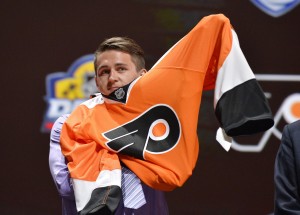 Hextall and company have done such a great job with their draft picks since taking over that the Flyers now boast a top ten farm system for the second straight season according to ESPN.
This year ESPN/Corey Pronman have the Flyers listed with the sixth best prospect pool in the league. On top of that Pronman had some very nice things to say about the crop Hextall has cultivated:
"It's hard to criticize the Flyers' system. Talented all-around centers? Check. Dynamic big defensemen? Check. Ridiculous goaltender depth? Check. Depth through their amateur and professional ranks? Check. Players with star upside? Check. They don't have an Auston Matthews-caliber player in the pipeline, but that player doesn't stay in your system longer than three months anyhow. Ron Hextall emphasizes patience in developing players, so I do expect this system to remain at a high level for another two seasons as the build continues."
"It's hard to criticize the Flyers' system", that is music to the ears of Flyers fans. Fans, who for as long as they can remember have seen draft picks and young players traded away for veterans year after year in order to win now.
Flyers' farm system has it all according to ESPN's Corey Pronman https://t.co/sHGyu4BoaS via @SonsofPenn pic.twitter.com/mldZ1KUyXX

— TOU (@TheOrangeUpdate) August 29, 2016
The System's Climb
The slow and steady climb of the farm system will hopefully be productive soon, and set the Flyers up as contenders for the next decade. This is the core of the plan Hextall has put forth to succeed in the post-lockout salary cap world.
The Flyers have gone from 29th in these ESPN rankings in 2013, to 25th in 2014, to 10th last summer (after additions like Ivan Provorov and Travis Konency), and now currently sit impressively at sixth. That's quite the imposing climb Hextall and his scouting team have been able to make in such a short period of time.
Only three teams in the top-10 made the playoffs last year. PHI is one of them, and the highest ranked of the three.https://t.co/AVOtlK8Ykp

— Charlie O'Connor (@charlieo_conn) August 29, 2016
It's only a matter of time before these players begin cracking the NHL roster, and then we will see just how well Hextall has done. Either way, one can't help but be optimistic and excited about the future of Philadelphia Flyers hockey.
Glen Stricker is a Temple University graduate with a degree in Media & Communication. He is the Lead Writer for the Philadelphia Flyers for The Hockey Writers as well as the social media coordinator and contributor for @PHLFlyersNation