Another preseason has come and gone and it's time to get hyped up for the new NHL season. Over the past few weeks, we've had our appetite for hockey slightly satisfied with exhibition games. It's not the real thing, but we take what we can get after a long offseason and Flyers fans were treated to a collection of rookies battling for a spot on the roster. Some of those names included second overall pick Nolan Patrick, Travis Sanheim, Oskar Lindblom, Samuel Morin and Robert Hagg.
After their final game, the Flyers announced that Patrick and Hagg would remain on the team. Oskar Lindblom was sent back to the AHL while defensemen Sanheim and Morin were left in the blue. An apparent injury to Shayne Gostisbehere late in their final game may have been the deciding factor in that. Later that week, Matt Read was sent down, allowing Morin and Sanheim to retain a spot on the roster.
The Flyers will have five players with little to no NHL experience under their belt (Patrick, Morin, Hagg, Sanheim, Leier). What can we expect from them this season?
Nolan Patrick
The 2017 second-overall pick successfully landed a spot on the Flyers roster after impressing during preseason games. The points didn't show up, but Patrick showcased his elite passing and stellar defensive play. The expectations are obviously set high for the rookie, but Flyers fans will need to be realistic about his point totals. He was great on the Flyers' second power play unit and practiced on the first unit a handful of times. If the power play struggles early on, it wouldn't be shocking to see Patrick on the top unit instead of Valtteri Filppula.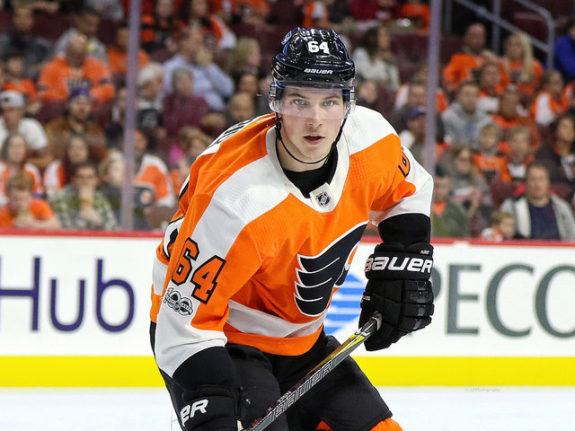 Patrick's injury history also raises a red flag but nothing seemed wrong with him when he dropped the gloves with David Krejci during one of their preseason games. If healthy for the entire season, Patrick should hit the 40-point mark. His hockey IQ and passing skills are too high not to.
Prediction: 14G – 30A – 44P 
Robert Hagg
Known more as a defensive player, Hagg solidified his roster spot by playing quality shutdown defense. He isn't flashy, doesn't produce points or have any real dynamic characteristics, but Hagg is a very sturdy defender capable of playing a defense-first role. He made several smart plays during the preseason and built off his AHL season where he improved his overall game. Not a big risk taker, Hagg will be a key member of the Flyers' future, and capable of playing in all situations if necessary.
It's unlikely that Hagg sees any time on the power play, as the Flyers opt for four forwards, leaving Gostisbehere and Ivan Provorov to fill those two open spots on the blue line.
Prediction: 4G – 16A – 20P
Samuel Morin
If this preseason was any indication of how Morin will progress, Flyers fans can rest assured that long-term development was a good idea. Morin played with confidence and physicality, using his 6-foot-6 frame to constantly take the body and win puck battles. He is not known for his offensive instincts, but he showed a few glimpses of what he's capable of bringing to the table. Based off last season, Morin is likely to be a healthy scratch for a few games this season, but he should still benefit from playing against top competition in the league instead of playing another year in the AHL.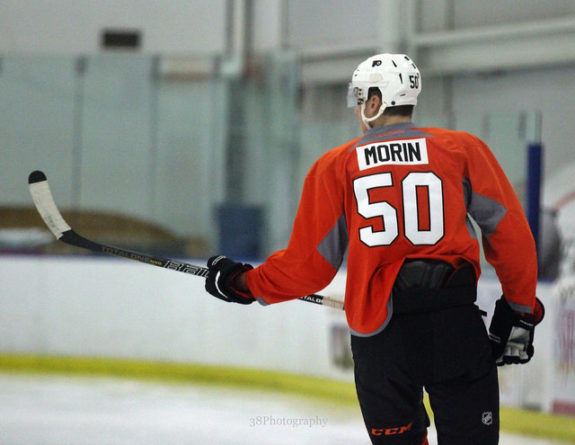 When dressed, Morin probably won't see any power play time, which could lead to similar point totals to his counterpart Hagg.
Prediction: 4G – 14A – 18P 
Travis Sanheim
The situation with Sanheim isn't quite clear. He was supposed to be cut, but with the Gostisbehere injury scare, the Flyers decided to keep him and waive Read. During the preseason, Sanheim proved his worth by scoring clutch goals and making great decisions with the puck. His defensive game can still be worked on, but his offensive instincts are already at an elite level and with some playing time, Sanheim can do some damage. However, despite his solid end to the preseason Morin and Hagg appear to be more NHL ready.
If Sanheim played a full season, he would likely get a small part on the power play. This prediction is based on a full, healthy season by Sanheim.
Prediction: 6G – 20A – 26P
Taylor Leier
After being drafted in the fourth round back in 2012, Leier played three seasons for the Flyers' AHL affiliate and only dressed in 16 games for the parent club. His hard work is finally paying off as he has cemented a spot on the Flyers' fourth line. Playing alongside Scott Laughton and Michael Raffl, Leier is a big part of that line, consistently forechecking and applying pressure to the other teams' defense.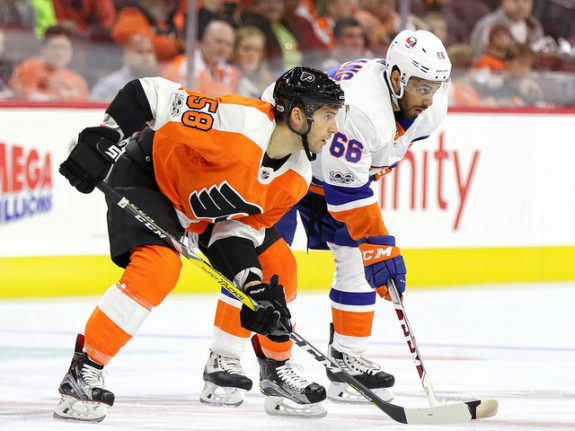 His doggedness is going to give the Flyers the best fourth line they've had in a very long time. Laughton and Raffl seem motivated and are looking to be solid contributors. During the preseason, they were relentless in the offensive zone and drew many penalties, much to the delight of coach Dave Hakstol.
Prediction: 7G – 14A – 21P
There is a lot to be excited about in Philadelphia. Depending on how Hakstol manages the roster, the Orange & Black could find themselves in a playoff spot this year.