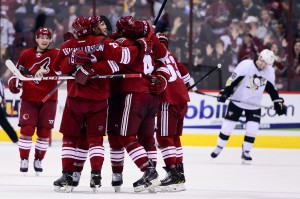 The Phoenix Coyotes have a rich history in the National Hockey League dating back to their beginnings as the original Winnipeg Jets. Over the course of their franchise history in the NHL they have been home to many tremendous talents. In the chart below the best all-time Coyotes/Jets, based on only their franchise statistics, are shown. After the chart a notable item will be shared regarding each player's association with the Phoenix Coyotes/Winnipeg Jets franchise.
Phoenix Coyotes Top Two All-Time Lines
Line 1
Position
Player
Current Age
Years
GP
G
A
P
LW
Keith Tkachuk
42
1991-2001
640
323
300
623
C
Dale Hawerchuk
51
1981-1990
713
379
550
929
RW
Shane Doan
37
1995-2014
1315
354
498
845
D
Teppo Numminen
45
1988-2003
1098
108
426
534
D
Keith Yandle
27
2006-2014
495
61
209
270
Goalie Stats
W
GAA
SV%
G
Ilya Bryzgalov
33
2007-2011
257
130
2.54
0.917
Line 2
LW
Doug Smail
56
1980-1991
691
189
208
397
C
Thomas Steen
53
1981-1995
950
264
553
817
RW
Paul MacLean
56
1981-1988
527
248
270
518
D
Randy Carlyle
58
1983-1993
564
80
226
306
D
Zbynek Michalek
31
2005-20102012-2014
486
28
97
125
Goalie Stats
W
GAA
SV%
G
Bob Essensa
49
1988-1994
281
116
3.38
0.894
Keith Tkachuk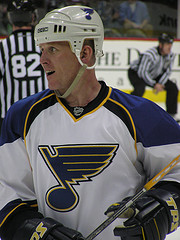 Having been named team captain in 1993, he was an integral part of the Coyotes franchise moving forward. However a strong partnership between player and team would not last in this case. Prior to the 1995-96 NHL season Tkachuk was a restricted free agent and was given an offer sheet by the Chicago Blackhawks. It was a five year deal averaging $3.4 million per season with six million dollars to be paid in the first season.
Then the Winnipeg Jets matched this offer despite their financial troubles at the time. He would be stripped of the captaincy for the 1995-96 season and moved with the team to Phoenix the following year.
Teppo Numminen
The Phoenix Coyotes retired his number 27 jersey in January 2010. At the time he had played 15 seasons for the franchise holding the record of 1098 games played and 534 points by a defenseman.
Shane Doan
He is currently the longest serving captain in the NHL having been named captain for the 2003-04 season. He has also assumed the record for all-time leader in games played with 1315.
Dale Hawerchuk
He was drafted first overall by the Winnipeg Jets in the 1981 NHL Entry Draft. He would go on to post six seasons scoring 100 or more points for the franchise. Including his rookie season when he became the youngest player at the time to eclipse the 100 point plateau.
Bob Essensa
For the 1991-92 season he finished third in voting for the Vezina Trophy as the NHL's best goaltender.
Keith Yandle
He is the youngest player on this all-time team list and has averaged 38 points over his seven seasons with the Phoenix Coyotes franchise. Something he is less known for, in every season since 2008-09 Yandle has been involved in one fight.
Thomas Steen
In a 1990 poll of NHL players Steen was voted the most underrated player in the game. When he retired in 1995 the Winnipeg Jets also retired his number 25 to the rafters.
Paul MacLean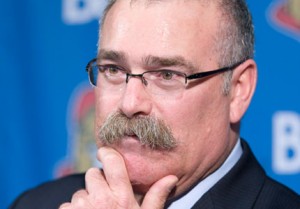 He is the highest scoring NHL player that was born in France (Grostenquin, France) in history. In six of his seven seasons as a member of the Winnipeg Jets he scored 30 or more goals, including three 40 goal campaigns.
Randy Carlyle
He had five 40 or more point seasons from the blue line for the Jets. He started his career at the age of 28 with Winnipeg and was very productive until the age of 33. He was still a solid veteran defender until his retirement at age 37, but his point totals fell off dramatically. After his playing career was completed he became an assistant coach with the Winnipeg Jets for the 1995-96 season.
Zbynek Michalek
A known shot blocker, he led the league with 271 blocks in 2008-09. He regularly is over 150 blocked shots per season. This was one of the reasons why he was such a sought after commodity during the July 2010 free agency period.
Doug Smail
Currently holds the franchise record with 25 career shorthanded goals and had 12 seasons where he scored at least one shorthanded goal.
Ilya Bryzgalov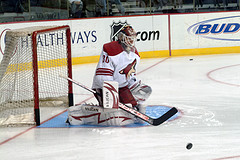 The Phoenix Coyotes picked him up on waivers from the Anaheim Ducks in November 2007. At the time it was indicated that the Ducks tried to trade him but could not, so they had to lose him on waivers. He averaged 33 wins per season during his time in Phoenix; however his lack of solid play in the payoffs led to them letting him go as a free agent. He posted 3.73 goals against average and a 0.893 save percentage in 11 NHL playoff games with the Coyotes.
Final Thoughts
It is clear that the original Winnipeg Jets, Phoenix Coyotes and soon to be Arizona Coyotes franchise has been home to some tremendous talent.
Other current Coyotes getting close to this all-time list are goaltender Mike Smith (5th all-time with 80 wins), winger Radim Vrbata (7th all-time with 26 game winning goals), and defenceman Derek Morris (8th all-time with 544 games played).
With new ownership focussed on making the Coyotes successful both on and off the ice, there is no doubt that there will be many more future greats for Coyotes fans to embrace.
Someone missing from this list? Comment with your favorite Coyotes and/or Jets of all time.