The Pittsburgh Penguins steamrolled into the postseason and after a 5-2 victory over the New York Rangers in game one, it seemed they were poised to continue that run.
However, when you dig deeper than the final score, the win wasn't necessarily convincing.
Game two, which saw the Penguins get off to a much better start, eventually turned ugly after the Rangers netted a few quick goals on their way to a 3-1 lead. At that point, the Rangers bottled up the Penguins' offense and unfortunately, repeated the results we saw in game one with one major difference… Henrik Lundqvist in goal.
While I'm not attempting to take anything away from the results of Pittsburgh's 5-2 victory to start the series, it's fair to question whether or not a healthy Lundqvist changes the complexion of this matchup altogether. A look at how the underlying numbers played out, combined with the fact that New York sustained a ton of pressure throughout, tells us that the Penguins could easily be staring at a 2-0 series deficit.
At this point, I'm far less confident in Pittsburgh's chances than I was prior to the series starting.
The Results Haven't Favored Pittsburgh
In game one, the Penguins forfeited 28 scoring chances while creating only 18 of their own. Third-string goaltender Jeff Zatkoff was under fire early but fortunately for Pittsburgh, he weathered the storm and kept the game even.
From a possession standpoint, primarily measured in shot attempts, the Penguins were surprisingly outmatched in a big way. Heading into this series, Pittsburgh was the third best team in the NHL in terms of Corsi-for percentage, while the Rangers were ranked 24th. However, they've flipped the script on the Penguins so far.
Game two was much of the same, with New York out-chancing the Penguins 22-16 at even strength, netting four goals while playing five-on-five. This time, when the Penguins had opportunities to take advantage of their speed and ability to get behind the Rangers defensemen, they were shutdown by Lundqvist. Bryan Rust's breakaway was a great example of that.
Does this mean the Penguins are doomed? No.
However, it does mean that so far, the Rangers are beating the Penguins at their own game.
While it's surprising to see the Penguins outplayed by such a large margin in the first two games, I stand by my initial prediction that it simply won't last. That said, whatever adjustments head coach Mike Sullivan sees fit to address these issues will need to happen in a hurry.
Falling behind 2-1 in this series tomorrow night with another game to play at MSG will be a tough hill to climb.
Decisions, Decisions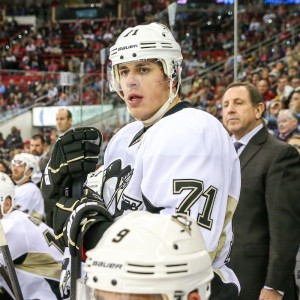 Did Evgeni Malkin's return actually throw off Pittsburgh's chemistry? Are they in a tough spot now that he has returned from injury, considering the team isn't sure of where he fits in?
Currently, that's the narrative circulating the hockey world and it couldn't be further from the truth.
As I mentioned above, the Penguins were outmatched and outplayed in game one as well. In fact, the results from game two were a little better for Pittsburgh, although the score obviously didn't reflect that. If you subtract a couple costly mistakes though, the outcome is likely much different. Those mistakes weren't made by Malkin.
My biggest concern from a lineup perspective is on the back-end. Justin Schultz being a healthy scratch for game two was quite surprising, especially when you consider how the Penguins have approached their lineup in recent months under Sullivan.
When asked about it, Sullivan said the following…
We felt as though we needed some defending defensemen in our lineup that would provide complements to the other guys that we have.
Defending defensemen meant Ben Lovejoy getting the nod. That decision is puzzling, as Ian Cole and Schultz have been very good together as Pittsburgh's third pairing. Surprisingly though, it was Olli Maatta that ended up being the biggest liability. It looks like the Penguins' coaching staff may have the same opinion.
Another interesting tidbit from drills: In 5-man transition work, Maatta w/ Pouliot, Letang w/ Daley, Dumo-Lovejoy & Cole-Schultz.

— Bill West (@Just_BWest) April 18, 2016
Based on those pairings, Maatta looks to be a scratch for tomorrow night while Sullivan reunites Trevor Daley and Kris Letang, as well as Cole and Schultz. Based on Maatta's performance as of late, it's the right move.
Full line combinations, at least according to today's practice, are as follows…
Chris Kunitz – Sidney Crosby – Patric Hornqvist
Carl Hagelin – Nick Bonino – Phil Kessel
Conor Sheary – Evgeni Malkin – Eric Fehr
Tom Kuhnhackl – Matt Cullen – Bryan Rust
Trevor Daley – Kris Letang
Brian Dumoulin – Ben Lovejoy
Ian Cole – Justin Schultz
All three goalies were present, with no indication of who the starter will be. Sullivan has been playing mind games around who will take the crease throughout the series so far so unless he formally announces someone, we'll likely have to wait until game time.
It's tough to argue the above lineup, as it spreads their skill throughout and should pose matchup issues for the Rangers. Having to figure out where to place your wealth of superstars is a great problem to have, right?
Only if the group collectively does their job. So far, as a team, the Penguins haven't.
Pittsburgh Penguins writer for TheHockeyWriters.Com and PittsburghHockeyNow.Com. Youth hockey coach, and student of the game.