The exhausted, injury depleted Pittsburgh Penguins dropped a 4-0 dud on Wednesday night when they visited the Philadelphia Flyers to complete their fifth consecutive road game, a trip that included games in both the U.S. and Canada, four different time zones and over 5,000 miles traveled. Oh, and all of that took place in an eight-day span.
The NHL's scheduling, in thanks to the World Cup of Hockey and newly implemented bye weeks, is unforgiving for almost everyone at this point in the season. However, the Penguins are also facing this grueling schedule with a growing list of key injuries, and Ron Hainsey is the latest player to join the list after leaving Wednesday night's contest and not returning.
Ron Hainsey, who's not on the bench, was in some discomfort after Philly's second goal. Looked like he was messing with his hand.

— Jason Mackey (@JMackeyPG) March 16, 2017
Still, the Penguins are in great shape heading down the stretch. They're just two points behind the first place Washington Capitals and still have a great shot at stealing that number one seed, which would mean a favorable first round matchup in the postseason. Normally, seeding isn't all that important in the NHL but in this case, a team that won't see many of their familiar faces return from injury until the postseason would surely benefit from facing a New York Islanders or Toronto Maple Leafs squad. Especially when you consider the alternative that likely means meeting the extremely physical Columbus Blue Jackets.
With all things considered — and outside of injuries, of course — the Penguins have very little to be concerned with right now. But their issues on special teams were glaringly bad on Wednesday night and all of a sudden, it seems their power play and penalty kill could create problems. With special teams dominating the postgame conversations one has to ask; Just how bad are Pittsburgh's special teams?
Penguins' Powerplay Prefers Home Cooking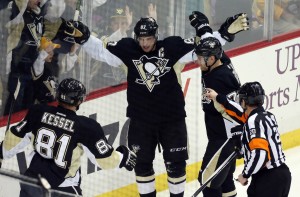 In a game like Wednesday night, while the Flyers seemed to steal any resemblance of momentum left up for grabs, a powerplay goal can be the ultimate game changer. Pittsburgh was provided opportunities to do so, but couldn't convert and ultimately, Philadelphia ran away with the game. That wasn't necessarily reflective of how Pittsburgh has looked all season, though.
The Penguins currently rank third in the NHL in powerplay success rate with 22.5-percent, according to NHL.Com. The issue, of course, is that the bulk of that success happens at PPG Paints Arena in front of Pittsburgh's home crowd. They boast a whopping 27.2-percent success rate at home — which is good for second in the NHL — while ranking 18th on the road with a measly 17.7-percent.
Now, that's concerning
According to Corsica.Hockey, the Penguins are accounting for 107.4 shot attempts per hour in five vs. four situations on home ice. One the road, that number drastically drops to a hair over 72 attempts per hour. They also recognize a drop in scoring chances created per hour, with 33.66 at home and only 18.26 on the road. That road number is good for 22nd in the league. When you deploy the sort of talent Pittsburgh does on their powerplay unit, there's simply no excuse for that kind of decrease while traveling. There's a slight drop in those metrics for everyone when looking at home vs. away but not this severe. And correcting an issue that's venue related can be quite the challenge for a coaching staff.
To be blunt, the Penguins' powerplay unit isn't bad all the time. When they're on the road, they're downright terrible. It's an issue that needs addressed heading into the postseason.
Penalty Killing is More of the Same
The Penguins aren't known for their physicality, but they are the ninth most penalized team in the NHL right now. Leading the way is Evgeni Malkin — who sits just outside the top-20 with 77 penalty minutes — and Ian Cole who has accrued 64 minutes in the sin bin. Unfortunately, killing penalties has been a bit of a problem for this group.
Pittsburgh is 20th overall in the NHL with an 80.2-percent success rate on the penalty kill. Just as you'd guess after seeing their home vs. away comparison on the powerplay, their struggles mainly occur when traveling. At home, they boast an 82.2-percent success rate that jumps them to 16th overall. It isn't great, but it's a huge improvement over their 78.6-percent on the road, which ranks 22nd in the league.
For the most part, their special teams — at least their powerplay — has been serviceable. They need to address their penalty killing issues heading into the postseason and considering how close the Metropolitan Division is, they may not finish with the top seed. That means the road to the Cup Final will go through another city — most likely Washington at some point — so their inability to be effective on special teams on the road will be a problem. How does it get fixed? Well, that's why Mike Sullivan and his staff make the big bucks. It's hard to point to systematic problems, considering they don't approach road games differently in that regard so maybe it's a mindset. Whatever it is, special teams are always a huge deciding factor in the playoffs. The Penguins will have a tough time repeating as Stanley Cup Champions if they can't improve in this area.