The era of Sidney Crosby and Evgeni Malkin has produced a number of memorable moments in Pittsburgh Penguins history. From the 2008 playoff run, which saw the team come within two wins of winning the Stanley Cup, only to hoist it the next season, and the back-to-back Cups in 2016 and 2017.
The Penguins have also had a number of individual performances over the last decade which people still talk about. Most have come from Crosby and Malkin, but a few have come from Kris Letang and Marc-Andre Fleury. Attempting to rank each season would be near impossible, so what if it's narrowed down to the top five individual performances, including playoffs, by Penguins players since 2008, and why do they rank where they are? That's what we did.
Number 5: Sidney Crosby's 2013 Lockout Season
The fact this list begins with Crosby's 56 points — 15 goals, 41 assists — in 36 games during the 48-game lockout-shortened 2013 season should tell you everything. The Penguins have seen a lot of memorable seasons over the last 10 years.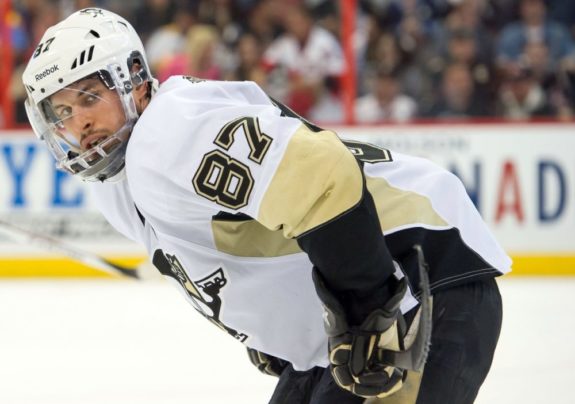 Coming off back-to-back concussion-riddled seasons which caused him to miss over 100 games, many didn't know what to expect from Crosby. Would he ever return to his elite status, or would it prove to be too much for the then 25-year-old?
After a subpar first seven games of the season (seven points), Crosby quickly answered the questions from his doubters, as he posted 49 points over the final 29 games he played. This included 24 points in 14 February games and 25 points in 15 games during March, a month where the Penguins went 15-0-0.
Crosby's regular season ended during the final March game after an errant Brooks Orpik slapshot hit him in the face, breaking his jaw. Despite missing the final 12 games, Crosby finished third in scoring with 56 points, four behind Martin St. Louis of the Tampa Bay Lightning.  His points per game of 1.56 was best in the league by .31, as St. Louis posted a 1.25 mark. His 41 assists were second in the league, but his assist per games mark of 1.14 was the best — Letang was second with .94. At five-on-five, Crosby recorded 38 points, two behind Eric Staal despite playing almost 190 fewer minutes. His P/60 of 4.19 was ahead of Staal's 3.3, and his A/60 of 2.87 was also tops in the league.
The Penguins controlled 56.64 percent of the shot attempts with Crosby on the ice at five-on-five. He was also on the ice for a whopping 47 goals for, compared to just 19 against for a GF% of 71.2. On a teammate basis, the line of Crosby, Chris Kunitz and Pascal Dupuis was among the best in the league, controlling 56.3 percent of shot attempts together, 10th in the league among lines with 300 minutes together. Their GF% of 75.6  was second in the league, just behind the line of Tyler Seguin, Brad Marchand and Patrice Bergeron of the Boston Bruins.

Data: Corsica
Not only did breaking his jaw cost him a scoring title, it also cost him the Hart Trophy as the league MVP, which he finished second in voting behind Alexander Ovechkin of the Capitals — a 2013 piece from THW explained why it was the wrong choice.
If you refuse to accept that the award goes to the player most valuable to his team, then the production quantity is the key element. If Crosby plays a full season he decimates Ovechkin in that category. You can't hold Crosby breaking his jaw against him, if anything, his production equaling Ovechkin's in 12 less games is all the more reason to vote for Crosby.
While the voters didn't see Crosby as the MVP, the players did, as he won his second career Ted Lindsay Award. He was also named to the NHL's All-Star team.
Crosby missed the first game of the playoffs, but he returned in game two, scoring two goals. In five games during the Penguins six-game first round victory over the New York Islanders, Crosby recorded nine points. The second round against the Ottawa Senators was more of the same, but this time he added a hat trick in game two for good measure while totalling six points in five games. That was the extent of his scoring that postseason, though, as the Penguins ran into a red-hot Bruins team and scored just two goals while being swept. It was the first time in his career where he was shutout over an entire postseason series. Overall, Crosby finished with 15 points in 14 playoff games.
This was also the final season in a three-year run where Crosby averaged at or above 1.5 points per game — while playing just 99 games, due to injury, he managed to produce 159 points. For his efforts, he earns number five on this list.
Number 4: Kris Letang's 2015-16
In December 2015, the Penguins were at a crossroads, and it seemed the team was no longer a championship contender. That all changed once head coach Mike Johnston was fired and replaced by Mike Sullivan. The team took off, especially its core players, but nobody was more important than Letang.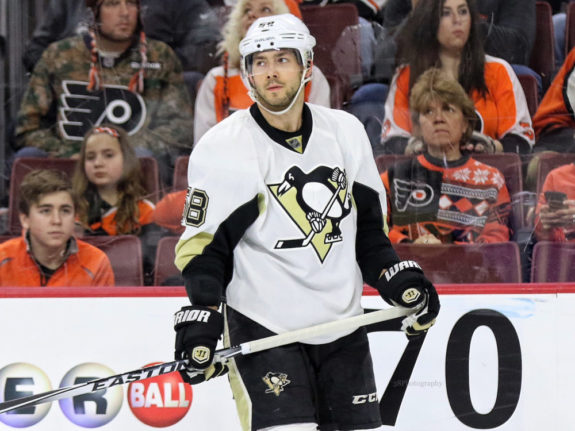 Letang was playing at a Norris caliber level in 2014-15 before a late hit from Shane Doan led to a concussion, ending his season. In 69 games he recorded 54 points while playing just under 25 and a half minutes a game.
The effects of the concussion seemed to linger entering 2015-16, as Letang, like most of the Penguins, struggled out of the gate. He recorded just 14 points in his first 25 games while playing more than 26 minutes a night.
He missed the first two weeks of Sullivan's tenure with an injury, but once he returned on Dec. 26, his season turned a corner. In 46 games under Sullivan, Letang recorded 53 points (15 goals, 38 assists, 1.15 points per game) while seeing his ice time increase to just over 27 minutes a night. From Dec. 26 to the end of the season, not only was this the best among defensemen by nine points (Brent Burns was second with 44), Letang was also fifth among all skaters in points, ahead of players such as John Tavares, Erik Karlsson and Ovechkin.
Overall, he recorded 67 points (16 goals, 51 assists) in 71 games — third among defensemen — while finishing fourth in Norris voting. His era adjusted point total of 75 was also third among defensemen. In addition, Letang's defensive point shares of 4.3 was fifth among defensemen.
Letang's surge also played a big role in getting Crosby back to his old self, as Mike Necciai wrote in Feb. 2016.
Crosby and Letang have recorded a little over 134-minutes of even-strength ice time together since returning from the holiday break on December 26th. In that time, they've recorded 12 goals-for to only six goals-against and a Corsi-for percentage of 65.3-percent. They're clicking at nearly six goals-for per 60 minutes of play, which is an unbelievable accomplishment in today's NHL. Without Letang, Crosby has recorded just five goals-for to four goals-against in a hair over 131-minutes.
Letang had 37 points at even strength, third best among defensemen with at least 1,200 minutes played. Additionally, with him on the ice at five-on-five, the Penguins controlled 54.6 percent of the shot attempts, eighth best among defensemen with the same minute threshold. So, how did he stack up against the rest of the league?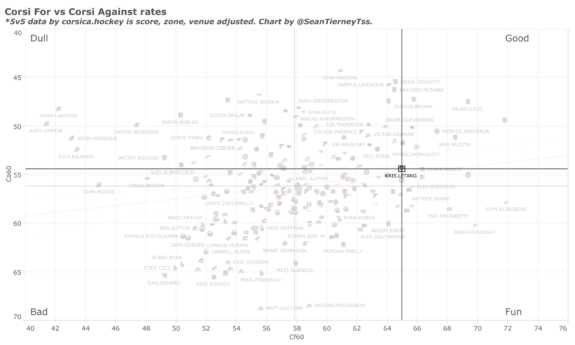 Chart by @ChartingHockey
He was paired most often with Olli Määttä, and in 54 games and just under 675 minutes together, the pair was among the best. At five-on-five the pairing had a CF% of 55.37, seventh best among pairs who played at least 500 minutes together. The Penguins also scored 36 goals with the pair on the ice, compared to just 23 against (61 percent goals for) good for fifth in the league.
Letang turned his play up another level for the playoffs, as he put on a Conn Smythe Trophy-worthy performance, anchoring the Penguins blue line to the Stanley Cup. Despite being suspended one game during the team's second-round series against the Capitals, for his hit on Marcus Johansson, Letang put up 15 points (three goals, 12 assists) in 23 games while skating almost 29 minutes a night. He also scored the Cup-clinching goal during the second period of game six. The point total was second among defensemen, behind Burns' 24. Another fact from Letang's playoff heroics? He reportedly underwent foot surgery prior to game one of the Stanley Cup Final.
At five-on-five, the Penguins controlled 54 percent of the shot attempts with Letang on the ice, third among defensemen with at least 200 minutes played. The Penguins also scored 22 goals for, compared to just 16 against when Letang was on the ice. This is also where the pairing we see today of Letang and Brian Dumoulin got their start. In 278 five-on-five minutes together, the pairing controlled 56.84 percent of the shot attempts, second best among pairings with over 100 minutes played.
Without Letang, it's likely the Penguins miraculous turnaround doesn't happen.
Number 3: Evgeni Malkin's 2011-12
Returning from major injuries and posting big numbers seems to be a theme here, but alas, elite players tend to amazing things. Instead of a return from a concussion, it's a return from a torn ACL.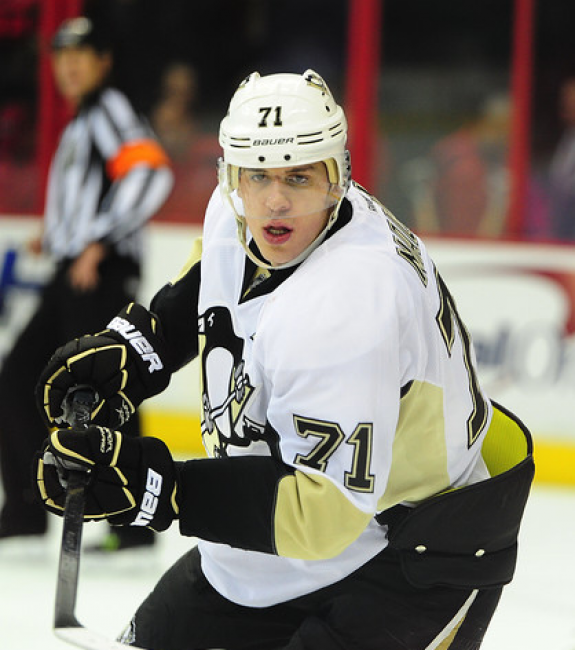 Malkin was going through a bit of a down season in 2010-11 (37 points in 43 games), and he missed a few games with a knee injury before it finally gave way during a game against the Sabres in February 2011 after getting tied up with Tyler Myers in the corner. The result was a torn ACL and MCL, which kept him out for the season.
Malkin returned in time for the 2011-12 season opener, and he hadn't missed a beat. With Crosby missing all but 22 games due to concussion symptoms, Malkin was now the heart of the offense and he didn't disappoint, posting 109 points (50 goals, 59 assists) in 75 games. His efforts captured the second scoring title of his career, his first Hart Trophy, his first Ted Lindsay award and he was named to the All-Star team.
His points per game of 1.45 was just behind Crosby's mark of 1.68. His goals per game of .67 and assists per game of .79 were second and fourth in the league, respectively. Malkin led the league in five-on-five points with 68, his P/60 of 3.46  and his P1/60 of 3.09 also led the NHL. Overall at even strength, Malkin was first with 75 points, including 38 goals, behind Steven Stamkos' 48. He also had three months where he posted 20 or more points (December, 20, February, 20 and March, 23) along with a league-leading three hat tricks. His era adjusted points came in at 122 (57 goals, 65 assists), 13 more than Stamkos' 109. He also became the second fastest Russian to reach 500 career points (413 games) behind Ovechkin who did it in 373 games.
With Malkin on the ice at five-on-five, the Penguins controlled 56.6 percent of the shot attempts and scored 60.5 percent of the goals (75 for, 49 against) — the 75 goals for remains a career-high for Malkin. He also kept the powerplay afloat despite the absence of Crosby, finishing second in the league with 34 power-play points. He was also on the ice for 82 percent of the Penguins' goals with the man-advantage (47/57).
Malkin anchored one of the better five-on-five lines in the league, as the line of Chris Kunitz, Malkin and James Neal controlled 59.62 percent of the shot attempts, third in the league among lines with at least 500 minutes together, and their GF% of 60.3 was seventh in the league (44 for, 29 against). The line also drew a league-high 63 penalties.
The turnaround from Malkin was impressive considering he tore his ACL less than a calendar year before, but what was more impressive was how he began to evolve as the season progressed, as Mike Colligan wrote in a December 2011 article.
But a few weeks ago something changed. Malkin started playing the relentless style of defense fans have come to expect out of shutdown center Jordan Staal.  What sparked his sudden commitment to defense?

"It's my job," he said.  "I play center, and sometimes I need to backcheck and not just forecheck."
Come playoff time, he played up to expectations, recording eight points in the Penguins' first-round loss to the Philadelphia Flyers in six games. The lack of playoff success was hardly Malkin's fault, though. As the defense and goalie Marc-Andre Fleury suffered meltdowns of epic proportions, allowing 28 goals in the series defeat.
The Penguins played almost the entire season without Crosby, while also missing Letang and Jordan Staal for long stretches, but Malkin was a man on a mission and made sure his name wasn't forgotten among the games elite.
Number 2: Sidney Crosby's 2010-11
Sidney Crosby was coming off a 2009-10 season which saw him score 50 goals and reach the 100 point milestone for the fourth time in his career (109) in addition to scoring the gold medal-winning goal at the 2010 Winter Olympic games in Vancouver. It seemed in his fifth season, Crosby had reached the height of his dominance.
Then came the 2010-11 season. He started slowly by his lofty standards (15 points in 13 games) but then went on a tear of the likes the NHL hadn't seen in the modern era. From Nov. 5 to Dec. 28, Crosby had a 25 game point streak which saw him record 50 points, including 26 goals. The streak was ultimately ended Dec. 29 against the Islanders.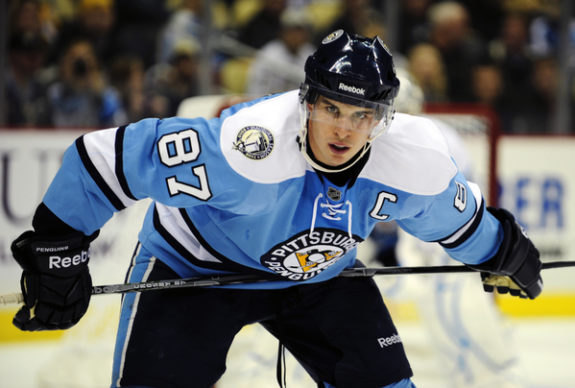 With 65 points in 39 games before New Years, he was running away with the Art Ross Trophy, and likely the Hart, but after two January games where he took hits to the head in consecutive games, Crosby's season was cut short due to a concussion, which was only the start of a ten-month-long saga. Overall, the 23-year-old finished with 66 points in 41 games.
So if he only played half a season, why is it number two on this list? Because that's how dominant his season was.
Crosby scored 32 goals and 34 assists in his 41 games in 2010-11, giving him per game rates of .78 goals and .83 assists, first and third in the league respectively. His points per game of 1.61 was .34 better than eventual Art Ross winner Daniel Sedin's mark of 1.27. Over a full season, he was on pace to reach 64 goals and 68 assists for a total of 132 points, 28 more than Sedin's 104.
At the time Crosby was injured, he had a 10 point lead on Stamkos (66 to 56) for the scoring title. It took Stamkos until Jan. 26 to pass Crosby for the lead, and it took until Feb. 10 for him to fall out of the top three. Despite playing just two games after Dec. 31, Crosby finished 30th in points and 15th in goals.
Crosby's five-on-five P/60 of 3.83 was the best in the league, ahead of Sedin's 2.99. His P1/60 of 3.12 was also ahead of Sedin's 2.36. Crosby averaged almost a point-per-game at five-on-five alone (38 points in 41 games), expand it to even strength and he averaged 1.21 p/game at even strength (46 points in 41 games). His 21 ES goals came in just 636 minutes, in comparison, Jerome Iginla led the league with 27 ESG and needed 707 more minutes (1343) to accomplish the feat.
With Crosby at five-on-five, the Penguins controlled 53.1 percent of the shot attempts and scored 63.5 percent of the goals (40 for, 23 against). Individually, Crosby had 55 high danger shot attempts, drew 19 penalties and gave the puck away just 14 times while also taking it away 14 times. His most common linemates were Kunitz and Pascal Dupuis, and the trio played 304 minutes together, controlled 51.4 percent of shot attempts and scored 73 percent of the goals (19 for, seven against), the latter was the best among lines with at least 300 minutes.
About the 25-game streak mentioned earlier? Here's the breakdown.
During the streak, he had 15 more points than the next closest player, Martin St. Louis (50 to 35), and had seven more goals than Stamkos (26 to 19). 18 of his 26 goals also came at even strength.
Crosby scored a goal in 18 of the 25 games while recording two hat tricks. He had an assist in 17 of 25 games and recorded both a goal and assist on 10 occasions. Out of the 25 games, he had 16 multi-point efforts (64 percent), including five games with three points and two games with four points. He earned one of the NHL's "Stars of the Week" four times during the streak and was named the First Star of the Month in both November and December.
Crosby also set the NHL record for fewest games played (41) by a player who led his team in points (66), as he had 16 more than Letang, who played all 82 games.
Overall, Crosby recorded a point in 35 of 41 games (85 percent), he had two or more points 20 times (49 percent) and his nine games with three points were second behind Corey Perry, who did it on 10 occasions.
While his season was cut short, Crosby accomplished in half a season what many fail to do in a full 82 game slate.
Number 1: Evgeni Malkin's 2008-09
While Malkin may not be on the list of the 100 greatest players of all time, he's number one here.
While the Penguins struggled for most of the 2008-09 season (they were tenth in the Eastern Conference when they hired Dan Bylsma on Feb. 15, 2009) its stars, namely Malkin, paid no attention to the memo.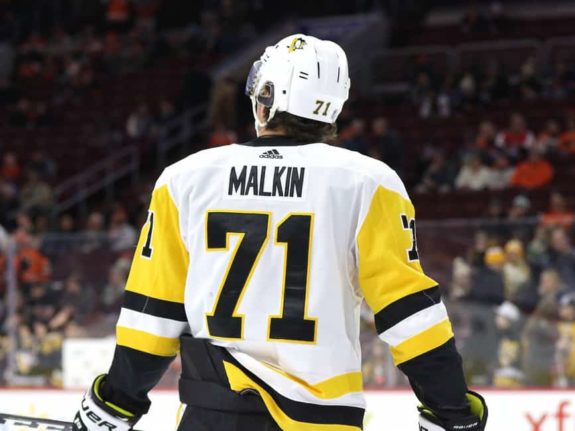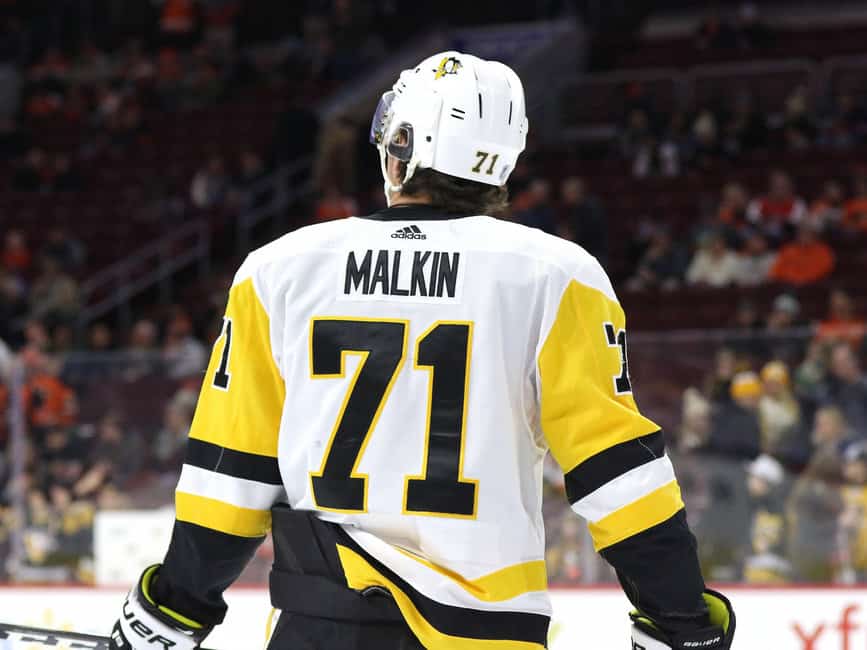 After putting up 106 points in his second NHL season and bringing the Penguins within two wins of the Stanley Cup in 2007-08, Malkin felt it wasn't enough. He came back in 2008-09 to record 113 points (35 goals, 78 assists) in the regular season, en route to his first career Art Ross, and then added another 36 in 24 playoff games, leading the Penguins to their first championship since 1992, capturing the Conn Smythe in the process. Overall, he had 149 total points in 106 games or 1.41 points per game.
While the Penguins sat out of a playoff spot for most of the first half, Malkin did his best to keep the team afloat as he recorded 70 points (19 goals, 51 assists) in 48 games, giving him a 10 point lead over Crosby for the scoring title. Despite his production slipping slightly in the second half of the season with 43 points (16 goals, 27 assists) in 34 games, he maintained his lead in the scoring race. In fact, he never relinquished the lead after Nov. 16, 2008.
Malkin averaged a point per game or better in every month, with his worst showing being six points in six April games. He also averaged a point per game or better against every division in the NHL, with his best being 31 points in 20 games against the Southwest division and his worst being eight points in seven games against the Central.
His longest point streak of the season was a 13 game run between Oct. 16 to Nov. 15, where he recorded 27 points (six goals, 21 assists). Additionally, he had a nine-game streak where he recorded 19 points (five goals, 14 assists) and a ten-game streak where he recorded 14 points (five goals, nine assists).
Malkin's 35 goals secured the third consecutive 30 goal season to begin his career and his 78 assists led the league, as did his .95 assists per game. He recorded 42 of them at five-on-five for a 2.11 A/60, best in the league and it remains the best number of his career. Malkin's five-on-five P/60 of 2.76 was seventh among forwards with 600 minutes played. Malkin recorded a point in 65 of 82 games — 79 percent of games, including 32 multi-point games — tied for first in the league with Crosby and Ovechkin. He had 11 games with three or more points and five games with four or more points. His longest pointless streak of the season was two games (five times).
While he was far from a possession darling (46.1 CF%), the Penguins scored 68 goals with Malkin on the ice, tied for first among forwards with Pavel Datsyuk, compared to 43 against (60.2 percent).
After the Penguins rallied to make the playoffs, Malkin was a different animal. As he recorded over a point-per-game in every round, with nine in six games against the Flyers in round one, 10 in seven games against the Capitals in the second round, nine in four games against the Carolina Hurricanes in the Conference Final — including a memorable backhand spin-o-rama to cap off a hat trick in game two — and lastly, eight points in seven games in the Stanley Cup Final against the Detroit Red Wings. All in all, Malkin finished with 36 points in 24 games (1.5 per game), five more than the second place Crosby, to win the Conn Smythe as the playoffs top player.
It seems he predicted his and the Penguins destiny before the playoffs began.
Even before this year's playoffs began, forward Bill Guerin knew that Malkin was up to the challenge this spring.

"He told us before the playoffs started that he was going to lead us to the Stanley Cup," Guerin said. "That kid is an amazing competitor and amazing player. He has a lot of character and a lot of heart."
In a list full of returns from injuries, seasons of what could've been and midseason coaching changes, these Penguins stand above the rest.
*Advanced statistics from Corsica.Hockey and Natural Stat Trick
** originally published in Sept. 2018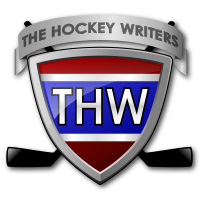 The archives of THW contain over 40,000 posts on all things hockey. We aim to share with you some of the gems we've published over the years.