Whenever Rob Ray is interviewed on Buffalo's sports radio station one of his favorite stories to tell is the time Shayne Corson and Darcy Tucker tried to chase him into the Sabres' dressing room after a tilt between the Maple Leafs and Sabres. The enforcer-turned-analyst never gets specific about what enraged the two Leafs, but it's clear that on the ice Ray made a comment about Tucker's wife, who also happened to be Corson's sister.
Probably because the crux of the story is too profane to repeat on the radio – much less in an R-rated movie – but Ray lets the audience's imagination run wild while trying not to crack up about the glory days.
It's that tenacious, nothing is off-limits attitude that attracts so many hockey fans to the game. Sure it's fast and exciting, but the real magic comes when it's clear two teams can't stand each other. Ray didn't detail what happened after Corson and Tucker chased him around beneath the arena, but you can bet he had to defend himself the next time the two teams faced each other.
The beauty of an on-ice rivalry is how quickly some dry up away from the game. Ray has admitted that off the ice one of his best friends is Matt Barnaby, although whenever the former teammates lined up across the faceoff circle from each other it was war. Jordan Staal was at his wedding when he found out he'd been traded from the Pittsburgh Penguins to the Carolina Hurricanes this offseason. It was a ceremony that was attended by, among others, Max Talbot, a former Penguin who was on the Philadelphia Flyers team that eliminated Staal and the Penguins after one of the most vicious playoff series in recent memory.
The unity among NHL players was on display earlier this month when NHLPA chief Donald Fehr stood in front of a collection of players that were looking down the barrel of the lockout. The players stood side by side with their former enemies in a show of solidarity against a group of owners that was trying to cut players' revenue share 10% and give them a smaller piece of the pie than the players in any other major sport. Claude Giroux stood only a few feet away from Sidney Crosby, Shea Weber shared the stage with the same head of Henrik Zetterberg he tried to smash like a cantaloupe in the playoffs, and Ryan Miller was on the same team as the Boston freakin' Bruins.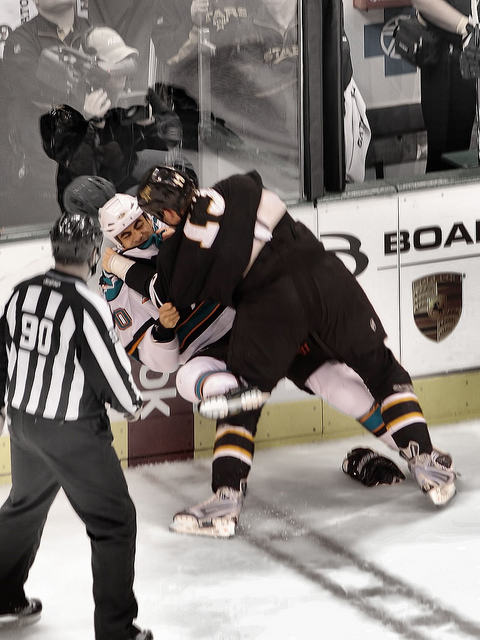 That camaraderie was evident again Sunday night with tough guy Krys Barch's drunken Twitter rant about how the lockout hurts his family and leads to a foreboding sense of unease about how he'll support two kids and a pregnant wife. NHL players make more money than most of us could ever dream about but any fan looking to disparage Barch or any of the other players that tweeted him support should question their own entitled mentality first. Even with all the extra zeros players have on their paychecks it's easy to picture a carpenter or bartender in the same situation NHL players are because of a boss's greed.
Make no mistake about it, that's what it comes down to. Greed. NHL owners like Jeremy Jacobs and Ed Snider are trying to weasel their way out of contracts they signed just days before the collective bargaining agreement expired.
There's blame to be assigned on both sides but when a Canadian kid grows up playing pond hockey dreaming of going pro, then is offered a contract like the Flyers signed Shea Weber to it's hard to fault the player for taking the deal. It's just a shame he has to team up with Zetterberg so they can both be paid what they're owed. No doubt they'd rather be chasing each other around the arena.
Jeff Stone is the disgraced former captain of his JV hockey team and a reporter at the International Business Times. He has a signed rookie card of Martin Brodeur and a blog at WhenYouPutItThatWay.wordpress.com.