By most measures, it's been a terrible, horrible, no good, very bad month for the Los Angeles Kings.
On October 6, veteran winger Marian Gaborik was placed on injured reserve, courtesy of a broken foot suffered while playing for Team Europe at the World Cup of Hockey in September. One week later, star goaltender Jonathan Quick followed him on the IR with a groin strain. This past Saturday, his backup Jeff Zatkoff joined the parade of key players on injured reserve with an injured groin suffered during a morning skate.
A bit of advice to third-string goalie Peter Budaj: beware the dreaded "lower body" injury.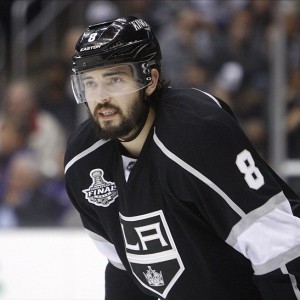 On the ice, the team stumbled out of the gate, losing its first three games by a combined score of 6 to 12 while being significantly outshot in the process. The penalty kill was mediocre (77.8%), but looked stellar as compared to the power play (12.5%). Outside of Anze Kopitar, Drew Doughty and Tanner Pearson (who returned from a suspension with a flourish against the Wild), virtually the entire team looked completely out of sync.
In 1984, Ronald Reagan ran one of the most influential political ads in modern history, one that featured the now-famous phrase "Morning in America". Following two straight wins against the Stars and Canucks, could the rough stretch be turning into "Morning in Los Angeles" for the Kings?
Puck Possession is Key
How important is puck possession in today's NHL? Let's take a look at last year's top and bottom ten teams in Corsi For (CF) %:
Top Ten
1. Los Angeles Kings – 56.4%
2. Pittsburgh Penguins – 52.7%
3. Dallas Stars – 52.6%
4. Nashville Predators – 52.5%
5. Anaheim Ducks – 52.5%
6. Tampa Bay Lightning – 52.2%
7. St. Louis Blues – 52.0%
8. Detroit Red Wings – 51.7%
9. San Jose Sharks – 51.7%
10. Montreal Canadiens – 51.5%
Those ten teams averaged 99 points during the regular season, with all but Montreal making the playoffs.
Now, let's contrast those clubs with the ten worst possession teams last season:
Bottom Ten
21. Calgary Flames – 48.1%
22. Columbus Blue Jackets – 48.0%
23. Minnesota Wild – 47.7%
24. Ottawa Senators – 47.5%
25. Buffalo Sabres – 47.5%
26. New York Rangers – 47.4%
27. Vancouver Canucks – 47.2%
28. Arizona Coyotes – 46.8%
29. New Jersey Devils – 46.2%
30. Colorado Avalanche – 44.2%
This bottom ten possession teams averaged just 83 points, with only the Rangers and Wild reaching the postseason in 2015-16.
Obviously, puck possession does not perfectly correlate with success in the NHL — the Rangers, Wild and Canadiens are proof of that fact. However, it's a very substantial indicator of the likelihood of success, and that's exactly what the Kings have banked on during the Darryl Sutter era.
---
Complete Kings Coverage From THW
---
The Kings' 2016-17 Possession Numbers
As of this writing, Los Angeles is just 2-3, having been outscored by four goals. By subjective and objective measures, they have generally been outplayed in the early going. Logic dictates that their puck possession numbers must be in the tank as a result.
Far from it. The Kings are tops in the league in both Corsi For % and Fenwick For % so far this year. Sure, it's just five games and there are likely outliers such as Carolina, Calgary and Columbus peppering the top ten, but the Kings are far from an outlier, having led the league in CF% for four straight years. As poorly as their start has been, this is a strong indicator of better times ahead for Los Angeles.
What's Next?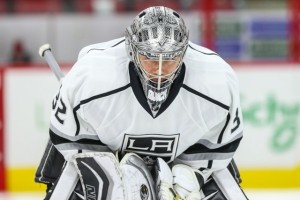 Going into the season, offense was the potential Achilles' heel for the Kings. After seeing their top two goalies (Quick for an estimated three months) go down, the worry has shifted to the other side of the ice.
Possession strength can help minimize that concern. Let's not forget how the Kings' lock-down system made journeyman Ben Scrivens (7-5-4/1.97/.931) appear to be one of the best backups in the league three years ago. Two years ago, it was Martin Jones' turn to emerge (4-5-2/2.25/.906) and last year, Jhonas Enroth (7-5-1/2.17/.922) was almost as effective as Quick in limited action.
The loss of Jonathan Quick is definitely a big blow to the Kings, but what will probably ride to the rescue isn't Jeff Zatkoff, Peter Budaj or an unnamed goalie they made end up trading for. It's possession.