The strength of the top-four defencemen on the Nashville Predators is a huge asset, and has been a trademark of the team for years now. However, last season the third pairing was a revolving door of mediocrity. General manager David Poile revamped their third pairing in the offseason, and the impact of the new faces is already producing positive ripples through the defence core.
Veteran defencemen Matt Benning and Mark Borowiecki were brought in to solidify what was exposed as a major weakness in 2019-20, especially in the play-in round. Combined, the two defencemen have over 600 career games and provide a much more calming influence than the rotating cast of names that saw significant time in the third-pairing role last season.
Last Year's Depth Defencemen Came Up Short
There were three main defencemen that played with any regularity on the bottom pairing for the Predators last season. Dan Hamhuis was the most notable of the set, and the reunion didn't lead to much more than a feel-good story. Also seeing regular time on the third pairing were Matt Irwin and Yannick Weber, who each signed two-year contracts in 2018 with cap hits under $700,000. Together they made up the most cap-friendly tandem in the league. Unfortunately, that didn't make them the most cap-effective pairing — when together they were often hemmed in their own zone.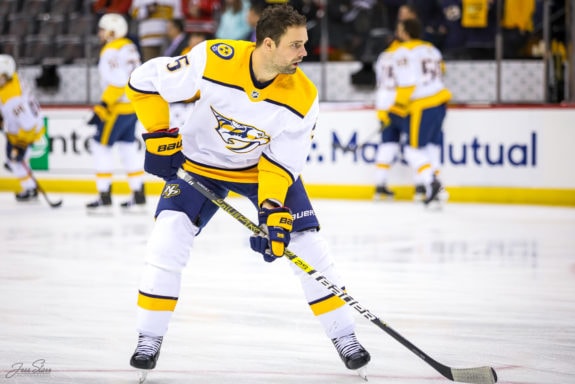 Weber was still with the team for the playoffs, but Hamhuis was injured and Irwin was shipped to the Anaheim Ducks in return for Korbinian Holzer. This was all too similar to shuffling the deck chairs on the Titanic, as the hole was too big to fill by this point.
Poile has gotten ahead of that this season with the additions of Borowiecki and Benning, but also by claiming Luca Sbisa on waivers. The veteran journeyman is now on his seventh NHL team and adds some depth and versatility to the taxi-squad — he also happens to be a lifelong friend of Roman Josi's. In case of injuries, Sbisa should be able to plug a hole in the short term, but shouldn't be viewed as a long-term solution (hopefully it won't come to that).
Mark Borowiecki's Leadership
We all love a good off-ice story from an NHLer, and Borowiecki (AKA BoroCop) delivers in spades. Aside from stopping robberies and helping free cars from snowbanks, Borowiecki was also one of three alternate captains on a 2019-20 Ottawa Senators team that did not name a captain. The added leadership will help stabilize a team that has looked lost at points in recent years since Weber left.
Borowiecki was the glue holding Ottawa's defence together for the last number of years. He soaks up tough defensive minutes as well as taking his fair share of shifts on the penalty kill. Those heavy minutes are a key factor in what he brings to the Preds. The intimidation factor doesn't hurt, either.
Matt Benning's Reliability
Despite playing the early years of his career with some lottery-bound Edmonton Oilers teams, Benning has never been a minus player. He has been a bottom-four defenceman his entire career, and since breaking into the league in 2016 has carved out a niche there in which he now thrives. The right-handed defenceman is at his best when he is keeping things simple and plays a smart game while making a solid first pass.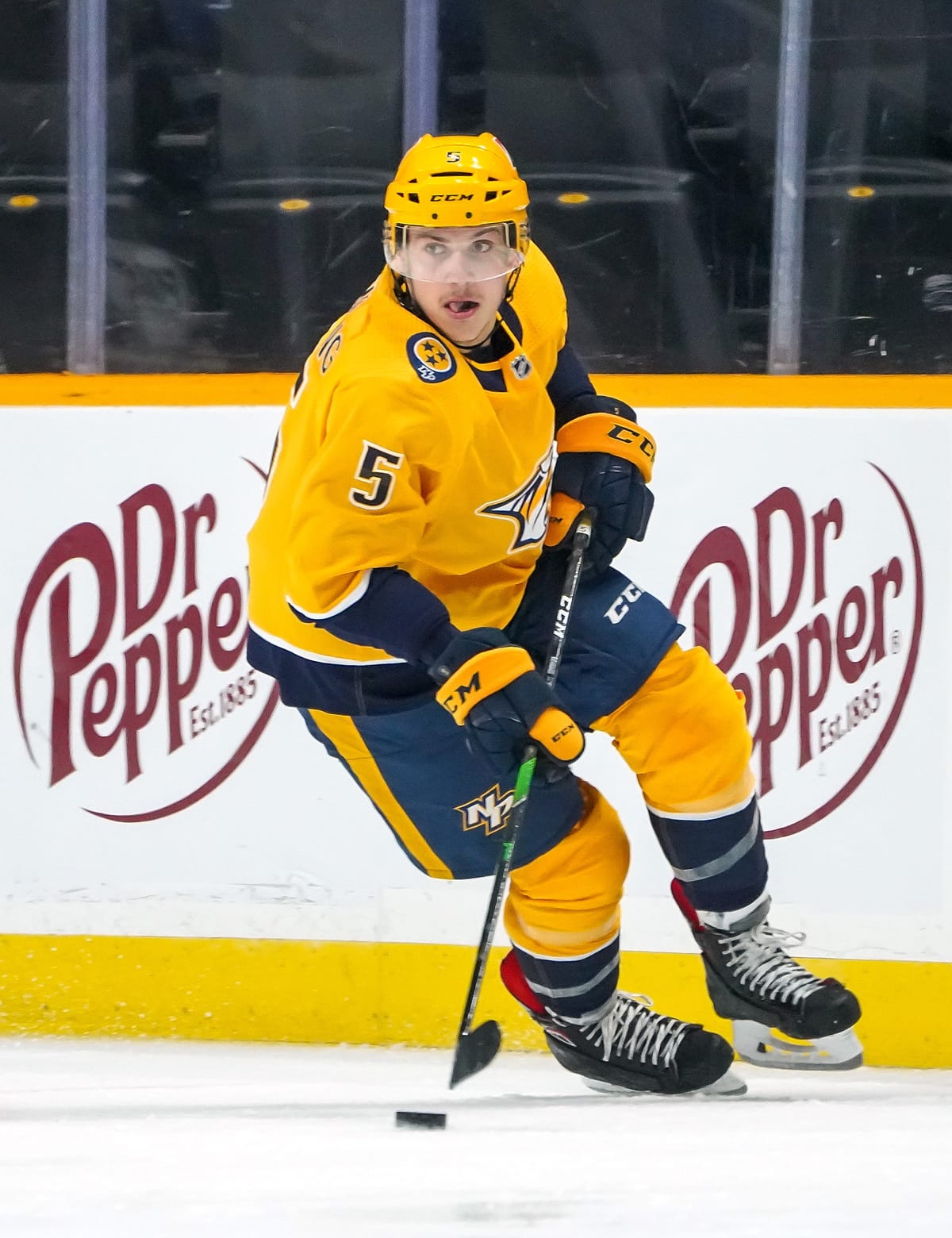 Benning pairs well with Borowiecki as they both know their roles. His impressive angle coverage directs players off towards the boards or over to Boro in open ice — it's reminiscent of a poor man's version of the Scott Neidermayer and Scott Stevens style in New Jersey. He isn't being handed more than he can manage, though, and that has been a key to Benning providing reliable minutes thus far in his career.
A Positive Impact up the Lineup
The fact that Benning and Borowiecki have started only a quarter of their shifts in the offensive zone is no coincidence. The duo is being tossed out for almost every defensive start that they can handle, and to this point they are thriving with it. Neither has more than a point through the first three games, but their shot shares are close to even, which is as much as you can ask for from a third pairing starting almost all of their shifts in their own end.
As was touched on by Wray Perkin in his most recent article, Borowiecki's (and Benning's) ability to be one of the go-to defencemen on the penalty kill will free up the more offensively inclined rearguards, namely Josi. The Predators' captain has seen his ice time dip thus far, but all of it can be accounted for by the loss of shorthanded time. By reducing his heavy minutes on the penalty kill, Josi should be freed up to spend more energy being creative with the puck on his stick. That offensive skill is shining through thus far with 13 shots through three games — though he only has one assist to show for it.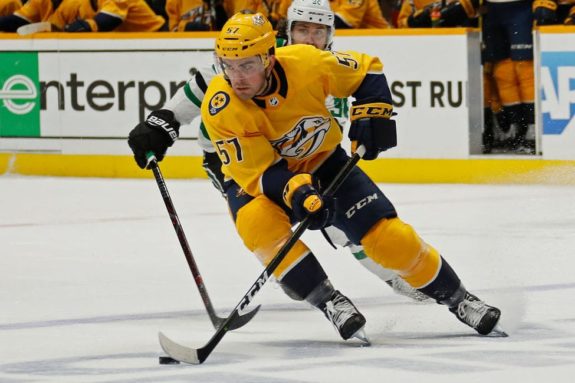 To a lesser extent, this is also being seen with youngster Dante Fabbro who has put up five shots and two assists through the three games. Fabbro isn't a volume shooter, and he doesn't log the same major minutes as Josi, but he is a skilled distributor. If Fabbro is freed up to think more about the offensive side of the game, then he can quietly put up a point every second game and really help the depth forwards to push the offensive pace. A luxury that wasn't afforded to any of these same players last season.
With more competent depth defencemen Borowiecki and Benning allowing for an offence focused shift in roles for the more skilled members of the defence core, the Predators are primed to be able to better manage a more compressed schedule as well as frequent matchups against skilled division rivals.
The lack of a visible weakness also bodes well for the tight-checking grind that we will see come playoff time. Borowiecki and Benning won't be the most visible pieces should the Predators find sustained success this season, but they will be a key cog in the system if the team does go on a long playoff run.
---
---