by Jas Faulkner, Nashville Correspondent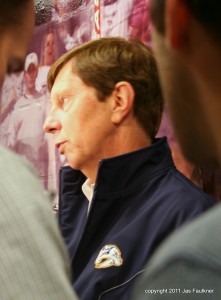 In the hallway where Predators GM David Poile was scheduled to meet the press, the general energy was business as usual.  Just a few feet away, the Centennial Sportsplex B rink was full of rookies and the sound of blades scraping against the ice, pucks hitting the dasher boards, whistles and the sharp thwak!thwak!thwak!thwak! of a coach's stick hitting the ice to get someone's attention could be heard. The smell of the Plex office and locker room area, a mix of liniment, soap, equipment funk and the chemical bite of fresh rolls of tape should have provided the heady rush of excitement that comes with the first press conference of the season.
Problem was, the season was nearly four months away and this presser was called to address some issues that had grown legs thanks to the all-seeing/all-saying Multiverse that is social media.  There was speculation about a complaint filed by the NHLPA concerning Poile's handling of the paperwork for the qualifying offers for seven current roster members.  The GM had calmly stated to everyone who would listen that he had done nothing that was contrary to the proper procedure.  The league had his back on this one, but the media was another matter.  Even usually supportive local pundits were looking askance at David Poile's timing.
For Poile, a soft spoken man with a reputation for being brutal at the negotiating table and whip-smart decisions that made and remade the careers of many players, it was time set things straight.   Upon his arrival, he was crowded almost nose to nose by reporters who listened as he reeled off his talking points.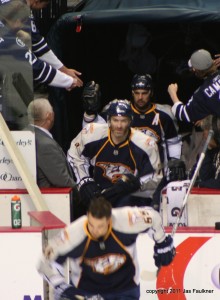 The first few talking points confirmed speculation that the lineup was undergoing some drastic changes.  Longtime fan favorites Steve Sullivan and J-P Dumont would not be a part of the Predators' 2011-2012 roster.
"Steve Sullivan played a part in some of the team's finest moments " Poile stated after delivering the news.  "We value everything he has brought to the team but it was time." 
As camera shutters clicked and seconds ticked away on digital voice recorders, he continued.
"Everyone who knows J-P on and off the ice will attest to what a fine person he is.  He, like Sullivan, is committed to the city and will return here once his time as a player is over.  But he didn't have a good year and as we considered whether he would have a place on the roster, it came clear it was time to part ways, so we bought out his contract.  We wish him and Steve the best and I have assured them I will help them any way I can with the transition."
He acknowledged that Shane O'Brien would not be returning in the coming season, citing the need for room for younger players who had proven themselves to be worthy of a chance at wearing the Smilodon.
"It's not an indictment of Shane's abilities or his character. We simply looked at what we needed and came to the conclusion that it was time for a change.  We want to give players in Milwaukee like Linus Klassen a chance to see what they can do here."
He went on to acknowledge the retirement of former Predator Paul Kariya, who had announced eariler this week that lingering symptoms of his concussion and a lack of confidence in the league's response to the risk that players were facing under hte current rules. 
"He has been a positive influence on the game and is a good role model for young players coming up through the system,"  Poile said of Kariya. "I expect to see him in the Hall of Fame at some point."
What was happening concerning Nashville's free agents?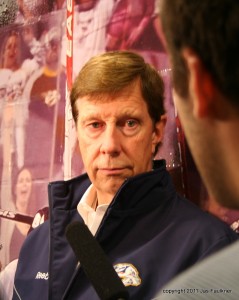 There will be talks with Marcel Goc, Joel Ward and their respective agents. However, he stated that both players want to see what their value is on the market. While there are still questions concerning a number of players, Poile mentioned that he is in talks with Shea Weber's people.  He assured everyone that the organisation is  working to come up with a deal that will be beneficial to both sides.
"Right now," he said, "that is our number one priority."
There a pause as he took a moment and then addressed the question that brought most of the press to Centennial Sportsplex's hallway yesterday morning.
"Most of you are aware that the NHLPA has filed a grievance regarding whether our qualifying offers were properly tendered."  He stated that as far as he and the league are concerned, he was and is in compliance.
"I know a lot of you have questions and I just can't answer those right now. It is now a matter between the NHL and the NHLPA.  That's about as far as I can go.  I have to leave it in their hands."
"It's just business as usual, talking to the free agents.  On July first, it will be business as usual."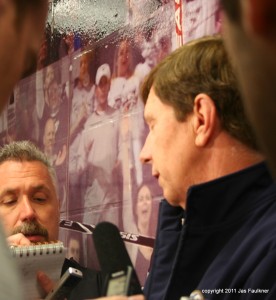 This is Jas Faulkner, who like everyone else in Predsnation wishes JP Dumont and Steve Sullivan the best.  I'll be seeing you at the Plex and the Stone and online at Facebook and Twitter.
Jas Faulkner is a minimally socialised writer and artist who lives and works in Nashville, Tennessee. She hearts her attitude problem.