PITTSBURGH – General Manager Ray Shero said he was turning his focus to his own team after removing a one-year, $2m offer to Jaromir Jagr from the table this morning.
Soon-to-be unrestricted free agent Tyler Kennedy quickly signed a two-year deal to stay with the Pittsburgh Penguins at $2m per season.  Max Talbot (Flyers) and Mike Rupp (Rangers) moved on to bigger paydays with Atlantic Division contenders.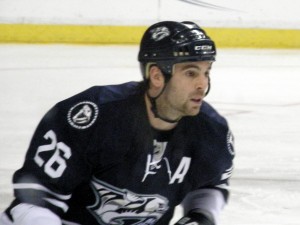 A weak free agent market left Shero with few affordable options and most signs pointed to a quiet July 1.  That all changed when Shero convinced winger Steve Sullivan to join the Penguins for one year at $1.5m this afternoon.
Sullivan, 36, leaves the Nashville Predators after five seasons which included a series of back problems that kept him off the ice for long periods of time.  The 5-foot-9 forward played just 44 games last year, scoring 10 goals and 12 assists on a line with Patric Hornqvist and Cal O'Reilly.
Shero knows Sullivan well from their days together with the Predators organization.  Shero served as Assistant General Manager of the Nashville franchise before taking the Pittsburgh GM job in 2006. Sullivan scored 30 points in 24 games after being acquired from Chicago at the 2004 trade deadline and his exceptional play sparked the Predators into the playoffs for the first time in franchise history.
Sullivan earned $3.75m with the Preds last year but in a recent meeting with GM David Poile was told the team was not interested in retaining him for the 2011-12 season.  The amicable split opened the door for a reunion with Shero.
Once a lightning-quick winger, Sullivan's speed has faded a bit in recent years due to age and back/groin injuries. He underwent sports hernia surgery in March and showed glimpses of his younger self at the end of the year, but lack of size will always make him vulnerable.  He's still an extremely talented forward when healthy, but amounts to a high-risk, high-reward type player for Shero and the Penguins.
"He's still a pretty dynamic player," Shero said.  "Looking at what we're trying to do – which is improve our power play – he's a guy that can potentially help us there. He's a right-hand shot that plays the off side and can play up high as well. He's got really good speed and is a very smart player. He can play with good players as well."
Sullivan has always been known to be a great presence in the locker room and should fit in well with the solid leadership core already in place for Pittsburgh.  It's not a stretch to wonder if some day Sullivan follows the path of all-around good guy Bill Guerin into the Penguins front office.
He's also a tireless worker and his determination is best demonstrated through his battles with back problems. Sullivan missed the entire 2007-08 season due to a back injury but returned to the lineup on Jan. 10, 2009 and scored 32 points in the final 41 games that year.  His efforts were recognized with the Bill Masterton Memorial Trophy awarded to the player who best exemplifies perserverance, sportsmanship and dedication to hockey.
Shero says the back injuries are a thing of the past for Sullivan, but acknowledged that any free agent signing comes with an element of risk.
"When you sign guys on July 1, there's lots of risk," Shero said.  "To me, what was out there this summer is not – the terms and the dollars that are out there right now – there's risk in anything you do. The risk with Steve Sullivan is that he's coming off a year where he played basically half a season (44 games). But he played at the end and in the playoffs, and he played well. We look at it as a fit for us. Right now he's healthy and ready to go and could play tomorrow if he had to."