The Halifax Mooseheads arrived in Gatineau on an impressive streak, going 24 games without a loss in regulation. That streak was extended to 25 games after a shootout loss to the Gatineau Olympiques. It was a game that had intrigue built in even before puck drop with the Olympiques who sit third overall in the Quebec Major Junior Hockey League (QMJHL), only five points behind a Halifax squad that has already clinched a playoff spot.
Related: Halifax Mooseheads Have Become Contenders 
---
Latest News & Highlights
---
Unfortunately, the game and the budding rivalry was overshadowed by an incident involving oft-suspended Mooseheads forward and Nashville Predators prospect Zachary L'Heureux. He has had several incidents leading to eight suspensions totaling 27 games lost in all. His most recent was a three-game suspension in January 2023 after a fight with Conor Shortall of the Cape Breton Screaming Eagles.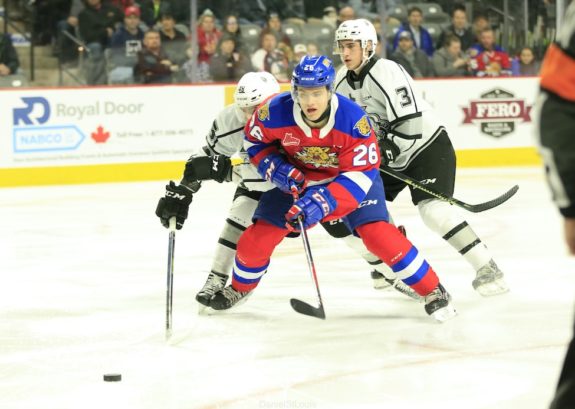 The highly skilled 19-year-old has now allowed his temper to get the better of him and is suspended indefinitely. While this will impact his current team, it will also fall on the Predators to deal with the fallout. He is one of their top prospects and they can't afford to allow him to continue to lose his temper as often and as easily as he does, as that lack of discipline will make him more of a liability than an asset.
The Rivalry 
In the last meeting between the two clubs on Dec. 10, 2022, Halifax was holding its annual teddy bear toss. But there were no innocent teddy bears on the ice during gameplay as the Mooseheads ended up winning in a shootout. That night, goaltender Mathias Rousseau stopped Anaheim Ducks prospect Tristan Luneau for the win, and his celebration included a stare-down, one that the visiting team did not appreciate. The reaction from Rousseau led to Gatineau head coach Louis Robitaille to hold no punches in providing some foreshadowing for the next meeting.
"Rousseau gave us gas for the next time we see him. Rarely have I seen a goaltender taunt a shooter after every shot. Did he win his Stanley Cup tonight? No big deal, we'll see them again soon."

– Louis Robitaille 
With the Mooseheads sporting a record of 35-7-6, they are able to back up their actions as they are one of the top teams in the QMJHL, but that doesn't mean it won't motivate their opponents in advance.
"I respect a guy that wants to win and is excited when he does, but I don't understand his reaction. Did he expect me to score? I respect his desire to win and I don't want to take anything away from that. But from our end, it adds more motivation to win those intense games"

– Tristan Luneau (Luneau motivé à freiner la séquence des Mooseheads, Jean-Francois Plante, Le Droit, 6 Feb 2023) 
Gatineau did end up with its revenge in poetic fashion, winning the matchup 3-2 on Feb. 9 in a shootout, with Luneau scoring the winning goal. While it didn't end the Mooseheads' streak, it provided the Olympiques a measure of satisfaction. Luneau gave the stare-down this time, with Robitaille giving his own stare.  
Showing emotions and posturing is what fans like to see. They want to see the fireworks and the results of those actions. Normally, they spark rivalries, and in this case, it seems to be the beginning of a good one that could provide a wonderful playoff series if the two teams ever meet during the President's Cup Playoffs. That being said, emotions need to be kept in check and L'Heureux did not.
Nashville Needs Discipline 
Immediately following the game, as the Mooseheads were leaving the ice surface in Gatineau, fans complained to the QMJHL that L'Heureux used his stick to attack a fan, stating that he speared a young man who was mocking him. Coincidentally, nearly a full month to the day prior to this alleged incident, the ECHL suspended a QMJHL alumnus for a similar incident, eventually suspending Mikael Robidoux for seven games for striking a fan with his stick. 
At first, the QMJHL stated that they lacked sufficient proof to provide any further discipline. The following day, a video surfaced that does look like L'Heureux struck a fan in Gatineau. 
The video shows that L'Heureux speared, or at least attempted to spear, an Olympiques fan on his way to the locker room after a loss. The father of the 16-year-old who is alleged to be the target of L'Heureux's attempts with his stick spoke to the Nashville Post and said there were no injuries on the play and that the first jab was the only one that made contact. 
L'Heureux's skillset could make him a very valuable and well-rounded player in the NHL. It is one thing to cross a line on the ice with opponents, but that can be forgiven to some extent as there is implied consent in the heat of battle. However, there is no such thing in regard to the fans and the players. Just as there is no excuse for fans to physically assault players, there is none for a player to seemingly assault fans. With the Canadian Hockey League (CHL) spending almost a decade on efforts to cut down on fighting, and his long history of suspensions labeling him a chronic offender, it won't be surprising to see L'Heureux face significant discipline for his actions in this budding rivalry.
The 5-foot-11 forward has built a reputation as a skilled yet physical player, which has made him a highly effective junior hockey player, when not suspended that is. He also has some of that Brad Marchand-style agitator in his game that gets under the skin of opponents. All of which makes him an excellent prospect. That aggression and tenacity are great assets, but the problem for him lies with his ability to regulate his emotions, and that puts up a huge red flag. 
L'Heureux' lack of control has caused him to miss time, and it is no different than a player that is labeled as "injury-prone". Except this is an issue that the player can control. The Predators will need to work with him to harness his high-energy output and funnel it in a constructive way that will benefit his team and not hurt them. His style of play is already one that could cause injury to his smaller frame as he will need to rein in his aggressive, near-reckless abandon on the ice. Injuries are one thing, but if he can't be responsible for himself, he becomes a liability for his team, and that will lead to him being set aside for someone else on the depth chart that can be counted upon.  
For this season, the Mooseheads will need the young forward in the lineup to make a deep playoff run. Halifax has a strong team that is a legitimate contender to compete for a Memorial Cup and L'Heureux can play a significant role in that quest. That can only happen if he can finally find a way to walk the line between a mindful or reckless style of play, but most of all, keep his actions and emotions on the ice where it belongs. 
---
---