The St. Louis Blues and their fans are anxiously awaiting the beginning of their 2015 training camp this coming weekend (September 19-20), and it's shaping up to be filled with great competition. As in years' past the management team has brought in some crafty veterans to push for a spot and keep things interesting, but will they actually crack the roster or be replaced by the young up-and-coming talent that will also be present? Also, will training camp bring any surprises, or is the roster basically set?
Dissecting the Blues Talent Pool
Most fans know about the returning Blues. Those who have made the team and been crucial pieces of its success in previous years, so here the focus is on new talent (don't' worry, expectations for current Blues are covered later in the article). Who has a realistic chance at a roster spot, who still needs to develop, and who may surprise everyone this weekend during training camp?
PTOs
The Blues invited six players to their camp on PTOs (professional try outs) to see if they can earn a spot and don the Note. However, the front office seems to do this every year more as a development ploy for their young stars, rather than for actual try out purposes (remember Peter Mueller and Nate Prosser from a year ago). The six players invited to this camp have all, at some point, made their marks professionally whether it be in the NHL or elsewhere, but only two have a realistic chance of cracking the lineup. Out of Scott Gomez, Eriah Hayes, Spencer Asuchak, Scottie Upshall, Evan Trupp, and Zach O'Brien really only Gomez and Upshall have shots at joining the Blues this season.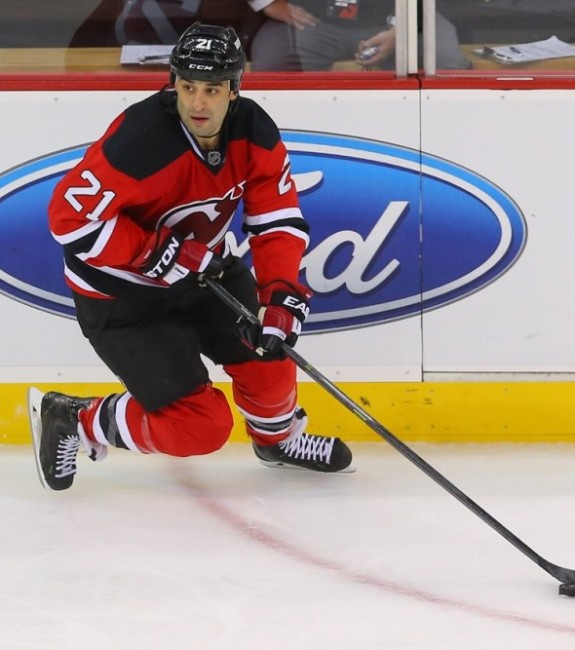 Though Hayes, Trupp, and O'Brien had rather impressive numbers in the AHL last season (.42, .55, and .52 PPG respectively) they will have a tough time making anything but the Wolves roster with the proven NHL experience that Gomez and Upshall bring to the table. With an already stacked roster full of signed contracts, these players are likely vying for the last rotating spot on the 4th line as is, and with a playoff-proven veteran possibly ready to fill that void (Gomez) the Blues should be set.
Rookies/Young-Guns
The rest of the new(er) additions to this year's training camp will be made up of prospects who have been clawing their way towards an NHL career for years. The obvious standouts from this group are top 2014 draft picks Robby Fabbri and Ivan Barbashev, then massive D-man Colton Parayko (who is already on a two-way contract and has spent some time with the Wolves), but there is a ton of talent outside of these powerhouses as well.
Names like Cody Beach, Samuel Blais, Zach Pochiro, and CJ Yakimowicz should sound familiar to Blues fans by now as these players are becoming a solid base of young talent in Chicago (and beyond), and have their best chances at the Blues roster in the next few seasons. Although the only young-guns with a realistic shot at making the team from training camp are still limited to Fabbri, Brabashev, Parayko, and Jordan Schmaltz, it will be great to see how the other up-and-comers look on the ice against their NHL counterparts at this year's training camp, especially those who played well in Traverse City this past week (Blais: pictured below, Fabbri, Parayko, Barbashev, and Pochiro).
Returning Blues Looking to Make A Statement
Though it's obvious that Vladimir Tarasenko will want to make a statement after signing his 8-year $60M contract, there are other Blues that will look for the opportuntiy in camp (and throughout the preseason) to jump up on the depth chart. Look for power forward Dmitrij Jaskin to continue to find his place on the Blues as an everyday player, where he could even solidify a top-6 spot until Jori Lehtera, and Patrik Berglund return, and possibly even after. Jaskin has been training harder than ever this off-season and seems primed to have his biggest year yet.
Another forward looking to finally solidify his place on the team will be Magnus Paajarvi. He's never really been given a solid chance since being involved in a trade that sent David Perron to Edmonton, and he's on a one-way, one-year deal so he has no room for error. He's eager to make a statement after spending most of last season on the AHL Wolves, and he could push for a top-9 spot, although given his competition and his history he may be on waivers before 2016. Another player who looks to find his place is Ty Rattie, but unless he comes out on fire in camp, and doesn't cool off until mid-season, he may be forced back to Chicago due to other contracts, or even become trade bait at the deadline.
Looking at the transitioning defensive core there's plenty of healthy competition that gives the team great options for stalwart "D" and offensive upside this season. Colton Parayko and Petteri Lindbohm will lead the young guns on the back end with their impressive size, and heavier shots, but don't look past Jordan Schmaltz who plays a lot like Kevin Shattenkirk and has shown he's ready to take the next step. All three should make a push for the roster given their back-end prowess and high offensive IQs, but Schmaltz may still be a year away from getting his shot.
Alongside these young rising stars crafty vets like St. Louis native Chris Butler, and new fan favorite Robert Bortuzzo will look to solidify their place alongside blue-line perennials Alex Pietrangelo, Jay Bouwmeester, and Kevin Shattenkirk. With all this stiff competition Carl Gunnarsson will also look to have a strong camp to make sure he isn't the odd man out this season. All of these defenseman have proven that they are NHL-caliber players, but consistency has been a problem of the past. Look for Petteri Lindbohm to get the first crack at that number-6 spot given his history with the team, and look for the core to have a much more consistent year this season.
Camp Surprises
This year is sure to bring a ton of excitement for fans, and it all starts this weekend at camp. There's plenty to talk about with the young talent coming in and mixing it up with the current Blues stars fans endear, but who should fans keep their eyes on this season?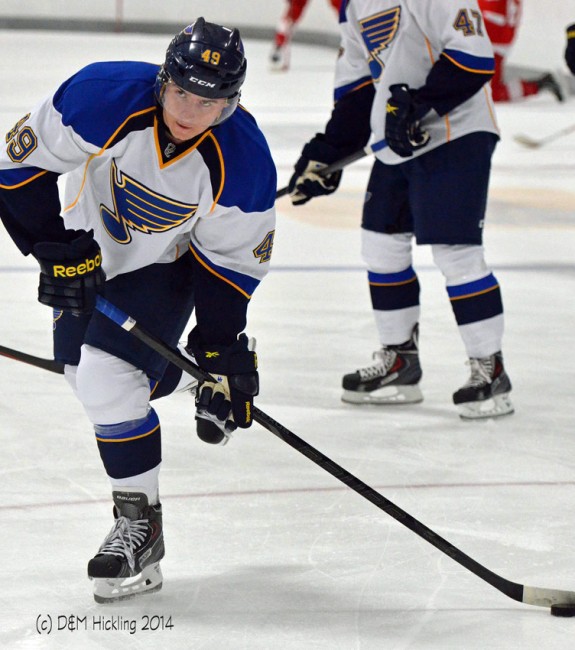 First off, keep a close eye on Ivan Barbashev. If anyone from the outside looking in has a shot to make it he does (this is excluding Fabbri who has the best chance to make the team). He's a mix of a Keith Tkachuk and a Marian Hossa, and has the skill set to become a finesse player with grit alongside countryman Tarasenko. If he shows he's matured enough over the past year, he may be donning the Note as early as this season, but don't count on it. Next, fans should look for Parayko to shine on the back end. He'll definitely stand out with his 6 foot 5 inch frame, and his booming shot should cause quite a stir. However, he may still truly be a year away from becoming a Blue, just as Barbashev is.
The biggest surprise to come out of camp will likely be the chemistry between David Backes and Troy Brouwer. Expect the two power forwards to find each other easily, as they play a similar style that should complement the other nicely. They can both crash the net and 'muck it up' to pick up the trash, or they can snipe from mid-range on occasion. Playing with Steen or Jaskin should give them the boost to pick up the scoring slack from TJ Oshie's absence and could even spell new heights for the club.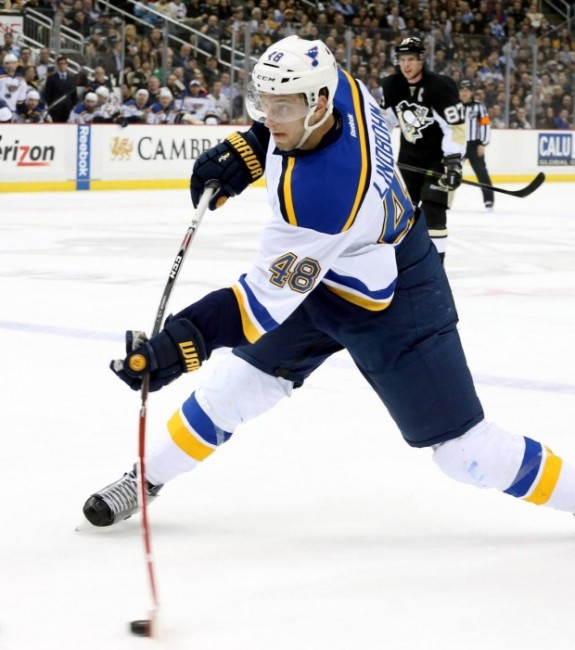 Beyond those previously mentioned, fans should keep an open mind about the younger guys at camp, even if they think it's that player's 'year.' The Blues roster is pretty much set already so most of the competition fans will see will be to figure out line combinations for the start of the season, and who fits into what scenarios (special teams, up by XX, down by XX, etc…). Though many of the young up-and-comers will have to wait another year to make an impression, it will be great for their development, and will be best for a Blues team looking past training camp and as far as the playoffs where things must change.
Like what you've just read? Follow me on Twitter: Follow @pep30

Mike has covered the St. Louis Blues and Tampa Bay Lightning in depth for The Hockey Writers since 2013. He is also a contributing writer for KSDK News Channel 5, the St. Louis area NBC affiliate, and has been a credentialed media member of the Blues since 2014. Follow him on Twitter @pep30.