Training Camp hasn't started yet and there appears to already be a cloud hanging over the Wells Fargo Center in Philadelphia. Can the Flyers really avoid missing the playoffs in consecutive seasons for the first time since the average price of gas in the U.S. went from $1.05 per gallon to $1.09?
While it remains too early to offer up true expectations for the 2015-16 campaign, GM Ron Hextall has unquestionably improved the 33-31-18 team from a season ago. The pressure to win, however, doesn't take a two or three-year hiatus – not if you're the Philadelphia Flyers.
A Tiger's Stripes
Philadelphia's reputation for making decisions and answering for them later hasn't been so easy to shake. After all, remnants of that stereotype still exist on the salary cap even with Hextall's more recent transaction aerobics.
Never mind last season's trade deadline, where the Flyers sold off veteran defensemen for pieces and draft picks that are believed to bear fruit down the line. The organization known for their "win now" mentality doesn't possess the attribute of patience, or so its perceived.
Certainly, missing the playoffs had to be the breaking point for the rash franchise to expedite Hextall's touted process of developing youth, right? Not even close.
Although Hextall's tenure has been brief to this point, the former goalie has done absolutely nothing to facilitate this narrative based off of history alone. In fact, he's worked toward the opposite end of that spectrum.
Despite checking into last season's trade deadline as sellers, on top of snoozing through another uneventful free agency period, some aren't quite convinced this tiger (the franchise) has changed its stripes.
Citing a Philly.com interview with Flyers owner Ed Snider back in March, Pro Hockey Talk's James O'Brien is feeling Hextall's seat warm up based on the owner's competitive spirit, even if the second-year GM doesn't:
Uh oh. That puts a lot of heat on Hextall to win now, even with a team sporting possibly fatal flaws.

If expectations aren't adjusted, a different GM might reap the rewards of Hextall's reasonable, forward-thinking approach.
Snider, of course, previously discussed his belief that the Flyers can compete with the talent they had as of last spring. The 82-year-old owner didn't hold back in expressing what he believes to be an unnecessary multi-year waiting process, dropping names like Claude Giroux, Jakub Voracek, Wayne Simmonds, and Steve Mason, to state his case.
While minor additions have made personnel-wise, a lot has changed since then, in addition to Hextall insisting that he and Snider were on the "same page" after the interview with the Flyers' founding father was published.
"We are on the same page, said Hextall back in March, per Pro Hockey Talk's Jason Brough. "He's been great. He has supported me 100 percent. Holmgren has supported 100 percent. We are all thinking the same way and going the same direction."
With head coach Dave Hakstol, Sam Gagner, Yevgeny Medvedev, Radko Gudas, Michal Neuvirth, and possibly first-round pick Ivan Provorov new to the team this year, a Stanley Cup run is highly unlikely. But that doesn't mean Philly's brass are at odds, nor does it mean the orange and black are incapable of capturing a playoff berth.
"We're a good team right now," said Flyers leading goal-scorer Wayne Simmonds via Puck Daddy. "We played really well against the good teams and we somehow faltered against the teams that had around the same amount of points as us or were below us in the standings. We just have work out our inconsistencies and we'll be fine."
Hakstol's fast-paced style, as well as the roster changes made, not only makes the likelihood of an improvement in that department possible, but should allow a handful of skaters to thrive.
Likely line changes should benefit the likes of Brayden Schenn, Matt Read, and possibly even Vinny Lecavelier, should the veteran forward remain on the roster come opening night, and crack the lineup. Even the blue line, the squad's highly identified weakness, may be a pleasant surprise with the likes of Shayne Gostobehere and Sam Morin knocking on the NHL's door.
Flyers will sniff the playoffs but they still need to figure out their blue line

— Dan Petriw 🇺🇦🇮🇪 (@DanDanNoodles78) August 20, 2015
"We've got to be cognizant of not putting our young defensemen in too early. We have to be cognizant of not waiting too long, there will be too much overlap. We're going to keep a close eye on all our young defensemen," Hextall said, per ESPN's Craig Custance. "They'll start filtering in at some point this year."
Does that sound like a GM on the verge of smashing the panic button?
Barring any egregiously abnormal circumstances – regardless of the season's outcome – Hextall's job is safe. But that doesn't mean the nature of the business doesn't promote the desire to win in the present tense.
Nature of the Business
Although the Flyers have been foreign to experiencing a timely rebuilding process, the pressure of winning is hardly exclusive to them.
Across the league, many teams face the same stress that's felt in Philadelphia, if not more.
The Pittsburgh Penguins continue to flush first-round draft picks down the toilet in hopes of reproducing the thrill of winning the Stanley Cup in 2009, all while deploying arguably the two best players in the game.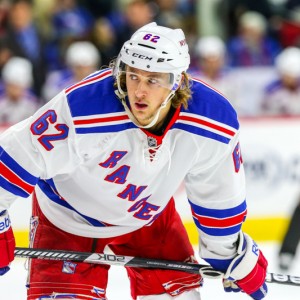 The same can be said about the Anaheim Ducks, who have finished 1st in the Pacific Division for three straight years. And those New York Rangers? Let's just say that an appearance in the Stanley Cup Final in 2014 and back-to-back trips to the Eastern Conference Final fail to take the heat off of Broadway's team.
"There will always be pressure in this league," new Ducks forward Carl Hagelin told NHL.com. "It doesn't matter what your contract is. As a player, you put a lot of pressure on yourself to do well. I've been doing that my whole career. I always put pressure on myself. That's just the way it is. If you can't handle pressure, you can't play in the NHL."
Sure, an argument can be made that Pittsburgh and Anaheim have at least won a Stanley Cup in the 21st century. Even New York's championship from 1994 isn't as distant as 1975. But Philadelphia's 40-year Cup drought doesn't add any pressure on a team that's not even realistically competing for a Stanley Cup this year.
The competition in the Metropolitan Division, however, does make Philly's quest to the postseason an uphill climb, at least from an early synopsis.
Matt Larkin of The Hockey News further explains:
Still, will that be enough to get the Flyers back into the post-season? The Metro Division looks like the East's answer to the Central. The Islanders, Rangers and Capitals are juggernauts. The Penguins and Blue Jackets are improved. The Flyers' biggest off-season additions are Coyotes castoff Sam Gagner and veteran KHL import Evgeni Medvedev. Not exactly Phil Kessel or Brandon Saad or Justin Williams. It appears Philadelphia will have to make any significant gains from within.
Urgency to win now will never go away. It's what gives every team and their fans hope as the embark on each and every new season. And while different organizations don't all share the same expectations for an individual season, the demand for excellence doesn't vanish.
An educated blind guess suggests the Flyers will likely fall somewhere in the middle of the NHL's pecking order. That's not necessarily a bad thing either, and it's certainly not deserving of canning a GM who has breathed new life into an organization that just couldn't get over the hump in recent competitive years.
The Flyers still believe they're a playoff team. Whether that's true or false, they're irrefutably an organization with rising stock, not one that's on the verge of axing their general manager.
Andy is a contributor for The Hockey Writers, covering the Philadelphia Flyers. He holds a Bachelor's Degree in Communications from Walsh University. He enjoys spending time with his family, golfing, and reading. He is married with a daughter. You can follow Andy on Twitter @ADudones.