Beginning June 1, NWHL teams can re-sign players from their 2017-18 roster and their draft picks. Additionally, for those players who have completed their college eligibility and want to continue their hockey careers, NWHL Free Agency provides the best opportunity to continue playing at the highest level of professional women's hockey. The fourth season of the NWHL will begin in October as the Metropolitan Riveters defend their Isobel Cup championship, and with the addition of a fifth team – the Minnesota Whitecaps – this will be the most competitive season yet.
My colleague Dan Rice will keep THW readers up-to-date on Metropolitan and Connecticut's signings throughout the summer, while I post updates on Buffalo and Boston. Together we will be keeping readers informed of all of Minnesota's signings. 
Lewicki Signing Adds More Speed to Riveters
Kendall Coyne is Third Gold Medalist to Sign with Whitecaps
Beauts Re-Sign Top Defender Edney
The Boston Pride continue to bolster their defense by adding their third blueliner signing of the summer. Word was released on Jul. 31, 2018 that "The Pack" had brought aboard former Northeastern University Huskies standout Lauren Kelly. Interestingly enough, four of Boston's earlier signings are players from Beanpot rival, Boston College. Kelly is the first to join the team for the upcoming 2018-19 NWHL season from one of the other Boston-area schools.
BREAKING: @TheBostonPride have signed recent @GoNUwhockey graduate Lauren Kelly.

Kelly (@LaurenKelly215) led all D1 defenders in PPG and was a WHEA Second-Team All-Star last season.

🔗: https://t.co/jHSz0c995m pic.twitter.com/w6t1p9Nkuz

— NWHL (@NWHL) July 31, 2018
A native of Watertown, Massachusetts, Kelly expressed the following sentiments in the league's press release about signing with the hometown team:
"I am wicked excited to be joining the team next year. I have been watching the Pride and NWHL since the beginning in 2015 and have been anxiously waiting for my chance. I feel blessed to be given this amazing opportunity."
THW takes a closer look at how Kelly's addition is helping to shape Boston's back end. With her joining the squad, the team's defense is nearly halfway there.
Success With the Northeastern Huskies
Kelly played her freshman season for the Northeastern Huskies during the 2014-15 season. In all four years of her college hockey career, she scored at least one power play goal and at least one game-winning goal for her team. Separately, Kelly completed each season as a plus-player for the Huskies, and finished her four years as an overall plus-14 in 140 games.
Great start for the Huskies as Lauren Kelly's power-play goal has us ahead by a goal through 20. #GoNU pic.twitter.com/15ERRg8gj2

— Northeastern Women's Hockey (@GoNUwhockey) January 12, 2018
The 5-foot-6 defender was a steadying presence on her team through all four seasons at Northeastern. Where she truly distinguished herself, however, was with the superb senior year campaign that she assembled. In her final year Kelly scored 12 goals and added nine assists for 21 points in 33 games. Eight of her 12 tallies came on the power play, which was enough to lead the entire NCAA in that particular category.
Arguably her finest game of the 2017-18 season came on Dec. 3, 2017 against the University of New Hampshire when she scored a pair of power play goals and an assist to lead the Huskies to 5-3 win. Also during her senior year, 11 of Kelly's goals and five of her assists came in 22 games against Hockey East conference rivals alone. Not only was she scoring as a blueliner, but she was doing so in games that counted perhaps more than others.
Upon graduating from Northeastern in back in May, Kelly had compiled totals of 25 goals, 39 assists, and 64 points in those 140 games. Nearly half (12) of her 25 goals had come with the player-advantage. Additionally she added 90 minutes in penalties for her career.
Kelly's Signing Gives Boston Three Blueliners Thus Far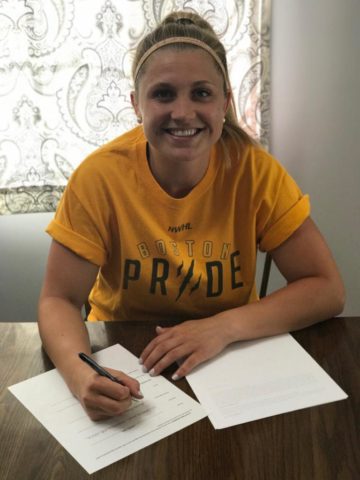 Kelly is one of two NWHL rookies thus far to help comprise Boston's defense. The other is Boston College defender Toni Ann Miano. According to Kelly though, any former rivalry between she and any of the BC players on the roster is quickly erased by a level of respect.
"I've always had the utmost respect for them," she said in the same press release. "BC was always the team to beat, which improved my game tremendously. I'm looking forward to being pushed that way in practices and games and I'm proud to be on the same team as them."
It will be interesting to see how many more players the Pride add from Boston-area schools. Obviously, because of the pool of talent so densely populated in the New England region, it would not be surprising if nearly the entire roster is comprised of players from Beanpot schools. In that respect, the Pride may have a natural geographical monopoly.
What is particularly interesting to consider is how many Pride players signed for the 2018-19 season might be previous teammates of Kelly's. With her signing, she is one of a handful of past and present NWHL players to have hailed from Northeastern University. Other former Huskies would include the likes of Hayley Scamurra (Buffalo), Colleen Murphy (Buffalo), Kendall Coyne (Minnesota), and Paige Savage (Boston, Connecticut).
About halfway through the summer, the Boston Pride still have a lot more signings to make and announce before their roster is filled-out for the upcoming season. As of Jul. 31, here is how the Pride look thus far:
Goalie: Katie Burt.
Defense: Alyssa Gagliardi, Toni Ann Miano, Lauren Kelly.
Forward: Emily Field, Dana Trivigno.