Follow Lukas on Twitter @LukasHardonk for more Maple Leafs coverage.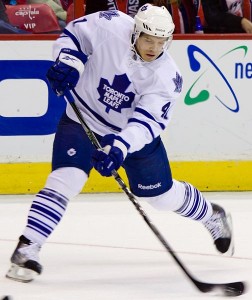 There are thousands of questions that surround the Toronto Maple Leafs entering the 2011-2012 regular season, many of which revolve around the forwards.
Will Nikolai Kulemin be able to score 30 goals again? Will Phil Kessel reach 40? Will Tim Connolly be able to remain healthy and play in at least 75 games? Will Nazem Kadri adapt to not only the NHL, but playing the wing? The list goes on.
With so much uncertainty, it's difficult to tell exactly how the 12 forwards that will start for the Maple Leafs on October 6 will shape up. Just like it is with the defence, competition at training camp is always a great thing; and with at least 15 NHL players competing for 12 spots, competition will not be hard to come by.
Of those 15 players, only six will crack one of the Leafs' top two lines out of training camp. While things can certainly change during the season, it appears as though Nikolai Kulemin, Phil Kessel, Clarke MacArthur, Tim Connolly, Joffrey Lupul and Mikhail Grabovski are the most likely of the bunch to make up the top-six.
If that is the case, the biggest question then becomes, "who will play on what line?"
If the 2010-2011 campaign was any indication, the combination of MacArthur, Kulemin and Grabovski could very well be a force to be reckoned this season. They played together for much of last season and made up the Leafs' top line on multiple occasions. The trio showed their speed, hustle, and play making and scoring ability just about every time they stepped on the ice.
MacArthur, Kulemin and Grabovski all blew their previous career highs out of the water, with the latter two scoring 30 and 29 goals respectively.
The other three, Lupul, Kessel and Connolly, would make up a nice line.
The 27-year-old is a former 28-goal scorer who really turned on the jets at the end of last season, finishing with 18 points during his 28 game stint with the Leafs. If skating with Kessel and Connolly, Lupul could very well get back to his old 20-goal self.
He isn't the only of the three who would benefit from that line, though.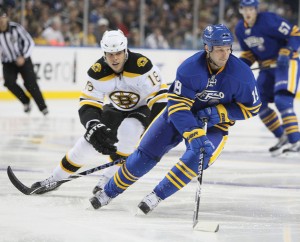 Kessel, a three-time 30-goal scorer, is still trying to reach the 40-goal plateau. A play maker like Connolly, who is used to playing on a line with some of the game's top snipers, would help feed Kessel the puck in high-scoring areas.
But what one line might be able to help the Leafs in the biggest way possible? 30-goal scorers Kulemin and Kessel playing alongside Connolly. Not only would this trio likely result in Kessel reaching 40, but we could also end up seeing Kulemin score 35.
So what combinations are probably the best to go with to begin the season? Lupul, Connolly and Kessel, and MacArthur, Grabovski and Kulemin.
What combinations sound like the best? Throw Kulemin with Connolly and Kessel, and Lupul on the right wing with MacArthur and Grabovski.
However, that is what training camp is for and that is what will decided everything; and it is still two months down the road.
Training camp won't decide just the top-six group, but the bottom-six as well. With the Leafs having a group of six forwards that have been all but named to the first and second lines, spots seven through twelve are a lot more wide open.
Going into his third training camp, Nazem Kadri is a player who most people are expecting to finally crack the opening day roster. Not only did he score 12 points in the 29 games he appeared in last season with the Leafs, but he also learned what you can't do in the NHL: dangle around everyone.
The 20-year-old would be a good fit on a line with Tyler Bozak, who many would argue has something to prove. Perhaps playing on the right wing would be Colby Armstrong, a veteran grinder who also knows how to put up points and certainly doesn't lack in the experience and leadership departments.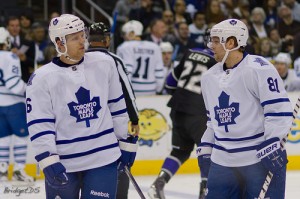 While the third line seems all but decided, the final three positions may just be the most wide open.
Mike Brown, Philippe Dupuis, Colton Orr, Darryl Boyce, Joey Crabb, Matt Frattin and Jay Rosehill will all be battling, as well as a few others. That's at least seven players competing for four spots. While one is likely to be kept on even if they aren't in the lineup on a regular basis, the battle for the fourth line might be one of the most intriguing during training camp.
Everyone must remember Matthew Lombardi, though. He has certainly shown over his career that he can be a top-six player, and if he proves that he can be just that with the Maple Leafs, Lombardi might be able to find a spot on the second line. If that's the case, who gets demoted?
Lombardi is a natural centre, meaning we could see Grabovski drop down. However, that likely wouldn't sit well with both the Belarusian and the Leafs, leaving the possibility of a trade open.
Ladies and gentlemen, prepare for a wild 2011 training camp.
Twitter: @LukasHardonk | Email: lukas.hardonk@gmail.com | Lukas' archive
Check out Lukas' 2011 Toronto Maple Leafs Off-Season Guide.