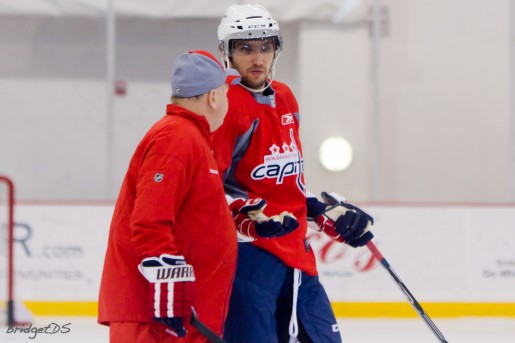 In times like these people are emotional; angry; and demand change. I understand.
The best course of action for us though is to let a few days pass; be very analytic about what needs to be improved; articulate that plan; and then execute upon it.
-Washington owner Ted Leonsis on his blog, 'Ted's Take'
Washington Capitals owner Ted Leonsis may not be perfect – but who is?  He didn't expect his team to get swept in the second round of the NHL playoffs – but who did?
Instead of pulling the trigger on a much-anticipated firing of Bruce Boudreau just hours after a 5-3 loss, he's going to take his time and remove emotion from the equation.  He deserves credit for that.
The spotlight has centered directly on Boudreau's forehead in recent years as his regular season powerhouse has repeatedly gone limp at playoff time.
In a sense, Boudreau is a victim of his own success.  Waltzing through the regular season with ease leads fans and pundits to believe to EXPECT that the team will carry that over into postseason domination.
Last year, the team's failures could be blamed on Jaroslav Halak.  There was no Halak this year.  Tampa Bay goaltender Dwayne Roloson played well, but he was far from spectacular.
Quite frankly, he didn't need to be.
Aside from a few critical mistakes, Washington fans probably have to blame the puck.  That six-ounce piece of vulcanized rubber was finding the bodies and sticks of Capitals players.  Problem is, oftentimes that was just a brief stop on the way to another destination: the Capitals net.
But blaming a puck that costs $1.86 when $60,000,000.00 was spent on players is hard to swallow for fans, management, and coaches alike.
"I can sit here and you can evaluate and say there was bad bounces in both games and that, but I mean [Tampa] came in here and they did the job," Washington coach Bruce Boudreau said after Game 2.
When taking a realistic inventory of the Capitals' failures under Boudreau this year, three major elements stand out:
Lack of Self-Control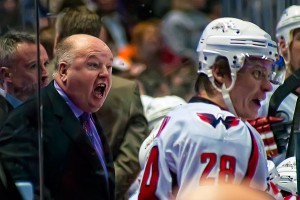 The legendary basketball coach John Wooden once said: "Good judgment, common sense, and reason all fly out the window when emotions kick down your door."
As a head coach, showing emotion can have a huge impact on a team.  The best leaders know exactly when to celebrate, when to deliver the emotional speech, and when to remain completely silent.  The best leaders have control over every single one of those emotions.
Bruce Boudreau has shown time and time again that he lacks that control.
After a call doesn't go his way he erupts.  That's nothing new, but it's the emotional roller coaster he drags his players on that leaves them disoriented when the pressure ramps up in the playoffs.
In the early episodes of the HBO 24/7, Boudreau's profanity-laden rants amidst their lengthy losing streak seemed to be falling on deaf ears.  At one point after Boudreau finished speaking, one of his players remarked "I'm so sick of this sh*t".
I'm not convinced the player was referring to the losing streak.
Nevertheless, the Capitals turned their season around in December.  They broke out of the slump, found a new identity, and beat their hated rivals in the January 1 Winter Classic.  After the game Boudreau was ecstatic:
This is like as close to the Stanley Cup as we've gotten.  And we're not denying that it was more than just two points. It was a fabulous game.
With all the attention given to the event, the Winter Classic is definitely a big deal.  It's a chance to put on a a show in front of a national audience.  But comparing it to the Stanley Cup?  What kind of a message does that send to the team?
The System
Every article written about the Capitals since that December turn-around features some reference to their new system – the neutral zone trap that was supposed to allow them to consistently win games in the playoffs.
We heard about how the players all bought in, even free-wheeling captain Ovechkin.
Before the Winter Classic, I spoke at length with Brooks Laich about the new style of play and why they felt a change was necessary:
We know we can score and that's one thing.  It's a nice card to have.  But to really have the success we want to have, we had to change our mindset and be more defensive.  I think you're seeing our players make a conscious effort at being solid defensively.

We're making it very tough for other teams to play [us].  We're not giving up any odd-man breaks and making them earn everything.  I think if we do that, mixed with our offense, I think we're going to win a lot of hockey games.

We have such tremendous offensive players that are game-breakers.  In a tight game they can get THAT goal, but we have to make sure we're strong enough [defensively] not to give up THAT goal.
He went on to say that the team's eight-game losing streak was actually a good learning experience; one he hoped would help them if, and when, they encountered adversity in the playoffs:
The losing streak made everyone bitter.  I didn't want to talk to anyone.  I was turning my phone off for days at at time, I didn't want to speak to anybody.  You want to win hockey games.  You're embarrassed.  We're used to winning around here, and when we don't win, we're used to losing two games in a row.  When you lose EIGHT in a row, you're utterly embarrassed.

I feel bad because heat is going on certain players and it's going on our coaches and it's "oh the Caps don't know how to play the right way" and we work hard around here to have a good reputation and be a good hockey team.

But I think we learned how to struggle, learned how to fight.  That's something we didn't learn how to do last year.
When the team was winning during the second half of the season it was easy for the players to buy into the new style.  But when a few bad bounces had them down 2-0 in the series to Tampa, the game-breakers Laich was referring to started to feel the pressure.
Ovechkin wasn't content twiddling his thumbs at the blueline in a neutral zone trap as the series slipped away.  How can you blame him?  This is his team.  He and others were determined to be the individual who, as Laich said, "in a tight game, can get THAT goal".
As the players pressed and channeled their energies into soloist efforts, commitment to defense wavered and the system began to show cracks.
Tampa coach Guy Boucher and his players successfully exposed those cracks and they made the Capitals pay.
The Personnel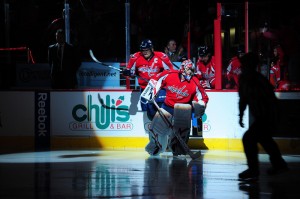 Boudreau and the Capitals weren't necessarily wrong in their decision to focus more on defense.  The problem was they didn't have the right players to succeed with that type of system.
In recent seasons when players were drafted, signed, and traded for; GM George McPhee and his staff were focused on a building an electric offense capable of scoring goals at will.
He didn't build the team with a neutral zone trap in mind.
McPhee dealt talented forward Tomas Fleischmann to Colorado for defensive defenseman Scott Hannan.  He picked up Jason Arnott at the deadline – a guy fresh out of Jacques Lemaire's trapping system up the road in New Jersey.  It wasn't enough.
Alex Ovechkin. Alex Semin. Nicklas Backstrom.  These players are all highly-paid and are all at their best when allowed to utilize their offensive creativity.
If the Capitals want to commit to defense, they'll have no choice but to shakeup the roster.  It's impossible to do at midseason and it's almost as difficult to do in one summer.
From that perspective how will firing Boudreau help the transition?  Some would insist that if the Capitals commit to defense then they should find a coach capable of successfully implementing a defensive system.  How do we know Boudreau is not that coach?  He was trying to fit a square offensive peg into a round defensive hole.
Leonsis says he needs a few days to evaluate before making big decisions about the future of the franchise.  I would argue he probably needs longer than that.
____________________________________
Follow @MikeColligan on Twitter or contact via email at MJColligan@gmail.com