While there is no denying the fact that there are a ton of great players in the 2021 NHL Draft, there are a few that stick out from the rest that have the chance to become something special. Luke Hughes, brother of Vancouver Canucks defenseman Quinn Hughes and New Jersey Devils center Jack Hughes, is one of them.
The youngest of the three Hughes brothers, Luke has followed in his brothers' footsteps this past season, suiting up for the United States National Team Development Program. In 34 games played for the U18 U.S. National Team, he has scored six goals and added 26 assists for 32 points in 34 games. He has also suited up for the U.S. National Team Development Program Juniors squad where he has four goals and nine assists for 13 points in 15 games.
While there have been a fair amount of critics out there, Hughes has continually been getting better as the season has gone on and is showing why he is most likely going to be selected in the top-10 when the 2021 NHL Draft rolls around. Here is what the pivotal defenseman brings to the table:
Skating and Awareness
When Hughes has the puck on his stick in the offensive zone, it is a sight to behold. Hughes is so good at using his edges and quick feet to create open space for his teammates. This was the case in a game a few weeks back. He was able to keep possession for about 10 seconds in the offensive zone (can be viewed in the clip below) and made the opposition look silly. Even under pressure, he was able to maintain possession and found a teammate in the slot for a great scoring chance.
While Hughes can be caught up at times and make some ill-advised decisions, he has a ton of promise. His composure with the puck is well beyond his years and he will automatically make an NHL team's blue line better in that regard. He is only bound to get better and it is scary to think of how good he could become when all is said and done.
Defensive Play
Hughes may not be as well-known for his defensive game but his impact is felt from the backend on a nightly basis. He is great at closing off his opponents and limits their angles as they enter the defensive zone. He may not be as physical as other defensemen in this draft but he is capable of handling his own in the corners and makes it hard for others to gain any space in front of the net. He plays with an active stick and is able to deflect passes and shots out of danger with ease.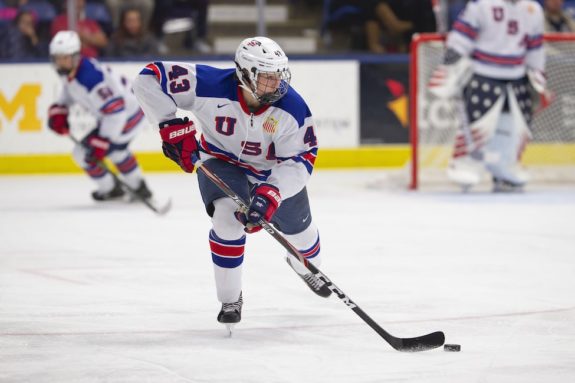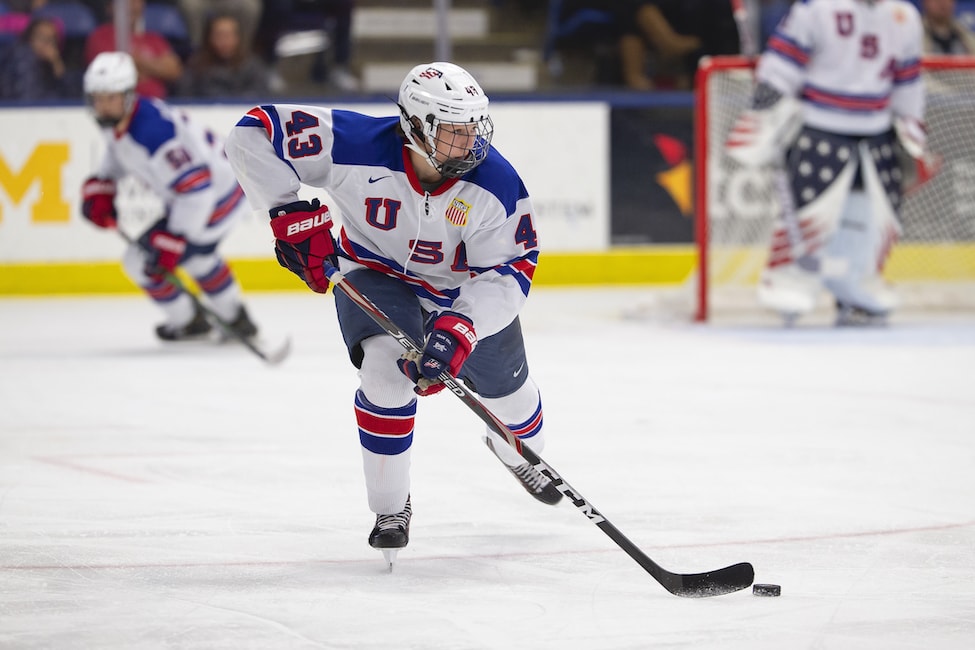 With Hughes committing to the University of Michigan like his older brother Quinn, he will be able to take another stride in his defensive game under longtime Michigan head coach Mel Pearson. With Hughes expected to play a big role on next year's team, I expect him to make his presence felt on both ends of the ice.
Projection
Hughes has the chance to be the best player to come out of this year's draft and I don't take that lightly. While some players may be better and more well-rounded than him at this point, his promise is amongst the best. A defenseman who moves the puck with as much poise as him and who is such a good skater, he is a force waiting to be reckoned with. While this is an easy comparison, he reminds me a lot of his brother Quinn. Both are fantastic skaters who love to have the puck in the offensive zone and are great at creating space for their teammates. Hughes may not be as well known as his brothers at this point but all signs point to him being a household name in a few years' time.
---
---