One step forward, one step back.
That is how the Ottawa Senators 2020-21 season has gone thus far. After a dominant win over the Calgary Flames on Feb. 25, they followed it up a humiliating 6-3 defeat, which they then followed with a 5-1 victory. Then came the March 2 loss to the Montreal Canadiens, which was largely caused by poor decision-making from players and coaches alike. They no longer sit in last place in the NHL, but with at least five games in hand over the four teams below them, the possibility of finishing last is still an all-too-real threat.
Even in the news cycle, headlines seem to balance themselves out. The Senators' young stars have been taking control, showing everyone that the future of the team is in the youth movement, but they also lost a veteran leader to the injured reserve, and are unlikely to see him back this season, putting a definitive period on a frustrating acquisition. This season has been filled with hope and positive stories, especially regarding the numerous young stars who have already made their mark on the franchise, but after every crushing loss, we're reminded that this rebuild is not over yet.
Item One: Stepan Out for 2020-21
It was confirmed on Tuesday that Derek Stepan will require surgery for his separated shoulder suffered on Feb. 23, which will force him to miss the remainder of the 2020-21 season. The veteran center played 20 games with the Senators, scoring a goal and six points. Already set up to be one of his worst statistical seasons in his 11-year NHL career, it was also reported that his struggles stemmed from the distance from his family and the recent birth of his third child, who still reside in Arizona. While there had been no formal trade request, it was rumoured that the Senators were trying to accommodate him and try to move him to be closer to his family.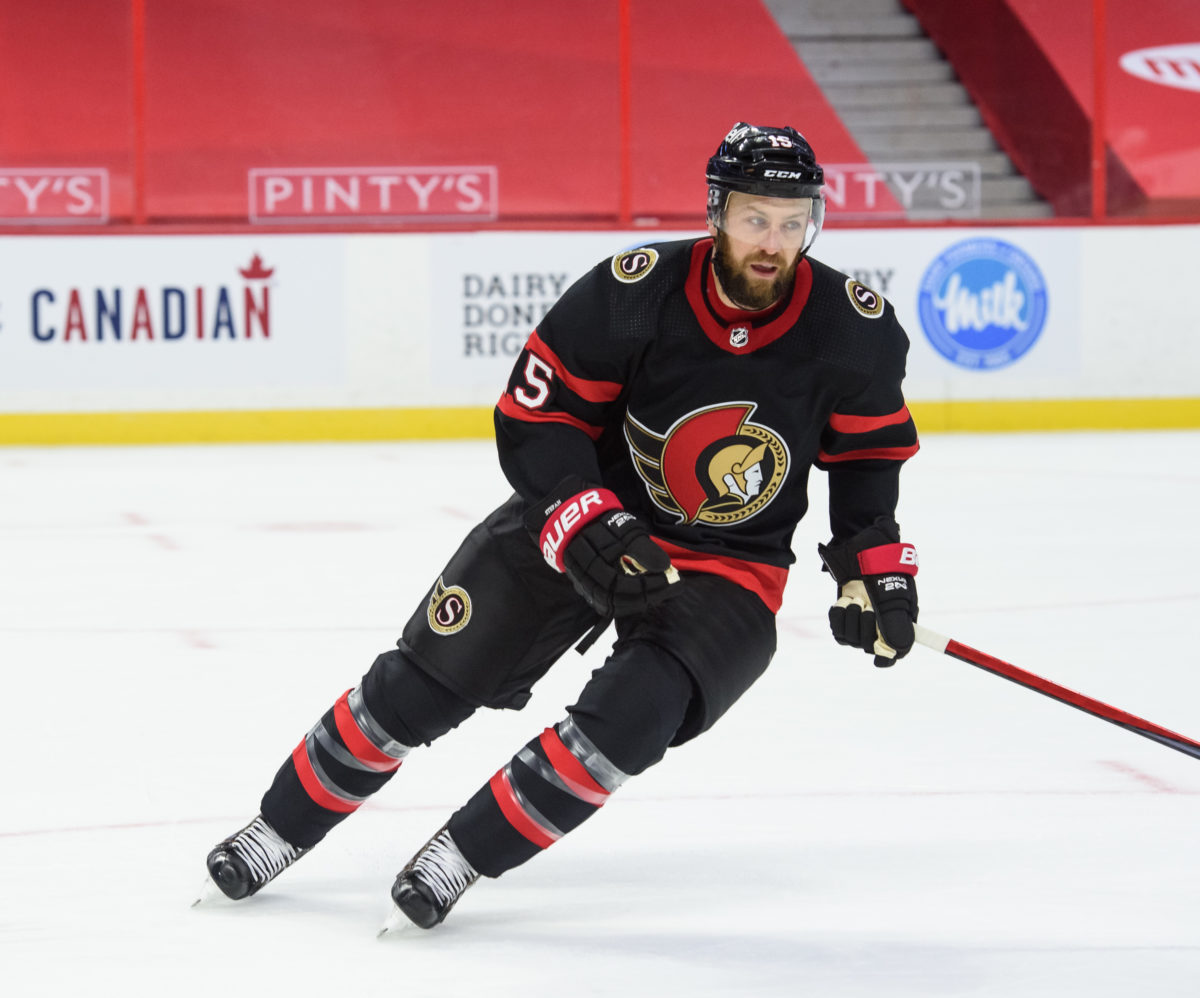 With his injury, however, moving him will be all but impossible. Stepan already was a tough sell with his $6.5 million cap hit, and although he was slated to become a free agent at the end of the season, a long-term injury dissuaded any potential trade partners. The procedure to repair his shoulder is scheduled to take place sometime next week, with the recovery time estimated to be four to six months. It also appears that he has no intention of returning to the Senators, and the team is unlikely to force him to stay in Canada while he completes his rehab.
Stepan's departure opens up a spot on the third line, and there are many suitors who could slide into the opening. Logan Brown remains a favourite, but the team has been strangely hesitant to play him, and his slow start in the AHL hasn't helped his chances. Ryan Dzingel is nearing his 2020-21 Senators debut and could slot into a center spot, too, but he generally plays on the wing and will bump out Matthew Peca. Parker Kelly is a dark horse candidate, but after a goal and an assist in his first four games in Belleville this season, the Senators may turn to him to provide some energy to the bottom six and give him an NHL trial.
Item Two: Daccord Stands Tall in 2020-21 Debut Loss
After over a month of speculation, Joey Daccord was finally called up and given his first start in 2020-21, relieving starter Matt Murray in a tough back-to-back. It unfortunately ended in a 3-1 loss to the Canadiens, but the young goalie looked strong in net and has some wondering if he could earn more starts in the future. He made 30 saves on 32 shots and ended the game with a save percentage of .938. Paired with his 20-minute relief appearance on Feb. 27, where he stopped all five shots thrown at him in the third period, Daccord now has the highest save percentage on the team at .946.
There's a valid argument that Daccord performed even better than his stats suggest, too, as the two goals he allowed were the result of a misplay and penalty by Erik Gudbranson midway through the first period. Coaching could also be blamed, as Gudbranson was out for well over a minute, and exhaustion likely caused some of his poor decision-making. Still, many are calling for him to be benched or scratched for the Senators' next game much in the same way Erik Brannstrom was benched after a bad play several games ago.
But the louder call is for Daccord to return to the crease, as his first start this season was exactly what the Senators needed – consistency. All goalies have bad games eventually, but Murray has been especially inconsistent, often following up a strong performance with one where he allowed three or more goals. With Marcus Hogberg still week-to-week with a lower-body injury, Daccord will likely remain as the team's backup, especially after his two strong performances, and could end up pushing Murray for his job.
Item Three: Batherson Extends Point Streak to 7
Drake Batherson will remain tied with Jason Spezza's six-game goal streak for the franchise record after going goal-less on March 2, but the dynamic forward continues to add up the points. In Tuesday's loss, Batherson registered an assist on Artem Zub's goal, extending his point streak to seven games. In that span, he's recorded four multi-point games and a total of 11 points, boosting his season total to nine goals and 18 points and putting him first in Senators' scoring.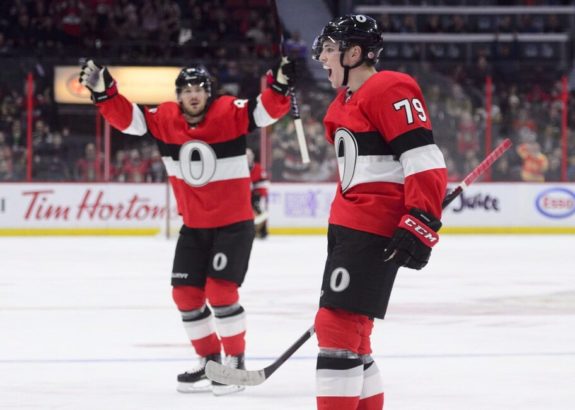 His feats this season have put him with some esteemed company, as Batherson's goal streak was the second-longest of 2020-21 so far, tying Mark Scheifele and Mikko Rantanen. Only Auston Matthews has a longer goal streak with eight games. The success has admittedly caught Batherson off guard. "I couldn't tell you what's going on," he said in a March 1 press conference. "I said to the boys, I think the last time I scored six like that was maybe Peewee." (from 'GARRIOCH: The only person surprised with Drake Batherson's success is Drake Batherson', Ottawa Sun – 03/03/21). There may have been some lucky bounces, but it takes a confident, skilled player to consistently capitalize on lucky bounces. He may not think so, but the Senators certainly have a future star in their hands.
Item Four: Stützle Named Rookie of the Month
Another youngster who had a hot month was Tim Stutzle, who led all rookies in February with seven assists and 10 points, including an incredible shootout goal against Carey Price on Feb. 23. The performance earned him the NHL's Rookie of the Month honors ahead of the likes of Kirill Kaprizov, Kaapo Kahkonen, Pius Suter, and Kevin Lankinen. Although initially considered a longshot for the Calder Trophy, Stützle is quietly establishing himself as one of the top young players in the league this season.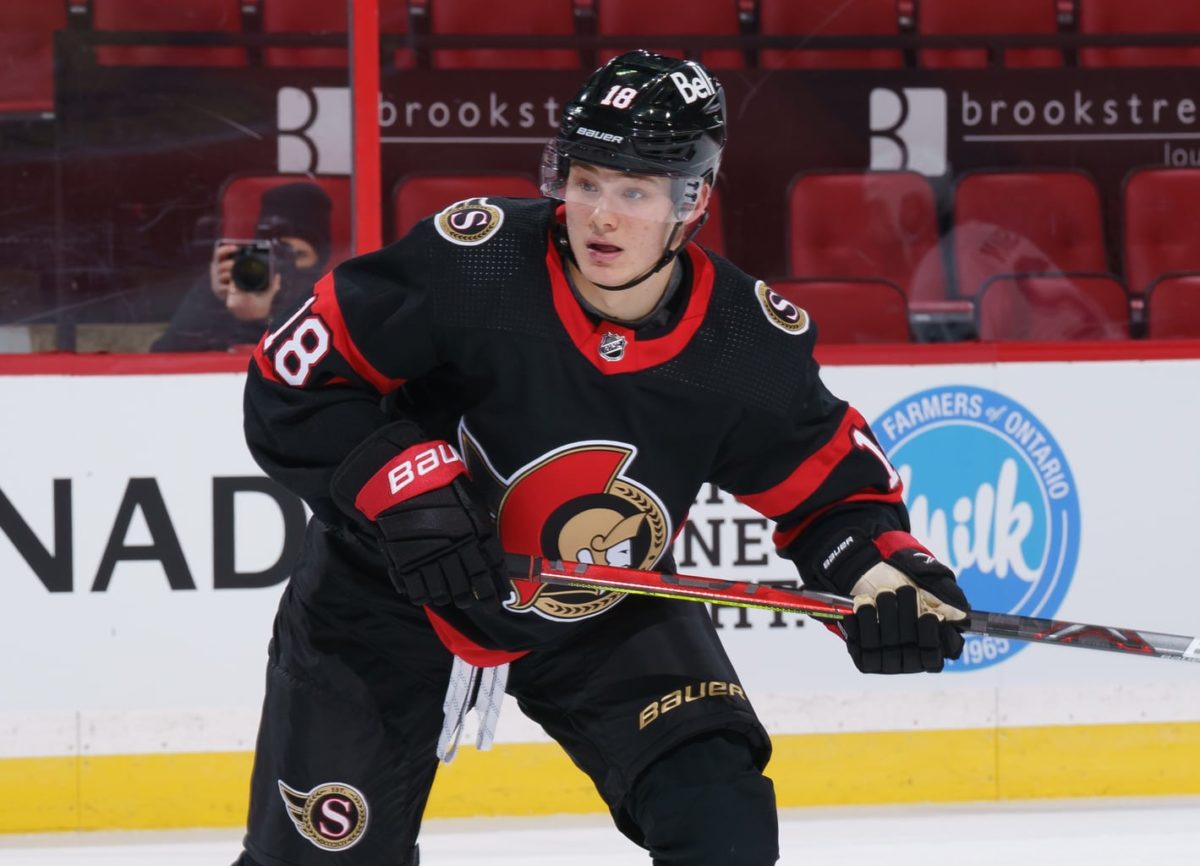 One thing that makes Stutzle such an impactful player is his work ethic. Despite Ottawa's poor position in the standings, he continues to give his all every night, continuously driving the net and trying to set up scoring chances. In February, he had the second-most shots of any Senator, behind only star Brady Tkachuk, but only picked up three goals, which makes him a prime candidate to break out for March.
Even if he doesn't claim the Calder Trophy at the end of the season, Stützle is well on his way to setting an NHL record for the most points by a German player in his first season. The current holder, Dominik Kahun, finished his first season with 13 goals and 37 points in 2018-19. Stützle's five goals and 14 points in 22 games puts him on track to end the 56-game season with 12 goals and 35 points, just shy of the record, but putting him ahead of Jochen Hecht's 34-point 1999-00 rookie season. But Stützle greatly increased his production in his second month in the NHL, and at his current pace, he projects to score 23 points over the last 33 games, which ties the record. And that's not even factoring in the chance he takes another step forward this season and becomes even more of a net-front threat.
Item Five: Chlapik Heads to Finland
After mutually parting ways last week, former Senators' forward Filip Chlapik has signed with the Pelicans of the Finnish Liiga. The Czech forward had signed a one-year, two-way extension during the offseason, but only appeared in one NHL game and two AHL games before deciding he wanted to return to Europe to continue his professional career. It was assumed that he would return to his hometown HC Sparta Praha, with which he played on loan prior to the 2020-21 season, but it appears they no longer had a need for the sniper, and he instead has taken his talents to Finland, where he joined fellow Czech goalie Patrik Bartosak and forward Rudolf Cerveny.
What's Next for the Senators?
After playing a tough back-to-back matchup against the Flames and Canadiens, the Senators will get a bit of a break for the weekend, playing just twice over the next five days. However, they will both be against the Flames, which has proven to be a highly competitive matchup – the Senators will have their work cut out for them.
It will be interesting to see how coach D.J. Smith responds to the mounting pressure to bench Gudbranson for the March 4 game. He has preached accountability all season, but so far, it only has seemed to affect the rookies and young players. If he doesn't also apply it to veterans, especially ones in a leadership role like Gudbranson, fans will rush to call out the double-standard.
And, as always, with the AHL now in full swing, there are more prospects to keep an eye on, some of whom could make their 2020-21 debuts in the coming weeks. Brown is always a favourite among fans, but Alex Formenton also may have earned himself a call-up, as has defenseman Lassi Thomson. With the Belleville Senators playing in the Canadian Tire Centre, the organization will have a unique opportunity to move players up and down easily, giving several of their top prospects some NHL ice time and see how they're developing.
---
---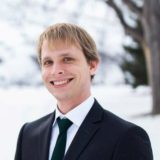 An elementary teacher by day and an avid hockey fan, Dayton joined The Hockey Writers in 2019 and currently covers the Ottawa Senators, World Juniors, and NHL Entry Draft.