With no Canadian Hockey League games scheduled until at least January, the NCAA is the only show in town when it comes to watching NHL prospects in North America. Friday night was a busy one in the NCAA with many of its top programs in action. Today, we will take a look at some recent top draft picks of the Ottawa Senators, Montreal Canadiens and Florida Panthers.
Sanderson Shines for UND
The University of North Dakota and the University of Denver met inside the NCHC's bubble in Omaha, NE. The Fighting Hawks scored a 4-3 overtime win over their rivals from Colorado to start this strange season at 2-0-0.
It was defenseman Jake Sanderson who was the star of the night. The fifth-overall pick of the 2020 NHL Entry Draft showed off exactly why the Senators selected him so high. With North Dakota down 1-0 in the second period, Sanderson blasted home a one-timer, while on the power play, to tie the game with his first collegiate goal.  
He showed off another facet of his game to tie things up at 2-2 late in the third period. Sanderson chased down a puck in the corner, thus drawing in four Denver players. He made a nifty spin move and then found Ethan Frisch all the way at the right point, where he evened up the score with a blistering wrist shot.
This performance is an encouraging sign for both North Dakota and the United States squad for the upcoming World Junior Championship, who each have high expectations for Sanderson.
Caufield Can do More Than Score
One of Sanderson's Team USA teammates, Cole Caufield, is off to a red-hot start for the University of Wisconsin. After losing to Ohio State on Thursday, the Badgers got revenge last night with a 3-1 victory. Caufield was a factor in all three tallies with a goal and two assists.
There has never been any question about Caufield's scoring ability and it was the biggest reason the Canadiens took him with the 15th pick of the 2019 NHL Entry Draft. His scoring touch was on full display with this seeing-eye wrist shot for the first goal of the night.
After setting up a one-timer goal by his brother Brock in the second period, Caufield showed that he just isn't a one-trick pony. He made this great tap pass off a feed from his brother that was quickly deposited into the net by Jack Gorniak, a 2018 fourth-round pick of the Canadiens.
Caufield has six goals and 12 points in 10 games this season. He is scoring goals and picking up assists at a higher rate than his freshman season when he had 19 and 17, respectively, in 36 games. There is plenty to be excited about when it comes to the youngster's scoring ability, but if he can become a bigger threat with his passing, the sky is the limit.
Knight Keeps BC Rolling
The Boston College Eagles entered this weekend as the second-ranked team in all of college hockey. They opened up a big two-game set with No. 12 Providence on Friday night and goaltender Spencer Knight led the way to a 3-0 victory.
Knight made 30 saves to pick up his first shutout of the season and sixth in just 36 career games at Boston College. The Eagles got goals from Trevor Kuntar (Boston Bruins), Nikita Nesterenko (Minnesota Wild) and Mike Hardman.
The 19-year-old goaltender has not disappointed since the Panthers drafted him 13th overall at the 2019 NHL Entry Draft. He has won all three of his starts this season with a .938 save percentage (SV%) and 2.00 goals-against average (GAA). Since arriving at Boston College, he has gone 26-2-8 with a .931 SV% and 1.97 GAA.
Knight will be Team USA's top goaltender for the World Junior Championship starting at the end of the month. Ironically, his head coach for the tournament, Nate Leaman, was behind the opposite bench trying to figure out how to score on him Friday night.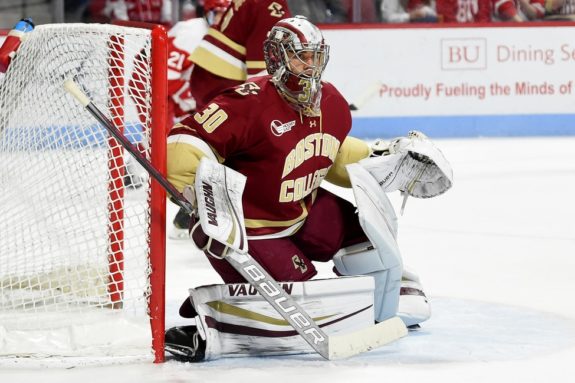 If you are a big fan of the World Junior Championship, then you are in the right place. Our team has already started to give you top-notch coverage and will continue to do so throughout the duration of the tournament and beyond.
---