When Carey Price is healthy, the Montreal Canadiens are a top-flight team in the National Hockey League. It's as simple as that.
On Wednesday, April 12, the Canadiens as well as 15 other teams, will begin their playoff run. The Habs officially drew the New York Rangers in round one, something that will bring back terrifying memories. It's hard for people to forget what happened in 2013-14 between these two teams. Chris Kreider came down the ice and forcefully ran into Price, which knocked him out for the entire Eastern Conference Finals.
Since then, the intensity has been raised between the Habs and Rangers, especially between Kreider and Price. Now, the Canadiens must find a way to protect Price so he can finish off the playoffs this year. As a team, the Habs have become bigger and tougher since the trade deadline. The makeover also goes back to the offseason with the acquisitions of Shea Weber, Andrew Shaw and Alexander Radulov. As a result, they should have the bodies to police the front of the net.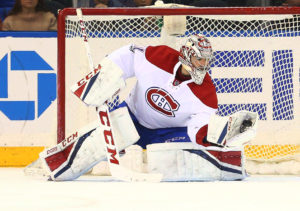 The Canadiens will only go as far as Price takes them. He's not the only reason the Habs clinched first in the Atlantic Division but without him, it's a different season. It's time to step up and protect the most important player on the team.
Chris Kreider and the New York Rangers
New York Ranger forward Kreider ran into Price during Game 1 of the 2013-14 Eastern Conference Final which essentially ended the Canadiens playoff run. Some argue that had Price stayed healthy, the Habs would have not only beat the Rangers, but given the Los Angeles Kings a run for their money in the Stanley Cup Final.
Since that infamous series, there has been more fuel added to the fire of Canadiens and Rangers rivalry. Kreider is still thought of as a villain in Montreal and another tough playoff series will only inflate that mindset.
Further to that, if you look deeper than just Kreider and Price, this is a matchup of two very good hockey teams. Both have all-world goaltending, solid defensemen and dangerous forwards. In order to come out of this series alive, the best players need to stay healthy and perform. That should be all the incentive the Canadiens need to keep Price on his feet and not in the trainers room like years past.
Protecting the Crease
You would be hard pressed to say that the Canadiens have learned from their past. Just this past Wednesday in Buffalo, Price was bowled over in the crease and was noticeably checking his arm for minutes afterwards. This just isn't a one-off unfortunately. It happens regularly despite his injury history and most times Price takes matters into his own hands. Just ask Kyle Palmieri.
In my opinion, because of his importance, Price shouldn't be playing until the Habs open their playoffs. They can't afford a freak injury during a meaningless game. The Habs already have the Atlantic Division locked up which makes it a perfect time to rest players and give younger prospects some valuable NHL experience.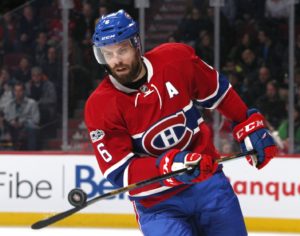 So the question is, how do you successfully send a message about crease control. In the playoffs, you don't want to be stuck in penalty trouble. In the case of the Canadiens, they need to draw a line in the sand. Taking a two-minute roughing penalty in Game 1 to take someone out in front of the net would be well worth it. It would deter others from hanging around and would be two minutes well spent.
They Go Where He Goes
Ultimately, as I said before, the Canadiens will go as far as Price will take them. We can sit here and say players like Max Pacioretty and Radulov or Weber and Andrei Markov are key for the Habs to make noise but none of that matters if Price isn't in the cage. It's up to the players to be conscious of what goes on in the crease during and after the play.
Canadiens fans have seen Price get run over one too many times. Agree with me or not, I believe they have a very good chance at reaching the Eastern Conference Final this season. If Price isn't there, that won't happen.
I don't know about you but my money is on Weber to be the first player to rough up a crease crasher. Just a hunch.
Nick Guido is a Montreal Canadiens Contributor for The Hockey Writers. You can Follow him on Twitter @nickguidoTHW for his articles, opinions and general Habs talk.